Two friends finally get to live out their dream
18.01.2023
Local News, Local News, Business, Gstaad Living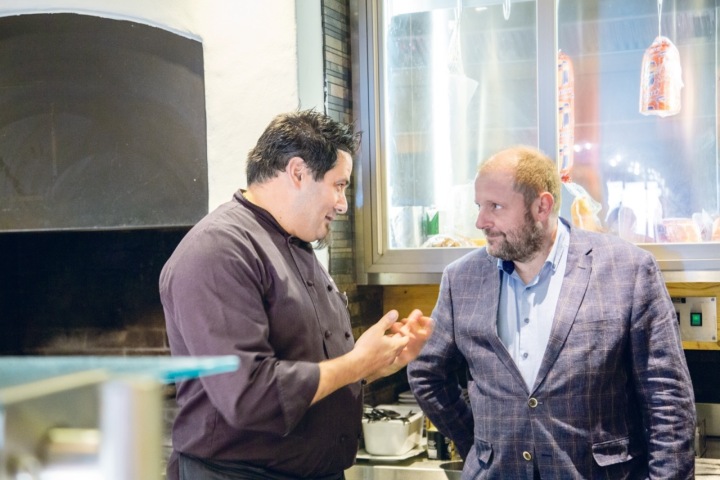 Giuseppe Colella and Romuald Bour have had a long-standing friendship. They once dreamed of being work colleagues. Now it's a reality: the chef and the hotel director are living out their dream at the Ermitage Wellness & Spa Hotel.
The mood is cheerful when these two gentlemen are in a room together. They laugh, crack jokes, and finish each other's sentences – all at the same time! As an outside observer, there is no doubt: Giuseppe Colella and Romuald Bour are good friends. "Our families know each other; we have also spent holidays together," Bour says. The desire to work together had been floating around in their heads for a long time. And finally, the timing was right: Chef Colella had left his job at Huus Hotel Gstaad, and one day when he picked up the phone – Bour was on the other end. "It was a massive stroke of luck, precisely what I had wanted for a long time.
We found each other," says the Ermitage Wellness & Spa Hotel director.
Italian double power takes the helm.
After the departure of longtime executive chef Peter Dosot, the sous chefs ran the kitchen. "They are two excellent chefs but still had too little experience. Something was missing," Romuald Bour recalls. Combining Colella's experience in collaboration with the one sous-chef, Andrea Gaia, we have found a combination that sits well with the two native Italians: Gaia brings his love of polenta, ravioli and porcini mushrooms, while the passion for Mediterranean island cuisine from Ischia – such as fish and meat, pasta and vegetables comes from Colella.
A test meal with the passionate chefs confirms that the Italian double works. The dishes offer exciting combinations, for example, a scallop carpaccio with wasabi pearls, ginger mayonnaise and carrots. Unusual ingredients for specific dishes also provide surprises, such as the gnocchi made from olives.
"A telephone call that turned into a job interview".
You changed from the Huus Hotel Gstaad to the Ermitage Wellness & Spa Hotel; how did that happen?
"It was totally by chance. A friendly phone call turned into a job offer; I was so impressed by the plans and ambitions of the Ermitage and fell in love with the hotel", says Colella with a smile.
(Hopefully) retiring together
What are Romuald Bour's goals for collaborating with Giuseppe Colella? "Work together until we both retire," he says straight out, laughing. "Well, that would be wishful thinking." However, the current focus is, of course, on now and the hotel guest. "Our guests expect tasteful cuisine, and they like to be surprised, but at the same time, the basics must also be there. We have high expectations to meet, and Giuseppe Colella manages to do that."
BASED ON AVS | JOCELYNE PAGE
---