Get Ready to Be WOWed: The Unmissable WOW Festival 2023 in Gstaad
20.06.2023
Events, Events, Local News, Arts & Culture, Magazine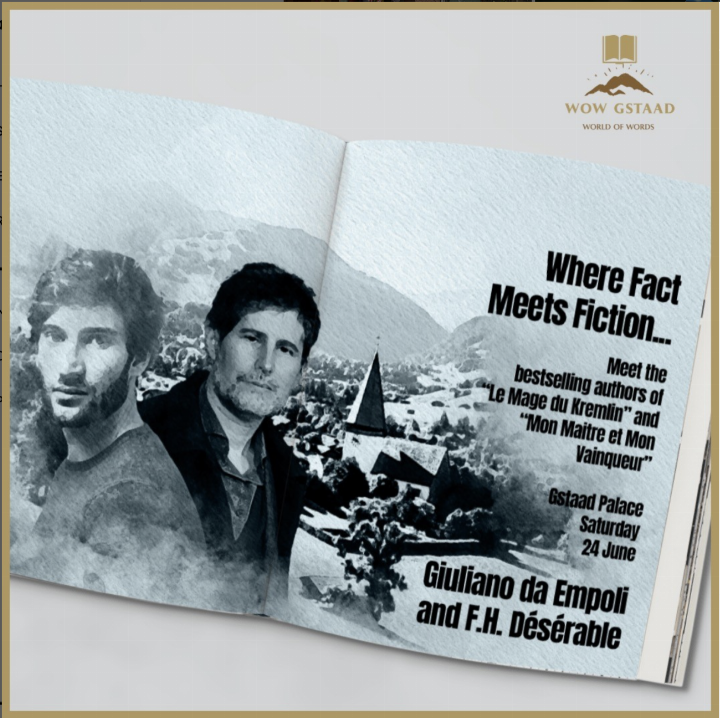 Mark your calendars, gather your friends and loved ones, and prepare to be WOWed like never before. The WOW Festival, 2023, in Gstaad, awaits, ready to ignite your imagination and leave you with memories that will last a lifetime. Get ready for an extraordinary journey into art, culture, and inspiration. Don't miss out on this phenomenal experience – get your tickets!
The power and Importance of words and storytelling in today's society is the core purpose of the annual literary World of Words book festival.
By hosting an annual symposium promoting debate, sharing discussions with the world, and donating surplus funds to charitable organisations, WoW Gstaad's goal is quite simple: to remind today's society about the importance of literature and its role in today's modern world.
This year, WOW is gearing up for their 3rd edition of the festival, 25-25 this June 2023, for which they have gathered a powerhouse of talents such as Mick Herron, Will Smith, Tamzin Merchant, François-Henri Désérable, Giuliano da Empoli (Le Mage du Kremlin), Sloane Crosley, Jay Melnerney (Bright Lights Big City), Valeria Luiselli and Frank Wynne.
Each presenter's on-stage conversation and reading will be recorded and published on www.wowgstaad.com after the event, and although the authors hail from French, German, and English-speaking countries, the presentations will be conducted in English in order to reach the widest audience possible.
For the very first time, this year, WoW Gstaad offers a public event (free access) on Sunday, 25th June, on the Gstaad Promenade.
"People sometimes overlook the importance of literature to children and adults alike in comforting, educating, and inspiring us," said Saanenland Commune President Tony von Grünigen last year. "We are proud that Gstaad can be a mouthpiece for reminding the world of those benefits and spreading happiness."
RAFFLE!
Last chance to WIN a free stay at the Gstaad Palace
Buy Two Tickets of any category in the next 24 Hours and you will be automatically entered in the WoW Gstaad 2023 Raffle. The lucky winner will receive 3 Nights Free at the Gstaad Palace Hotel (23, 24, and 25 June 2023)
Anyone who buys 2 Talks and Lunch tickets for the Saturday events (CHF280 each) or 2 Talks and Lunches tickets for the Saturday and Sunday events (CHF500 each) will be entered into a free prize draw, and one anonymously selected lucky entrant will spend three nights in the lap of luxury. Tickets - and the prize, if you win it - are transferable, so even if you can't attend, it would make a great gift! Eligibility for this free prize draw is open until 20 June.
Read more on wowgstaad.com
---