Being close to customers in the digital age
22.02.2023
Advertising, Business, Advertising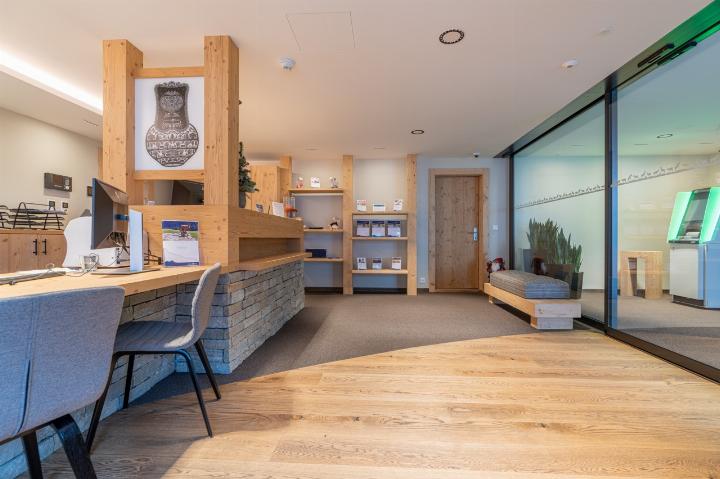 Future cannot be predicted. It will be characterized by transformation, automation, standardization and digitization. The competitive advantage will remain with those companies that also focus on the personal needs of their clients and are familiar with more than just the digital world. In a world with increased online and fewer physical touch points, Saanen Bank does everything in its power to ensure that the closeness between the clients and the bank is not lost. For this reason, Saanen Bank is sticking to its strategy of maintaining a branch network throughout the Saanenland with pleasant, modern banking premises, tailored to complement local conditions.
The branches in Lauenen and Gsteig, which have already been renovated, modernized and adapted to clients' needs over the last two years, were followed by the reopening of the Schönried office in December 2022. In a spacious, 24-hour accessible customer zone with a practical ATM, Swiss Francs and Euros can be withdrawn or deposited around the clock. Furthermore, the branch manager, Sybille Fahrer, as well as Madeleine Zahler are available on site for personal contact and advice. With their expertise and the quality of service for which Saanen Bank is renowned, they serve clients during the attractive counter hours. All of Saanen Bank's basic services are offered without any restriction at the newly reopened Saanen Bank branch. Not only that: also available is a practical safe facility where safe deposit boxes of various sizes are at the clients' disposal.
Directly opposite the banks' premises is the tourism office with a post office counter, which has also been refurbished. Various errands can thus be carried out practically in one place. Due to its central location in the middle of Schönried, the «Bank-Post-Tourism Office» service center is easily accessible. Just a few steps from the train station and bus stop, it also offers a parking space for short-term parkers right in front of the building.
The excellent local knowledge of the employees, the lean administration and the locally made decisions as well as the fair conditions make Saanen Bank an ideal financing partner.
Be it mortgages, business or follow-up financing, the personal conversation and the individually tailored solution to the customer's needs are a strength of the bank. The experienced client advisors in Saanen and Gstaad will be happy to conduct a non-binding initial discussion. Thanks to the short distances, further topics such as investments or pension plans can be discussed and examined with qualified specialists. The focus is at all times on showing you, the client, the best possible solution which suits you.
Last but not least, construction work is also currently underway at the bank's headquarters in Saanen. A spacious customer zone, combined with personal service and advice as well as innovative, 24-hour accessible self-service offerings will be available in a fresh look as of the end of April 2023. Let us surprise and inspire you!
Saanen | Gstaad | Schönried Lauenen | Gsteig
033 748 46 46
www.saanenbank.ch
---
Image Title