The world's "quietest orbit" takes shape
19.01.2023
Local News, Local News, Business, Sports & Leisure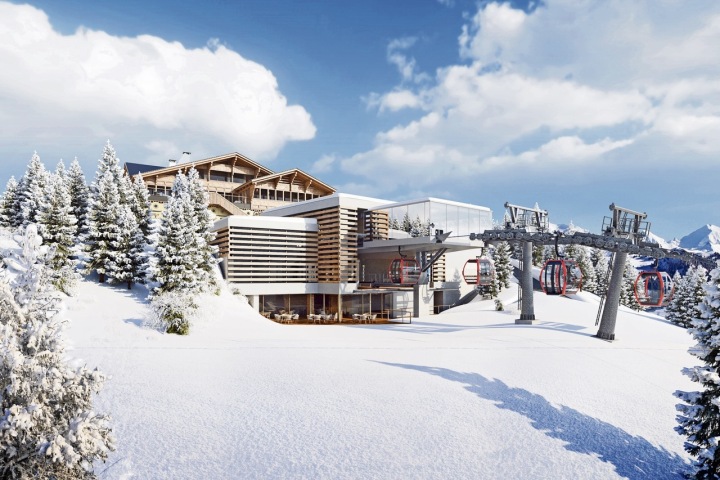 This is what the mountain station on the Rellerli will look like. Visualisation: Mountain View AG
Things are becoming more and more concrete: The board of the Friends of the Rellerli Association has worked diligently over the past year with the help of experts to ensure that a new mountain railway will become a reality. "We have made good progress and maintained a good relationship with Mountain View AG", said President Heinz Welten at the annual assembly. Mountain View AG is the owner of the stations and will allow the integration of the mountain railway into the existing infrastructure."
Less wear and tear through speed reduction.
Raphael Reinle from the cable car construction company Garaventa AG presented "the quietest cable car in the world". The ten-person gondolas will travel four metres per second instead of six metres per second. This means less wear and tear on the material and less noise; therefore, it's more sustainable. The direct cable line without curves also ensures lower construction and maintenance costs. The focus on nature-oriented and gentle tourism and a railway without major noise emissions fits nicely into the concept – and meets with the approval of the cantonal and federal authorities. "So far, we have received positive feedback throughout. The Saanen municipal council has confirmed the participation report, and a preliminary enquiry is underway with the Office for Municipalities and Spatial Planning (AGR). The desired date is in the first half of 2023.
In addition to the authorities, the environmental associations and organisations were also open to the project; the concept seems convincing, and we are in dialogue will all concerned parties", explained President Heinz Welten.
Now it's time for financing.
According to the board, the new construction of the railway will cost 15 million Swiss francs. If the authorities give the green light and the objections can be settled as soon as possible, construction could start in spring 2024. To realise the new railway and operation, the association needs proof of financing and is therefore looking for funding commitments.
The association wants to raise a minimum of 51 per cent of the financing, so they have the decision-making majority. The association will set up a foundation with a non-profit character to manage the financial resources.
BASED ON AVS | JOCELYNE PAGE
---
Image Title