GstaadLife No 6 | Editorial
08.09.2023
Editorial, Editorial, Magazine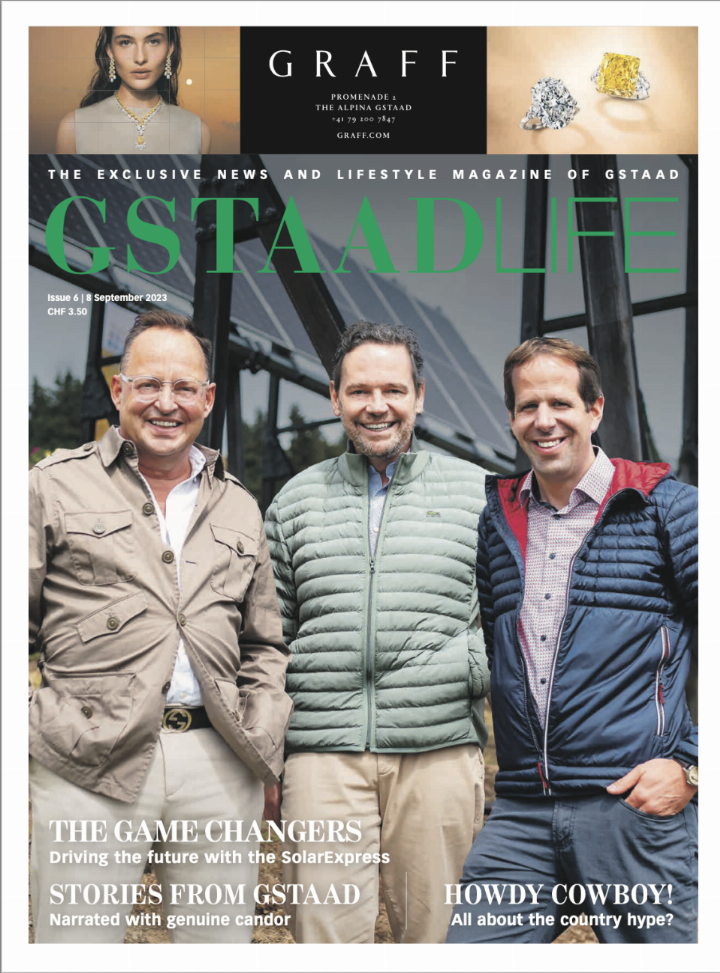 The change of season
The traditional descent of the cows from their summer mountain pastures marks the onset of autumn, a time that stirs emotions within me. It not only signifies the conclusion of summer but also heralds my favourite season: Autumn. This is the time of vibrant hues, lengthening shadows, warm days, crisp nights, the aroma of moist earth and ripening fruits, and the early preparations for winter that lie ahead.
The Züglete, a cherished tradition in Saanenland, continues to gain popularity with each passing year, receiving enthusiastic support from both locals and tourists. It was heartening to witness younger farmers taking part in the parade and local hoteliers confirming that guests had specifically travelled to be part of the Züglete experience.
Christoph Müller, the Director of the Gstaad Menuhin Festival, can reflect on another successful musical season. The festival's three-year cycle, themed "Change," commenced with Humility, evoking dialogue, wonder, and emotions in the audience regarding the pressing issue of climate change. The 2024 season promises to be equally thought-provoking, focusing on the theme of Transformation.
During a recent press event at the unveiling of the test site for the ground-breaking Solsarine project, a colleague shared with me her sense of witnessing something of profound importance, not just for our region but for our generation. Her perspective is well-founded. The construction of these test panels is not only a testament to Swiss engineering prowess but also symbolises liberation from the electric grid while being environmentally responsible. The project will undoubtedly be a topic of discussion in the months ahead and stands as the most advanced alpine solar energy initiative in Switzerland and perhaps the entire Alpine region – a source of pride for Saanenland.
Initiating change can be both invigorating and demanding, as the stakes are high. Failure can have dire consequences, but success means making a difference that extends beyond our generation, influencing generations to come. This, I believe, serves as the driving force for these individuals – the Drivers of Change, whether they convey their message through classical music or the power grid. As we transition from print to an online-only format *only in between the seasons, I encourage you to make the switch as well. We will continue to provide news and updates about the region on www.gstaadlife. com and through our app.
Stay connected and stay informed as we navigate the evolving seasons of GstaadLife.
Jeanette Wichmann
Editor-in-Chief
---