GstaadLife No 5 | Editorial
11.08.2023
Editorial, Editorial, Gallery & Exhibitions, Menuhin Festival & Academy, Arts & Culture, Magazine, Profile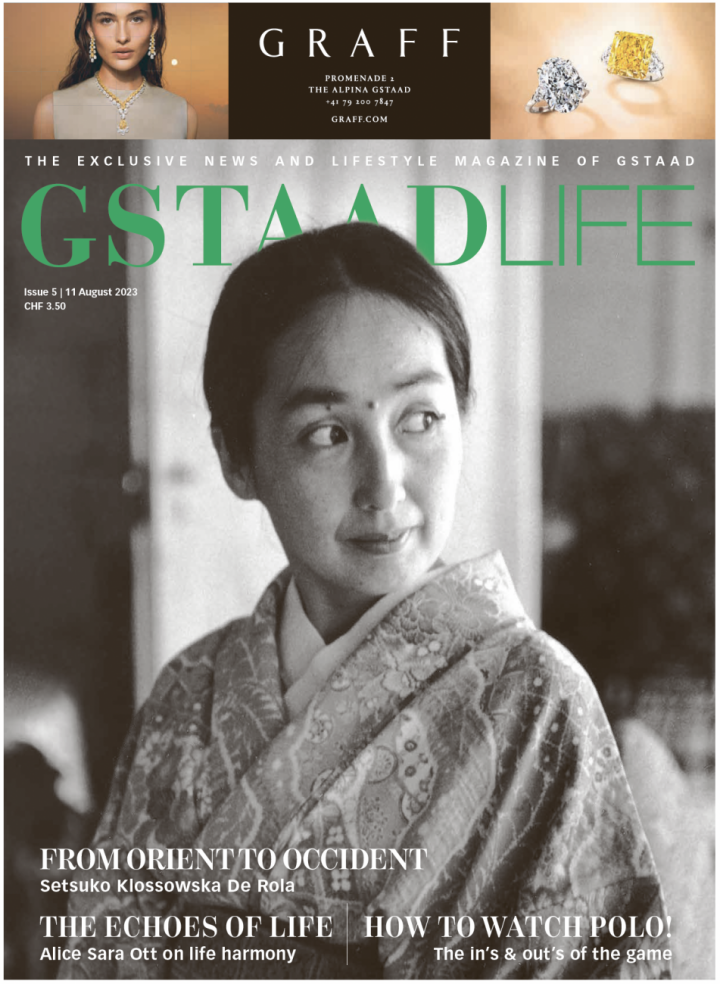 Born the same year as the late painter Balthus, Henri Cartier-Bresson and his second wife, Martine Franck, were not only exceptional photographers but Gstaad habitués and close friends of Countess Setsuko. Both Cartier-Bresson and Franck honoured the Countess with a portrait: his graces the front cover of this issue. ©Fondation Henri Cartier-Bresson/Magnum Photos.
The Art of Humility

In this issue, we are honoured to feature two remarkable women who have dedicated their lives to the pursuit of artistic excellence: pianist Alice Sara Ott and painter/sculptor Setsuko. Both have roots in Japan but have also embraced the influences of other cultures and traditions. Both have faced challenges and hardships but have also found joy and fulfilment in their craft. And both share a common trait: humility.
Alice Sara Ott, born in Munich to a German father and a Japanese mother, started playing the piano at the age of three. She made her debut with a symphony orchestra at the age of eleven and has since performed with some of the world's leading orchestras and conductors. She is known for her expressive and imaginative interpretations, as well as her adventurous and eclectic repertoire. She has recorded ten albums for Deutsche Grammophon, the latest of which, Echoes of Life, reflects her personal journey through music.
Ott has also been open about her struggles with multiple sclerosis, a condition that affects her nervous system and mobility. She was diagnosed in 2019, at the age of 30, and had to cancel several concerts and undergo treatment. She has since returned to the stage but with a new perspective on life and music. She says: "I realised that I don't need to prove anything to anyone. I just need to be honest with myself and play from my heart."
Setsuko, born in Tokyo in 1942, attended the Jesuit-run Sophia University in Tokyo, learning about both Eastern and Western cultures, from Japanese calligraphy and Noh theatre to European literature and ballet. In 1962, she relocated to Rome and began to paint, working principally in gouache and watercolour and synthesising Eastern aesthetic traditions with Western modernism. Setsuko's elegant still-leben and domestic interiors convey her precise observation of everyday objects and living things, including flower arrangements, plants, and resting cats.
Setsuko has exhibited her work internationally and is also a writer, and in 2005 she became UNESCO's Artist for Peace. She is also the widow of Balthus, one of the most influential painters of the 20th century. She met him in 1962, when she was 19, and he was 54. They married in 1967 and lived together in Switzerland until his death in 2001.
Alice Sara Ott and Setsuko are two examples of artists who have achieved greatness without losing their humility. They remind us that art is not a competition or a show-off but a way of expressing oneself and connecting with others. They also show us that art can be a source of strength and resilience in times of difficulty and uncertainty.
We hope you enjoy reading their stories and listening to their voices in this issue of GstaadLife magazine.
Jeanette Wichmann
Editor in Chief
---