Read More!
24.10.2023
Magazine, Gstaad Saanenland Tourism, Bergbahn Destination Gstaad, Gastronomy, What's Cooking, GYC - Gstaad Yacht Club, OUTDOOR - HIKING - BIKING, Menuhin Festival & Academy, Swatch Beach Volleyball, Polo Gold Cup Gstaad, Hublot Polo Gold Cup Gstaad , Profile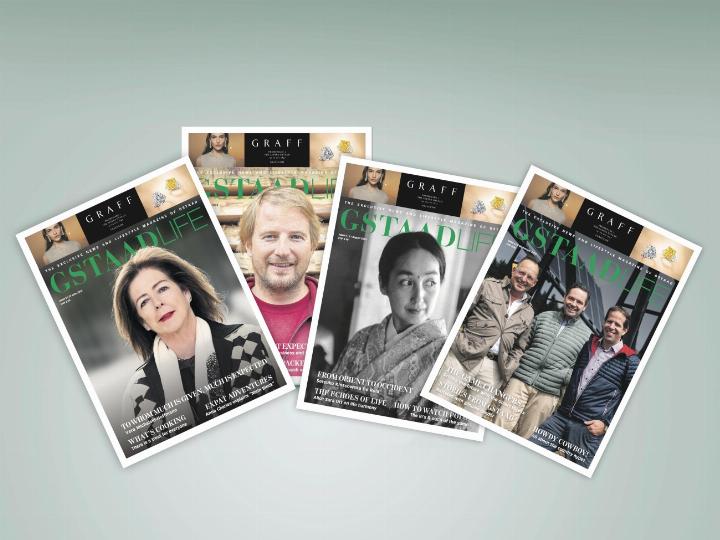 In the Summer 2023 editions of GstaadLife (issues 3 and 4), we welcomed the season with a flurry of exciting sports activities, including Swatch beach volleyball, EFG Swiss Open tennis, and of course, the annual ROUGEMONT VIDEMANETTE SUMMER CHALLENGE.
The Gstaad Menuhin Festival embarked on its transformative 3-year program cycle, CHANGE, once more bringing captivating musical events to our region.
In the June issue, we featured a profile of Vera Michalski-Hoffmann, a generous supporter of World of Words. She shared enchanting stories of her childhood holidays in Gstaad and the significance of being passionate about one's profession. July's profile introduced us to Sandro Reuteler, a local carpenter who shed light on the challenges of inheriting his family's business and maintaining a healthy work-life balance.
In the midsummer editions (No 5 & 6) of GstaadLife, our pages were brimming with gallery events, coinciding with the crescendo of Menuhin concerts during what felt like sultry nights. The Saanen and Pays d'Enhaut valleys came alive as they filled with jubilant crowds, all eagerly anticipating the grand finale of the Gstaad Polo Cup at the Saanen airfield. Additionally, we introduced the GL shopping guide, a valuable resource for everyone, and in our "What's Cooking" column, we shared the latest dining recommendations.
Our August issue featured the remarkable artist Setsuko, whose talents continue to shine brilliantly, as exemplified by her show at the Gagosian in Gstaad. In September, we turned our spotlight on the exciting green business venture in Saanenland—the Solsarine project.
Did you know that you can subscribe to GstaadLife for just 50 CHF per year and receive the latest news directly to your doorstep? Opt for a paperless subscription in digital format and enjoy access to all our past issues. You can find the subscription link here:
---
Image Title