"Perfect Vision" seamlessly blends simplicity with profound meaning!
21.08.2023
Arts & Culture, Events, Gallery & Exhibitions, Arts & Culture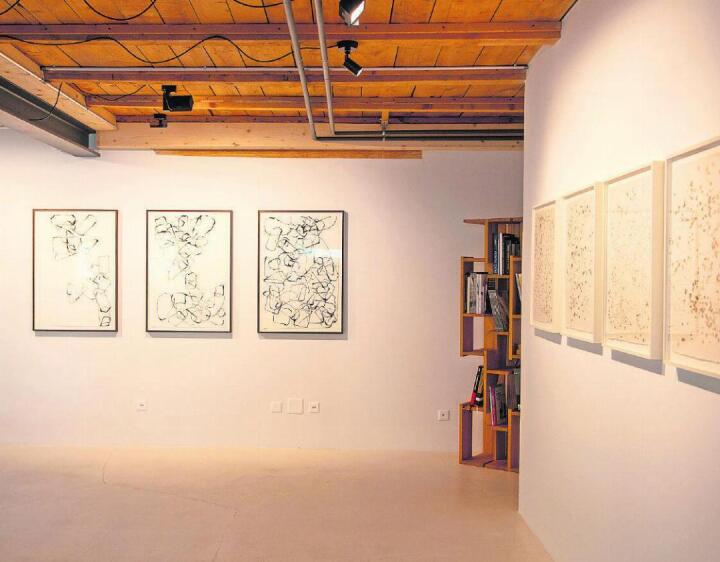 Each painting is simple and fascinating at the same time, because behind each artwork is a story about a journey the artist has experienced. PHOTOS: JOCELYNE PAGE
REVIEW: Studio Naegeli's newest exhibition and the artist behind this compelling showcase is none other than Stephan Crasneanscki, a visionary who not only stands as the founder and member of Soundwalk Collective, an international hub for experimental sound art but also as an individual who has traversed the world, accumulating experiences that serve as the backbone of his artistry.

At the heart of "Perfect Vision" lies a deep connection to the works of French poets Antonin Artaud, Arthur Rimbaud, and René Daumal. These literary influences serve as the foundation for a multimedia project that originally took shape in the form of the acclaimed "Evidence" show, conceptualised by Soundwalk Collective and Patti Smith, and previously successfully showcased at the esteemed Centre Pompidou in Paris.
For the first time in Switzerland, Studio Naegeli is bringing fragments of this masterpiece to Gstaad, adding a touch of prestige to their local art scene. Anna Högl, a representative of the gallery, shared her excitement at this achievement during the exhibition's opening, remarking on the privilege of hosting art that once graced the halls of one of the world's most renowned art institutions. Although Crasneanscki was regrettably absent from the vernissage due to illness, his spirits remained high, and he expressed his intention to visit Gstaad as soon as he recovered.
Upon stepping into the gallery, visitors are immediately enveloped in a multi-sensory experience that transports them into the intricate tapestry of Crasneanscki's journey. The exhibition spans various forms of artistic expression, including drawings, collages, paintings, and an entrancing sound video piece created in collaboration with the iconic Patti Smith.
The heart of this exhibition is a result of Crasneanscki's dynamic partnership with Patti Smith from 2019 to 2021, a period marked by intensive collaboration resulting in a compelling triptych of albums inspired by the poets' voyages. The fusion of sound and imagery in this montage echoes the themes of infinity and universality, leading visitors on a poetic quest for unity. Studio Naegeli aptly summarises this experience as a reflection on the boundless and the cosmic, encapsulating an artistic journey that beckons viewers to explore the depths of their own perceptions.
"Perfect Vision" is an exhibition that bridges the realms of art, sound, literature, and human experience. Stephan Crasneanscki's artistic evolution, combined with the resonance of literary giants, creates a magnetic atmosphere that tugs at the soul and ignites the imagination. As a visitor, you engage with the drawings, collages, paintings, and the collaborative sound video piece, as you are invited to peer through the lens of a visionary, connecting with the profound narratives embedded within each stroke and note.
The exhibition will run until 15 October, and an artist talk is scheduled for the beginning of September. In the upcoming issue of GstaadLife there will be an additional article on Perfect Vision.

JEANETTE WICHMANN | Based on AvS | Jocelyne Page
---