New client area - consistent values
11.08.2023
Advertising, Business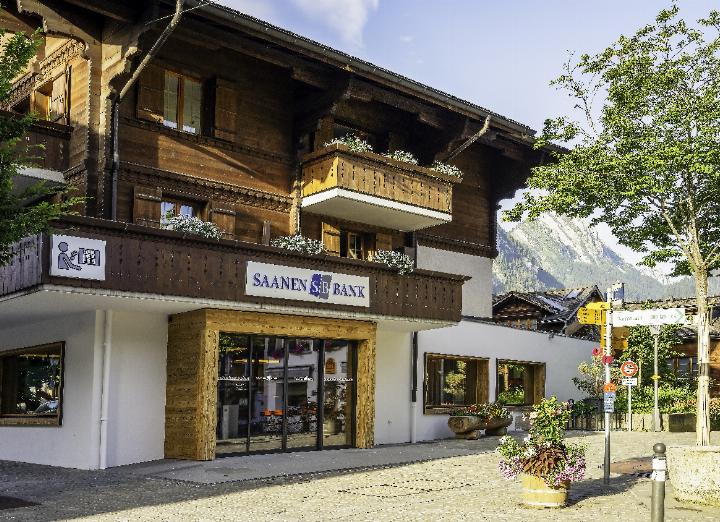 The entrance of the fully renovated headquarters in Saanen now faces Menuhinplatz and the pedestrian zone. Photograph: Corinna Müller, Saanen
After a long period of renovation, Saanen Bank opened its new client area at the head office in Saanen in April. It has been relocated and is almost unrecognizable. The new Saanen head office is state-ofthe-art, but remaining true to tradition and thus reflects the bank's fundamental values.
Since taking over the former post office premises, Saanen Bank has had the entire ground floor at its disposal. It was therefore able to draw on all its resources for the renovation, rethinking and modernizing everything from the entrances to the room layout and processes. The result is like night and day. Employees and customers agree that it was worth the effort.
A place to feel welcome
The entrance, which used to be set back from Bahnhofstrasse, now faces Menuhinplatz and the village. The wooden cladding of the sliding door gives a hint of the interior. Special attention was paid to the materials used in the renovation. Customers enter a spacious room dominated by natural materials.
Antique wood on the walls, stone layered counters, wooden parquet floors and carpets in shades of brown. Of course, the traditional découpage is not missing in the picture. All this creates an atmosphere that makes advisors and customers feel at ease. The ideal conditions for focused discussions and satisfying customer service.
The 24-hour zone, which is separated from the counters and information desks after business hours, allows customers to conduct banking transactions around the clock. An ATM for deposits and withdrawals, as well as separate access to safe deposit boxes, are available around the clock – with state-of-the-art security technology, of course.
True to its values
At a time when more and more banking transactions are being carried out digitally, the new branch in Saanen may seem somewhat out of step with the times. But that is only at the face of it.
While Saanen Bank provides digital banking services, it also values proximity to its customers. This includes open and welcoming premises with personal service. It also includes round-the-clock analogue services available on site.
This proximity to its customers, the personal contact and the preservation of analogue services in a digital world correspond to the values of Saanen Bank. It takes care of its clients' banking business in a customer-oriented, competent and reliable manner.
Saanen Bank provides stability in an ever-changing world. After all, reliability and consistency are among its core values, and they remain so in the digital age. This is what Saanen Bank stands for – and has done so for nearly 150 years.
Saanen, Gstaad, Schönried, Lauenen, Gsteig
033 748 46 46
www.saanenbank.ch
---
Image Title