LAST MAN STAN....ding
20.07.2023
Sports & Leisure, Events, Swiss Open Gstaad - ATP Tennis, Local News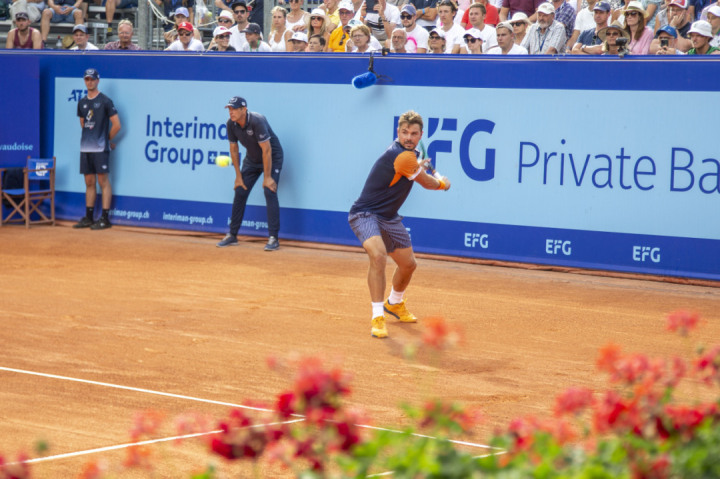 Last Man Standing - Stan Wawrinka is the last Swiss player in the EFG Gstaad Open (photo: AvS)
And now there is only one
Stan Wawrinka is now the last Swiss player in the singles tournament and should be pretty rested after his opponent Roberto Carballes Baena had to abandon the match due to injury; that score ended 6:1 and 3:1. This afternoon, he is meeting Spaniard Jaume Munar.
Late night doubles
It was not entirely clear if the last double of the day would be played on Wednesday, but after Stricker's quick match against the Serbian Kecmanovic that lasted less than 1,5 hours, he was still warm enough and motivated to change a losing streak. So ahead they went and the sundowner doubles match saw a motivated Swiss team facing the seasoned double-trouble Colombian team of Nicolas Barrientos and Juan Sebastian Cabal.
From the outset, it was clear that both teams were evenly matched. The seasoned Colombian duo exhibited remarkable chemistry and an unwavering fighting spirit. Their quick exchanges and impressive net play kept the pressure on their opponents throughout the match. Stricker and Wawrinka brought a combination of youthful exuberance and veteran experience. They played with precision, executing well-timed volleys and powerful groundstrokes, showcasing their ability to seamlessly adapt to each other's playing styles. Thou it did not seem to me enough to withstand the pressure of the Columbians that skillfully secured the first set with 3:6
On the other side of the net, the Swiss fought back and secured the second set in 30 min with the same numbers; thou reversed in their favour. The final set was a quick and efficient affair, 10:4 in favour of Stricker and Wawrinka. Swiss tennis at its most efficient as the set was done and dusted in just 10 minutes!
---