Initiating dialogues with music.
14.07.2023
Arts & Culture, Events, Concerts, Menuhin Festival & Academy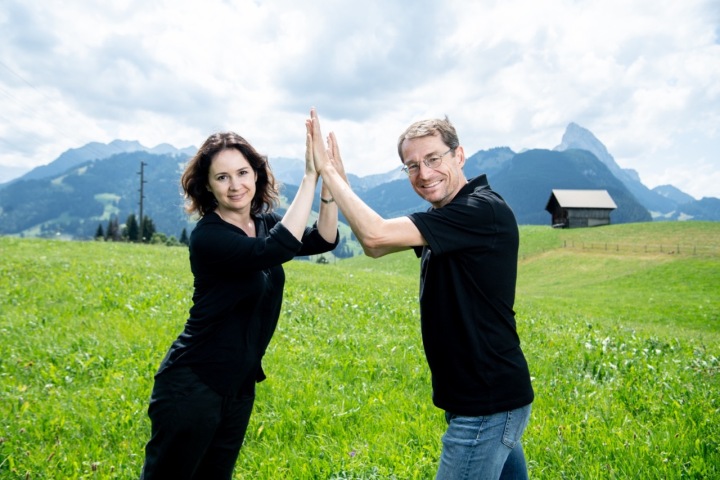 Photograph: © Raphael Faux
Today, the 67th Gstaad Menuhin Festival & Academy will begin its three-year programme cycle "Change". Christoph Müller, Artistic Director of the Gstaad Menuhin Festival & Academy, talks about the feedback, wishes and attitudes pursued by the new festival theme. The focus is on departure, reflection and exchange.
Christoph Müller, is the festival also changing, and if so, to what extent?
On the operational side, we have embarked on our journey to make our music festival more resource-efficient and sustainable. The most obvious thing is to start with ourselves. Therefore, as a first step, we are trying to make our office as climate neutral as possible. From an artistic point of view, we want to find musical approaches to topics that are currently preoccupying our society. As a music festival organiser, I feel it is our task to respond to the changing world and the stirring social issues.
How have the artists responded to the festival theme?
The "Music for the Planet" concert series was developed in close collaboration with the innovative and creative Patricia Kopatchinskaja. She responded with great enthusiasm and energy to the questions surrounding the three festival themes for the next three editions. I generally notice that after the Corona crisis, musicians have a greater need to reference the now and today in their concert programmes. The conviction that music and culture should and must contribute is palpable, even tangible, in many of them. Some of them also make significant project proposals, although I sometimes must put on the brakes because specific ideas and concepts cannot be realised in the context of our festival.
Have there already been questions for you as the organiser concerning the festival theme from those who have already booked tickets?
So far, we have only received approval from the audience. We have received letters from regular guests and others who welcome our choice of theme and strategy regarding sustainability. It is gratifying that discussions also arise, and I am very open and interested in participating in them even during the festival period. It is nice when a theme stimulates thought and discussion. That is one of the ideas of a cultural event, especially a festival, to initiate dialogues, which can also be controversial.
What feedback from the audience would be most valuable to you, considering that the festival's current theme and actual content surpass those of previous editions and are likely to inspire visitors to engage in meaningful idea exchange?
We need to be acknowledged not only for entertaining the audience but also for provoking thoughts on the mindset of humility and the significant themes of transformation and migration.
The first chapter of the cycle, CHANGE, is dedicated to "Humility". At first glance, there is no room for lightness in the music. Doesn't this theme run the risk of having too much heavy music in the programme?
To begin with, I want to clarify that the theme of "Humility" in the first chapter of our cycle, CHANGE, does not entail heaviness or negativity in terms of the music and concerts. Humility, historically, represents the "courage to serve," and its interpretation can vary. Upon reviewing our programs and offerings, it becomes evident that approximately 25 to 30 percent of our concerts incorporate "light" and "entertaining" elements, encompassing diverse styles and genres beyond classical music.
While our repertoire includes renowned symphonies and masterpieces from the Baroque and Classical periods, they will be approached from the perspective of humility. For example, we will delve into Johann Sebastian Bach's Mass in B minor, Haydn's Creation, or Mahler's Symphony No. 2, "Resurrection." It would be gratifying if our visitors recognised this humility reflected in the composers' attitude and the music itself and perhaps draw personal conclusions from it. We aim to foster an awareness of this sentiment, described as "humility," towards role models, nature, or within a spiritual context.
The festival undoubtedly embraces the joyous realm of music, and one performance that should not be missed is the a cappella singing by the London-based ensemble VOCES8, accompanied by violinist Bomsori Kim. What makes this a "must-hear" experience?
This program offers a unique blend of styles, with Johann Sebastian Bach serving as the anchor, model, and nucleus from which other elements emerge. As is customary for a "Today's Music" performance, it combines two distinct sonic entities: the harmonies of the a cappella group and the resonating melodies of the violin. The sheer excellence displayed by both performers is guaranteed to send shivers down your spine, providing an extraordinary listening experience.
Ute Lemper brings her deeply personal song recital inspired by an actual telephone conversation with the legendary icon Marlene Dietrich. Ute Lemper is a celebrated star in the USA. How do you bring such a personality to Gstaad?
In 2019, I successfully persuaded Ute to have her first performance with us in a captivating "Nuit Parisienne," which was a resounding success. As a result, she gladly agreed to return. Over the years, Ute has earned legendary status as a chanson jazz singer, particularly in Europe, due to her extensive appearances on German and French television. Although she now resides in New York and her European appearances have become less frequent, her tribute to Marlene Dietrich exemplifies her profound respect and admiration for this iconic figure.
Among the many established artists already familiar to the festival, young and emerging musicians are also featured in the program. Fortunately, the musical interests of the audience are diverse, ensuring that every note is noticed. However, who will you not miss in the upcoming festival weeks?
I will be present at all the concerts if possible. I must get a picture of the young people, how they function in concert and how they come across and are received. These are essential impressions regarding further promotions. There are numerous tips I could give for new discoveries among the youngest generation of soloists. For me, the cellist Ana stasia Kobekina and the pianist Yoav Levanon, to name just two of many, have the greatest potential.
THE DIRECTORS TIP:
And if I may recommend something else, with a young soprano at its centre: Pretty Yende, who has just thrilled an audience of millions at the coronation of King Charles. With the performance of Gustav Mahler's monumental second symphony - the "Resurrection Symphony" - with her as a soloist and the Gstaad Festival Orchestra, we are in for a highlight in many respects. An epic work of epoch-making dimensions for Romantic music with about 120 participants - soloists, choir, and large symphony orchestra - who will create a captivating sound event rarely experienced in our symphony programme. And when Jaap van Zweden, a proven Mahler specialist who conducts entire Mahler cycles in New York or Amsterdam, takes the podium and steers this steamer through the choppy seas, the festival sensation is guaranteed.
---
Image Title