How can the current situation not preoccupy us?
16.07.2023
Arts & Culture, Events, Concerts, Menuhin Festival & Academy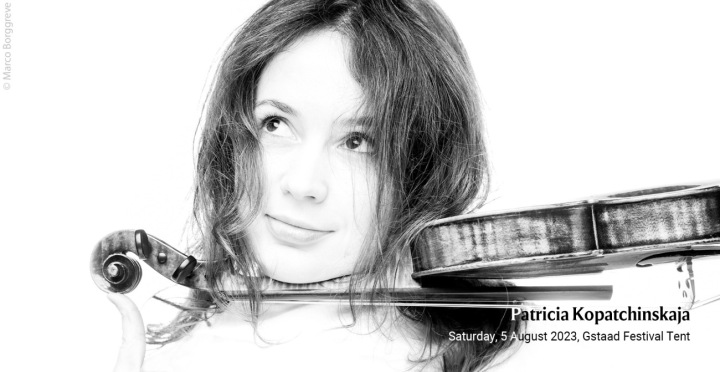 Image courtesy of Gstaad Menuhin Festival
Insights from violinist Patricia Kopatchinskaja
In Patricia Kopatchinskaja, the Gstaad Menuhin Festival & Academy has found a creative and convincing partner. As the Ambassador for the Music for the Planet cycle, she reveals her concern with the current situation and what moves her in this interview.
Patricia Kopatchinskaja, what does music mean to you, regardless of whether you listen to it or perform it yourself?
Music encompasses everything: it is the air we breathe, the source of joy and nourishment for our souls, and a catalyst for profound thoughts and emotions. Every note and melody piques my curiosity, every sound teasing my perception. It transcends mere words, carrying weight and significance that resonates deep within. Music possesses an immense power, one that must be wielded with care and mastery.
With your concert series, "Music for the Planet," you will be featured in various programs at the upcoming three editions of the Gstaad Menuhin Festival. Why does the current situation in which the world finds itself preoccupy you so much?
A counter-question - how can the current situation not preoccupy someone? When we observe the glaciers in Gstaad, it profoundly touches our hearts. So much of what we are experiencing in the world right now is often rooted in drastic climate change. Even as a musician, one cannot escape from it. Scientists struggle to move us with numbers. Therefore, we must try even harder to reach people's hearts.
How did you come up with the idea of combining what concerns you with music?
As soon as one receives carte blanche, one starts to think independently about what I actually want to present on stage - what is important to me and to all of us. How can we engage with our time, characterise it, raise questions, create sounds and images? Which pieces speak to us and which ones do we listen to? Just like a theatre director, an author, or a gallery owner. We address a sensual, thinking audience and give them everything we can.
Do you think the masters of outstanding works from past times were aware of their music's transmittable and large-scale significance?
I think so. Greatness is felt by everyone at all times and also by the creator himself. A good piece hovers over us all.
Shaking things up is often understood as "missionising" and pushed away. How do you prevent that from happening to you?
By not proselytising too often. I also enjoy playing nonsense.
Will you attend other concerts at the festival? Whom would you not want to miss?
Above all, my friends' concerts - musicians enjoy meeting at the idyllic and friendly Gstaad Festival, whether at concerts or even while hiking.
BASED ON AVS | JENNY STERCHI
---
Embarking on a Journey of Sustainability
"Mission Menuhin" stands as a bold and all-encompassing endeavour dedicated to comprehensive sustainability. In pursuit of this noble objective, the Festival has devised a range of measures aimed at gradually reducing its carbon footprint while fostering a sense of responsibility for resource management among its valued audience, team members, and partners. More transformative endeavours are poised to unfold during the Festival and beyond. The festival invites you to join in on this remarkable journey of collective action. Stay informed about new measures, projects, and progress by visiting "Mission Menuhin" and become a part of this transformative movement. www.gstaadmenuhinfestival.ch/en/about-us/mission-menuhin
---
Image Title