Gstaad Yacht Club host the prestigious ICOYC Conference
11.07.2023
Sports & Leisure, GYC - Gstaad Yacht Club, Conference, Business, Sports & Leisure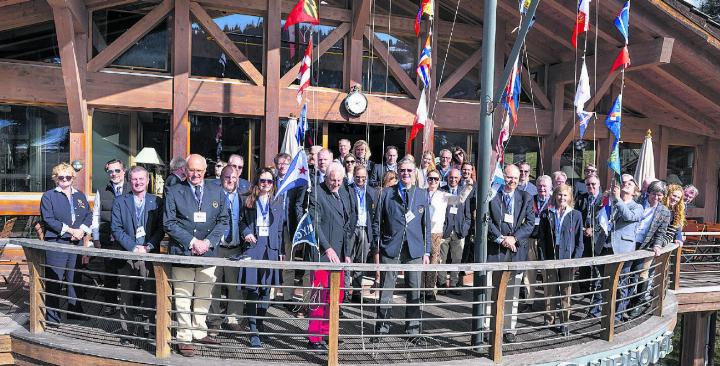 Photograph: Courtesy of GYC
The Gstaad Yacht Club recently played host to the International Council of Yacht Clubs (ICOYC) for its 9th European Conference, held from 9 – 11 March 2023. What began as a regional European gathering quickly transformed into a worldwide meeting, drawing nearly 60 delegates and partners from 27 clubs across 20 countries. The conference served as a valuable platform for knowledge sharing, allowing clubs to exchange information, discuss common challenges, and learn from one another's experiences.
The conference kicked off with a Flag Ceremony, officially opening the forum and welcoming new club members. The agenda featured a diverse range of topics, covering areas such as sports results, boat park management, and class maintenance. The Gstaad Yacht Club, celebrating its 25th anniversary, had the opportunity to showcase its achievements and explain why it was established away from the waters, highlighting its sailing successes, including at the Olympic level. The first day of the 9th ICOYC European Conference came to an end with a dinner at the Gstaaderhof.
The second day focused on the economic outlook, clubhouse specialities, risk management, emergency situations, and sustainability initiatives. Clubs from different regions shared their efforts to promote social and environmental sustainability, collaborating with government agencies and NGOs to benefit their communities and enhance their club's image.
Membership, human relations, and technology were also key areas of discussion, emphasising the importance of efficiency and innovation within yacht clubs. The conference concluded with insights from Jack Griffin, a renowned personality in the America's Cup circle, who provided updates on the latest news from the sailing world.
Throughout the conference, participants had the opportunity to enjoy the stunning backdrop of the Swiss Alps, with various social events and gatherings held at picturesque locations. Naming both lunches at Grand Chalet and on the final day, the delegates went up the Wasserngrat to lunch at long-term friends, the Eagle Ski Club and enjoyed breath-taking views of the surrounding mountain peaks.
The closing gala dinner at the Gstaad Yacht Club's clubhouse celebrated the successful conference, with burgee exchanges between the GYC Commodore and representatives from other yacht clubs.
Overall, the ICOYC European Conference in Gstaad was a resounding success, facilitating valuable discussions, fostering collaboration, and strengthening the global yacht club community. The Gstaad Yacht Club proudly rose to the challenge of hosting this prestigious event and made a significant contribution to the success of the ICOYC's conference series.
BASED ON GYC PRESS RELEASE
---
Image Title