Glacier 3000 opens the highest carnotzet in the world
25.01.2023
Local News, Local News, Business, Sports & Leisure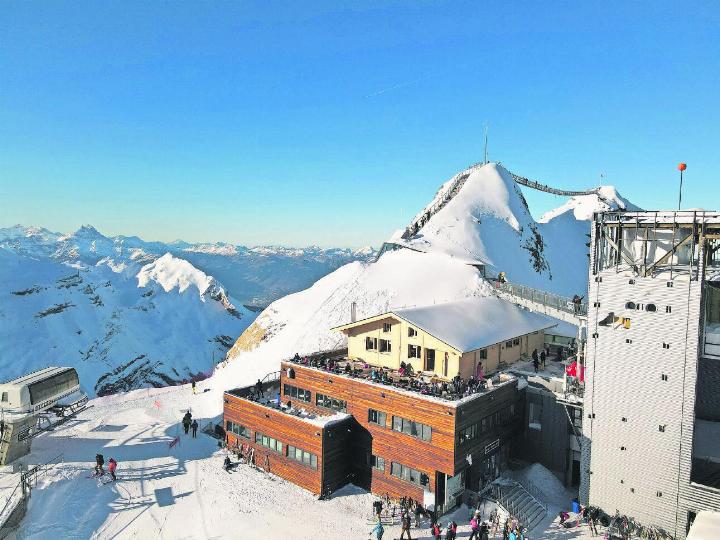 Photograph: Avs
A temporary restaurant solution was built only three months after the fire at the Botta restaurant on Glacier 3000. A Carnotzet with space for 70 indoor, and just as many out on the terrace.
What exactly is a carnotzet? Bernhard Tschannen, the managing director of Glacier 3000, explains: "In French-speaking Switzerland, a carnotzet is a comfortable place where friends meet friends and sit together enjoying good food and a glass of wine." Originally this meant a cellar or a vault, but today carnotzets can also be above ground – and even in this case, at 3000 metres above sea level. There is hardly any other high-altitude carnotzet like this in the world. The idea of the carnotzet arose from and emphasises the local roots and aspects of this project, Tschannen explains and continues: "We received great support from the craftsmen from Les Diablerets, who took on this challenge with extraordinary commitment. That's why we wanted to associate this place with Vaudois traditions." The new menu has also been created to reflect this philosophy.
Under difficult conditions
"We had to consider that the carnotzet would have to withstand strong winds and high snow loads and be well insulated," Bernhard Tschannen explains.
Wooden elements of the temporary structure were prepared in a workshop and assembled on the terrace of the Scex Rouge - sometimes under extreme conditions. Wind gusts of up to 100 kilometres per hour sometimes forced the workers to evacuate the construction site for their own protection. The temporary arrangement has been approved and will remain until the reopening of the new Botta restaurant.
Botta restaurant to be rebuilt almost identically
The reconstruction of the destroyed restaurant, situated in the cable car's mountain station, is to start in spring and, if everything goes according to plan, will be completed by the end of this year. Supposedly the new building will be "rebuilt almost identically to the former, but with some operational improvements to the interiors." Architect Mario Botta is involved in the project and is "contributing to the rebirth of this architectural masterpiece".
BASED ON AVS | KEREM MAURER
---
NEW BLACK PISTE OPENS SOON

According to Bernhard Tschannen, after this week's snowfall on Glacier 3000 another 50 to 70 cm should be added. He is confident that the new black run will open before the end of the month.
---
Image Title