Gems on Wheels: The Gstaad Palace Challenge
07.09.2023
Lifestyle, Events, Editors Picks, Luxury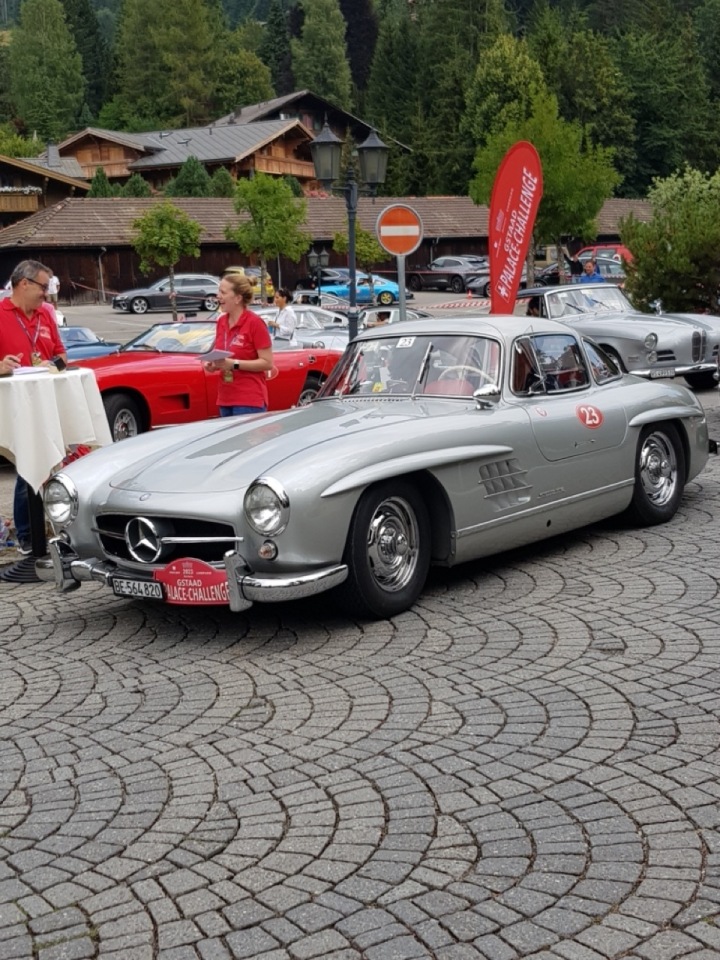 Ready to go: Mercedes Benz 300 SL Coupé, built in 1955. PHOTOS: EUGEN DORNBIERER-HAUSWIRTH
In the world of entrepreneurship, innovation and creativity are essential qualities. Back in 2016, Andrea Scherz, the Managing Director of the Gstaad Palace, found himself dissatisfied with the hotel occupancy rate during the final days of August. Fueled by this challenge, he teamed up with Franco Lupi from Gstaad to launch what would become the Gstaad Palace Challenge—an ambitious weekend rally tailored for enthusiasts of exclusive classic cars.
From the Rally Chronicle:
Friday, 25th August
Following a thorough briefing, 36 teams consisting of drivers and co-pilots embarked on a journey with their prized automotive treasures. Starting at 2:01 p.m., teams departed the Gstaad Palace, one minute apart, heading towards Saanen. The initial stage of the rally took a leisurely route to Broc and then back over the scenic Jaun Pass to Gstaad. The finishing line awaited them on the promenade, nestled amidst Gstaad Saanenland Tourismus, the Chopard Boutique, and Le Caveau de Bacchus. After parking their elegant chariots (Parking Sutterstrasse 7), participants converged in the finishing area for an aperitif, with the public also invited to join in the celebration.
Saturday, 26th August
The early hours of 7:31 a.m. marked the start of the second leg. After navigating through detours and completing various tasks at designated stations, the rally drivers, driven by their passion, reached the shores of Lake Geneva via Col de Mollendruz. There was scarce time to linger amidst the picturesque surroundings, as the journey back to Gstaad via Col de la Croix and Col du Pillon was a long and demanding one. At the Palace Parking finish line, pilots and co-pilots were rewarded with a mountain crystal courtesy of Andrea Scherz.

Pilot Nicolas Kappenberger's Perspective on the Gstaad Palace Challenge

"Both stages offered an incredibly beautiful experience. We were enamoured with the roads and routes we selected. Our 1990 Lancia Delta and the weather played in perfect harmony. My co-pilots expertly guided me to our various destinations without any detours. The slalom driving at the Saanen airfield was an absolute blast, and we had a fantastic time. This marks my seventh participation, and the thrill of driving alongside these beautiful classic cars, coupled with Andrea Scherz's heartfelt organisation and the camaraderie with friends, keeps me eagerly anticipating the Gstaad Palace Challenge in 2024. See you there!"

The Exquisite Lineup of Cars
Ferrari: 8 models, produced from 1961 to 1980
Porsche: 8 models, produced from 1960 to 1979
Jaguar: 3 models, produced from 1965 to 1973
Mercedes: 3 models, produced from 1955 to 1959
BMW 503 Coupe: 1 model, manufactured in 1958
MGA 1600 MK II Coupe: 1 model, manufactured in 1961
AC Cobra Shelby GTS 12: 1 model, manufactured in 1962
Bentley S3 Continental: 1 model, manufactured in 1963
Morris Cooper S: 1 model, manufactured in 1964
Aston Martin DB5: 1 model, manufactured in 1965
Intermeccanica Spyder Italia: 1 model, manufactured in 1971
Audi Sport Quattro: 1 model, manufactured in 1985
Lancia Delta Integrale: 1 model, manufactured in 1990

The Oldest Automotive Gem in the Lineup

BMW 850, manufactured in the year 1950
---