Dangerously up and close!
18.02.2023
Arts & Culture, Events, Local News, Arts & Culture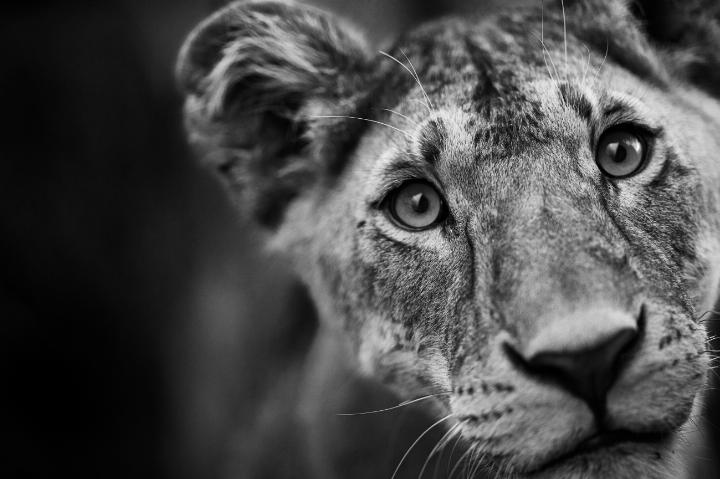 In Chalet Naegeli in Gstaad you will see bull elephants making threatening gestures and roaring lions looking you straight in the eye – it's not for the faint-hearted. A new photo exhibition of wild animals takes its cue from the work of Gstaad photography icon Jacques Naegeli.
The current exhibition, "Wild Souls" shows incredible wildlife photographs by Belgian artist Griet Van Malderen. According to gallery owner Anna Högl, she chose this artist because her works show parallels to the work of Jacques Naegeli: who also photographed wildlife, first in Saanenland, then on several trips to Africa. Some of his pictures are on display alongside Van Malderen's photographs.
Naegeli was fascinated by the wild. He photographed wild animals such as chamois and marmots in Saanenland and made elaborate hikes to photograph a golden eagle's nest. Later, he made several trips to Africa. It was important to him to encounter animals in their natural habitat, something Van Malderen also values. She looks for areas untouched by humans and spends long periods of time, sometimes alone in the wilderness, studying the animals' natural behaviour. Often, she spends days waiting for the right photographic moment.
Another common feature in the working methods of Naegeli and Van Malderen is their closeness to the animals. Just as Naegeli used to do in the 1930s and 40s, Van Malderen does not shy away from wild animals and often gets very close to them for a good picture. Naegeli regularly put himself in great danger to do so, and little has changed in that regard to this day: Van Malderen also takes considerable risks. Wild animals often attack when they feel threatened.
Griet Van Malderen is committed to portraying the endangered habitats of her photographic subjects and to species conservation. Often her photos not only portray the wild animals in their untouched habitat – but also nature affected by mankind, global warming, and urbanisation.
Naegeli also recognised the danger that wild animals were becoming increasingly rare, and he recorded these thoughts in his travel journal "Sudan" from his trip to Africa in 1941. A special feature in the current exhibition at Naegeli is a section of the gallery made explicitly for children. It is a series of Van Malderen's photos showing baby animals.
Another part of the exhibition is the "ice room", displaying pictures taken by Van Malderen in northern Canada of polar foxes and polar bears trudging through snow-covered landscapes.
"It is great to be able to exhibit images by a female wildlife photographer," says Högl. "Women are still the clear minority in this industry," she says. Griet Van Malderen will be coming to Gstaad for a talk at the end of February.
Works by the resident artists will are also represented; art installations by Anthony Bannwart and Pierre and Cédric Koukjian.
Further information: www.studionaegeli.com
The Wild Souls exhibition runs until 31 March.
BASED ON AVS | NICOLAS GEISSBÜHLER
---