Colour ever-present
06.03.2023
Arts & Culture, Events, Gallery & Exhibitions, NewsUpdate, Arts & Culture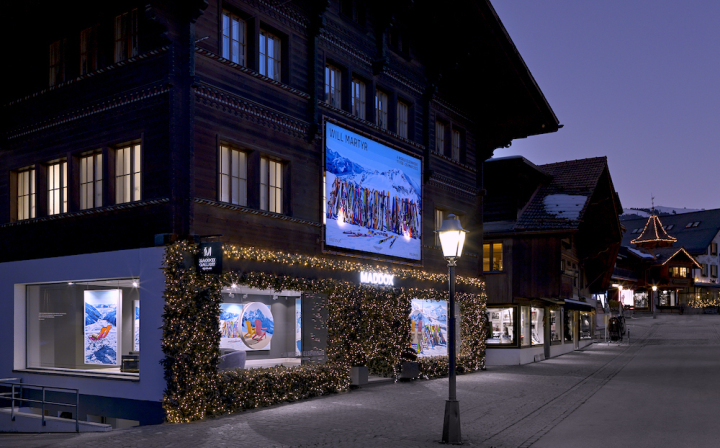 Maddox Gallery Gstaad | Photo Annik Wetter
For the upcoming rainy days, it's worth checking out "A World Elsewhere", a solo show by British artist Will Martyr, presented at Maddox Gallery until 25 March.
Colourful Mountains
According to Will Martyr, mountains have a contradictory nature that is both brutal and beautiful, cold and tranquil. They provide a unique and alluring playground for recreation and indulgence. In his recent body of work, Martyr aims to capture the moments that evoke a sense of fulfilment and tranquillity in the mountains. The absence of the human form in his paintings allows viewers to import their own memories and experiences.
Martyr's paintings act like stage sets, inviting viewers to enter the scene and create their own stories. The chairs resting in the snow and the chaotic collection of skis and poles outside a mountain restaurant are moments that evoke anticipation and wonder. Martyr captures these forever-changing sculptures momentarily, creating a sense of movement and energy in his paintings.
Ultimately, Martyr's paintings are a portal to the mountains, where viewers can be transported and relive their own memories. His paintings' locations are unimportant, but the feelings they induce are what matters. Martyr's artwork is a beautiful and evocative representation of the mountains' unique beauty and contradictory nature.
My mother used to say there is no such thing as poor weather, just poor clothing. Nevertheless, I do not fancy a run down a wet slope. Instead, I rather stay dreaming of sunshine in front of one of Will's paintings. Maybe you would enjoy that too?
Jeanette Wichmann
---
About the artist
Will Martyr was born in Eastbourne in the United Kingdom in 1980. At the age of 18, he was accepted into the prestigious Slade School of Fine Art in London. During his time at The Slade, the artist experimented with colour, drawing on influences from Ellsworth Kelly, Josef Albers and Richard Diebenkorn. To this day he calls himself a colourist. Following his time at The Slade, he then moved to New York to live and work. The city inspired him with its diverse and rich art scene and its juxtaposition of architectural genres and scale. This fed into Martyr's early architectural paintings.
Martyr returned to London in 2005 to complete his education at the Royal College of Art. He still lives and works in London today. His illustrious education has had a profound effect on his practice. From the unconventional shape of his circular canvases, named tondos, to the hard-edged qualities of his painting, reminiscent of Pop-Art, Modernism and Italian Futurism, the history of art heavily influences his artwork. Will Martyr's subject matter often features natural landscapes: windows into utopian environments, fragments of interiors and narrative cut-outs.
---