Chalets, somewhere between passion and culture
03.05.2023
Arts & Culture, Events, Editors Picks, Gallery & Exhibitions, Architecture, Traditions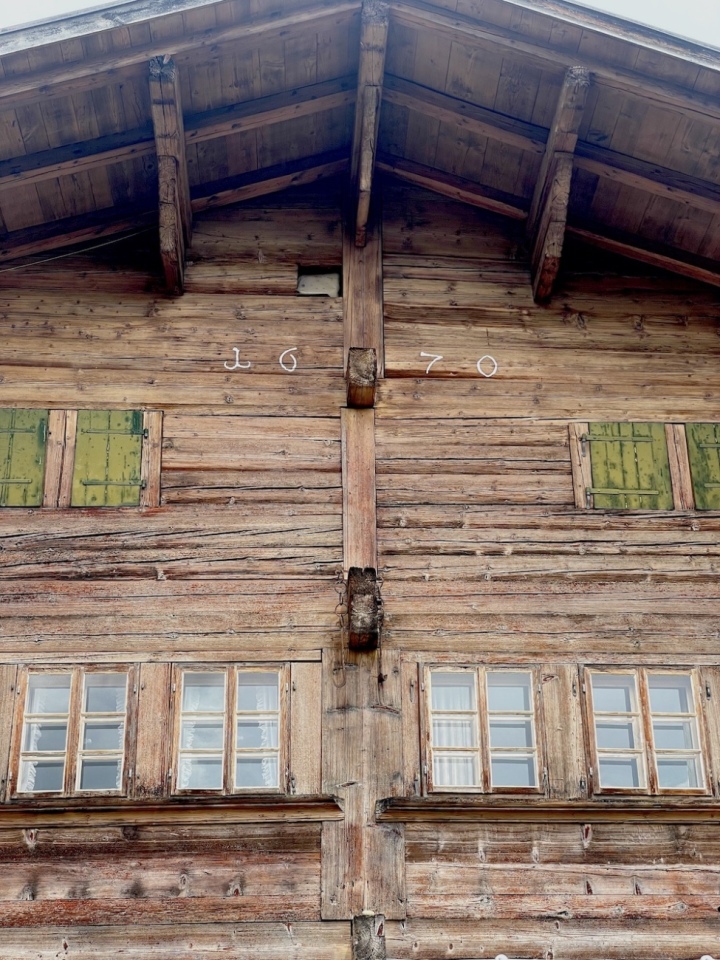 A wonderful example of a well preserved chalet from 1670, in Saanen.
A chalet is a chalet, isn't it? This question is partially answered by an equally informative, humorous and entertaining exhibition at the Swiss National Library in Bern. Worth a visit for a rainy spring day.

The Swiss love chalets and, above all, the Bernese Oberlanders. Our holiday guests from all over the world also appreciate this architectural style. But what is a chalet, what constitutes its charm, and what characteristics does a cosy-looking wooden house need in order to pass as a veritable chalet? The overhanging roof, the geraniums in front of the windows (which originated in South Africa!), and the carved roof beams are certainly part of it. 
But it is much more than that: it embodies the longing for alpine nature and the feeling of home and is a quintessentially Swiss phenomenon now represented worldwide.
A playful approach
The " Chalet. Passion, Kitsch and Building Culture" (In German: Chalet. Sehnsucht, Kitsch und Baukultur") exhibition is playful and pragmatic. It traces the path of the "Laubsägeli-Chalet" from its origins to export success and also includes examples of it in small format; as a souvenir and children's toy. 
The Count of Pourtalès, for example, did not miss out on the opportunity to create a mini chalet for his grandchildren in the park of Oberhofen Castle on Lake Thun, where their birthday parties were held. 

The show also presents current buildings inspired by this type of house, which even uses concrete as a building material in the bivouac form. The subject is approached from different angles using different media: concise texts, descriptive photos, historical pictures, film, graphics, sound and interactive stations.
Famous worldwide
The show is also informative for those interested in architecture and design. These include, for example, those that prize-winning architect Gion Caminada from Graubünden is building today, interpreting the local building tradition, and seeking possibilities of employing old building constructions in modern architecture. 



The curators have not shied away from including "false chalets" - i.e. former military installations such as those found in the area around Spiez as bunkers and camouflaged cannon sites - and modern interpretations of the typical wooden building.

The worldwide presence of chalet buildings is shown on a huge wall map: They can be found on every continent, including unexpected regions such as Central and South America, the Middle East and the Far East. 
Even newspaper clippings of the seven-month house arrest of "our local" and famous director Roman Polanski in his typical Saanenland chalet in Gstaad have made the cut.

Based on AvS | KURT METZ
---

Practical info: The exhibition "Chalet. Passion, Kitsch and Building Culture" is open from Monday to Friday from 9 am to 6 pm, admission is free. It runs until 30 June and is located on the ground floor of the Swiss National Library in Bern's Kirchenfeld museum district, Hallwylstrasse 15.

For more info on
The exhibition: www.nb.admin.ch/chalet
Examples of new chalets by Caminada Architects
Local photographer: Aliya Diamante
---