A smashing success
26.07.2023
Sports & Leisure, Events, Swatch Beach Volleyball, Local News, Traditions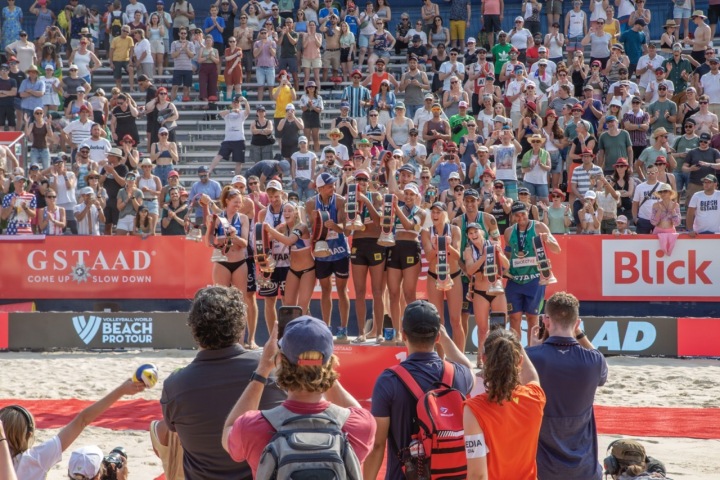 Winners podium - Photograph: AvS | Jenny Sterchi
The victory bells rang out, echoing in Brazil and the USA as the Swatch Beach Pro Gstaad reached its thrilling conclusion. With a staggering turnout of 28,000 spectators at the renowned "Gstaadion," the tournament showcased intense battles under the scorching sun.
The 23rd edition of this prestigious beach volleyball event, part of the Elite 16 category, delivered riveting matches featuring well-known teams and some unexpected twists of fate. Swiss teams faced tough challenges, with none of the CH women advancing beyond the pool round, and the men's duo of Krattiger and Breer falling short in a hardfought match against the Brazilian pair Pedro Solberg/Guto.
Meanwhile, the US duo of Andy Benesh and Miles Partain made their mark on the tournament, dominating every match without a single defeat. The young Partain, at just 21 years old, and his towering teammate left an indelible impression, securing the winners' crowns and receiving the iconic Gstaad cowbells. Their remarkable performance boasted an impressive record of 12 sets won and only two lost.
Norwegian favourites Anders Mol and Christian Sørum, multiple champions of the Gstaad tournament, couldn't overcome the determined Americans in the pool play and the intense final. Although the final outcome was closely contested (21:15, 11:21, 16:18), Benesh and Partain emerged as deserving victors.
In a display of true sportsmanship, the bronze medal match saw Brazil's George/Andre facing Poland's Łosiak/Bryl. The energetic Polish team initially took the lead, winning the first set 21:18, but unfortunately, Michał Bryl sustained a serious foot injury, leading to the match's premature end. In a touching gesture, the Brazilian duo held up Bryl's jersey during the award ceremony, embodying the spirit of fair play.
Brazilian Bell Collectors
Once again, the Brazilian powerhouses Ana Patrícia/Duda clinched the championship title, repeating their triumph from the previous year and securing two more coveted cowbells for their collection. They defeated the US duo in a compelling two-set match (21:18, 21:18). The second-placed American team of Hughes/Cheng and the thirdplaced Nuss/Kloth celebrated their first Gstaad trophies, contemplating where to proudly display their newly acquired cowbells.
The weekend proved to be a resounding success, with sold-out tickets and electrifying energy in the spectator stands. Despite the sweltering temperatures, beach volleyball fans remained animated, cheering for every "monster block" and applauding each service ace with the legendary enthusiasm that defines the sport.
BASED ON AVS | JENNY STERCHI
---