Pugs Perfection
23.02.2023
Jewellery & Watches, Events, Shopping, Luxury, Local News, Lifestyle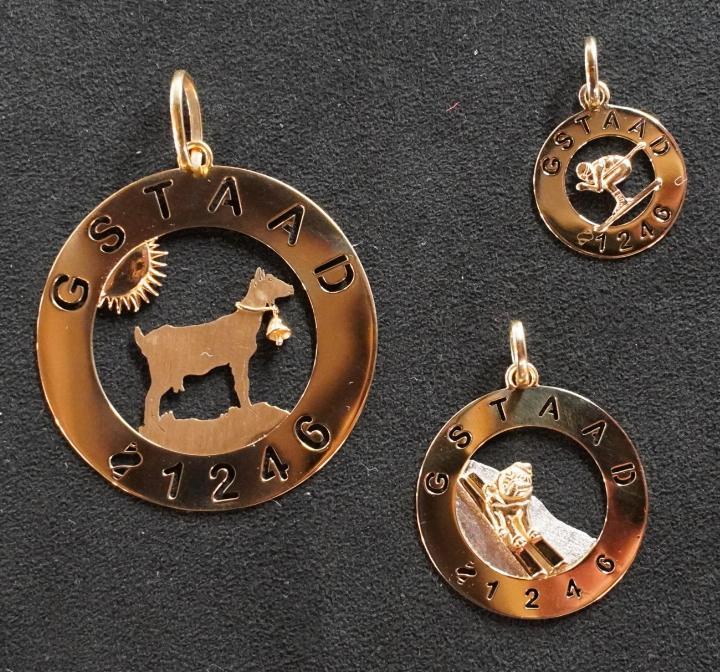 The new golden tokens from Seaman Schepps portray, amongst others, a skiing pug! Surely influenced by, and perhaps as an ode to, the cheeky pug at Huus called Charly.
And this is also where I found them – at the Seaman Schepps pop-up boutique­ – slash lavish Jewellery Exhibition – at the Huus hotel. Splendid golden medallion-like charms that come in three sizes pay tribute to Gstaad with winter sports motifs of a downhill skier, a cable car, the Saanen goat, and of course, the aforementioned skiing pug.

The City Charms from Seaman Schepps: Gstaad are only available at Huus hotel until 26 February and at Olden in Gstaad for longer. Combine the sizes or swap between wearing it on a necklace or on a charms bracelet. I particularly fancy the dangling bell on the Saanen goat or the large charm with the cable car for my husband's keychain.

Jeanette Wichmann

---
Seaman Schepps (1881-1972) was an American jeweller known for his bold, innovative designs and use of unconventional materials. He opened his first store in New York City in 1926 and quickly gained a reputation as a leading jewellery designer, catering to the tastes of the city's elite.
Schepps was particularly known for his use of natural materials such as coral, jade, and shells, which he incorporated into his designs in unusual and unexpected ways. He was also known for his use of bold colours and striking geometric shapes.
Today, Seaman Schepps jewellery remains highly sought after by collectors and fashion enthusiasts. His designs are represented in numerous museum collections, including the Museum of Fine Arts in Boston and the Metropolitan Museum of Art in New York.
---