What's cooking!
11.08.2023
Local News, Gastronomy, What's Cooking, Editors Picks, Local News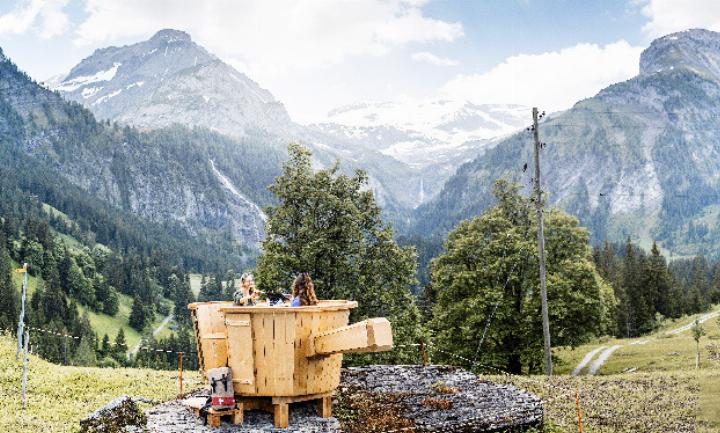 Photograph: Gstaad Saanenland Tourimus
A new XXL Fondue Pot in Lauenen
Fondue is as much a part of Switzerland as the holes in Emmental cheese. And in the summertime, why don't you enjoy it outside in the fresh air in one of the five XXL Caquelons and two Hüttlis. A new location in Lauenen has just extended the offer, so now it's possible to enjoy the popular dish on the panoramic hiking route from Lauenen via Tüffi. After a short walk through the forest, you reach the beautiful hill with a view of the Geltenschuss and Dungelschuss waterfalls, where the fondue caquelon awaits you.
Discover the fondue journey
Venturing forth with the fondue backpack is a delightful experience. The spacious XXL caquelons accommodate up to eight people, and reaching your destination is effortless, whether on foot, by bike, or via the convenient post bus. Fondue backpacks can be easily rented; simply place your order the day before at any of these locations: Schönried Dairy, Fromage & Pain Saanen, Gstaad Dairy, Zweisimmen Dairy, Dorfladen Annen in Lauenen, and Hotel Alpenland.
Rest assured; all the necessary ingredients are thoughtfully included: your choice of creamy classic or aromatic truffle fondue sourced from local dairies, accompanied by crusty fondue bread, a delightful blend of spices, a caquelon (the essential pot), a tin filled with fuel paste, as well as plates and forks.
Set amidst nature's embrace, with an impressive mountain panorama as your backdrop, the fondue experience becomes simply unparalleled - truly a taste to savour!
www.gstaad.ch (direct link online) …. and from one pot to another
---
Bruno Kernen's Brazilian Secret
I sat tucked away in the corner of the cosy restaurant in Hotel des Alpes (a satellite of the long-established Hotel Kernen) and had the best-grilled steak, thus far, in Saaneland. Accompanied by super crispy veggies and sweet potato fries, the meat was cooked to perfection, and the three little jars with salsa, chimichurri and butter were divine. How come I have been living here for so long and missed this little gem? And the man responsible is JP – Joaquim Paes, a young Brazilian chef with an international background; he has an unpretentious approach to his food, and it's refreshing with the Brazilian twists to the dishes. After the three-hour marathon performance of Ute Lemper, we arrived for a very late-night snack, and he proposed we'd try his native seafood & fish stew. It was perfectly balanced, exotic and light, served with crispy rice that would soak up the moisture and provide texture to the tender fish. Sadly, it was a daily special, so I gotta keep my antennas out for the next time he gets the pot out.
www.hoteldesalpes.ch

… moving on up to the next hot(s)pot
---
Eggli goes St.Tropez
This might be the best cure for your Cote d'Azur withdrawal syndrome!
For five days, the Eggli will be transformed into a mini alpine Saint Tropez with all the fixings. The gondola ascends to the pleasure's summit, treating guests to an exquisite menu inspired by star chef Martin Göschel. French haute cuisine entices with Fin de Claire oysters, Label Rouge prawns, lobster tails, and artichokes à la Provence. The snow groomer's food truck offers beach snacks and doubles as DJ Guy Macquart's stage. A highlight is the collaboration with Château d'Esclans' Whispering Angel rosé, symbolising the global pink wine trend. Whispering Angel's success story, once confined to France, resonates as a lifestyle and a must-have at Eggli's event. Allons à la plage de la 23–27 August!
See more on www.eggli-events.ch
---