The Great Dame has left the building!
22.04.2023
Obituary, Grapevine Gossip, Rumour Has It, Local News, Arts & Culture, Lifestyle, Profile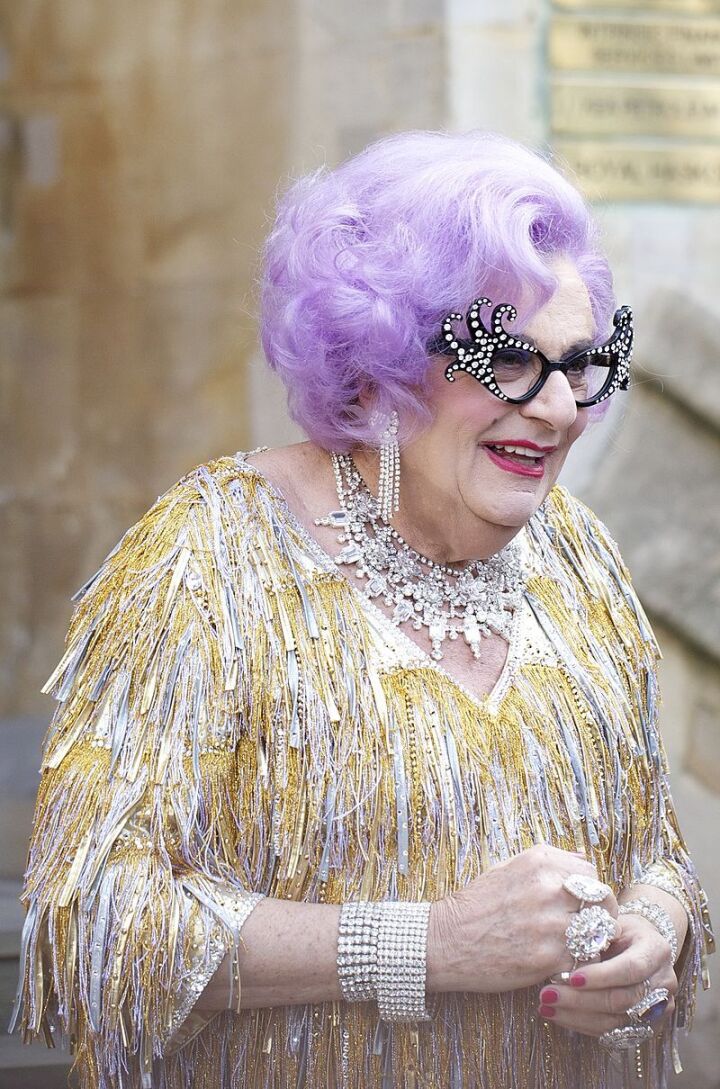 Dame Edna at the royal wedding of Prince William and Kate Middleton in 2011
Barry Humphries, Australian comedian and creator of Dame Edna Everage, dies aged 89.
Despite all of his accomplishments, my most vivid memory of him will be as Dame Edna Everage, the housewife who became a megastar known for her lilac hair and extravagant glasses, and an uncanny knack for poking fun at the rich and famous. Back in 2011, Tess Larosse interviewed him for GstaadLife - free link to the article in GstaadLife no 6, 2011
---
Barry Humphries had a deep connection to Saanenland and spent many happy years here. His love for the area was reflected in his writing and his philanthropic efforts, and he will be remembered as a beloved visitor to our beautiful valley. His legacy as a performer will undoubtedly live on for years to come.
Humphries' love for Saanenland and Gstaad was evident in his support for local charities and cultural events. He was a patron of the Gstaad Menuhin Festival and was also involved in fundraising efforts for the former local hospital. His connection to Gstaad was strong and he wrote a book about the town titled "Soho and Gstaad: A Memoir of Sixties Style." The book chronicled his experiences in Gstaad during the 1960s, describing the town's visitors' glamorous and bohemian lifestyle.
Barry Humphries, born in Melbourne, Australia, in 1934, was a prolific entertainer who left an indelible mark on the entertainment industry. He was a man of many talents, including acting, writing, and directing. He is perhaps best known for creating the character "Dame Edna Everage," a beloved and satirical persona that has delighted audiences for decades. One of the key factors that contributed to Humphries' success was his ability to create memorable characters. As mentioned earlier, his creation of Dame Edna Everage was a stroke of genius. This character, a sharp-tongued, purple-haired, and flamboyantly dressed middle-aged woman, was a satirical take on suburban housewives and quickly became a cult favourite, as well as mine. Humphries' ability to embody this character convincingly and hilariously made him an instant star, and he continued to perform as Dame Edna Everage for over four decades. Another reason why Barry Humphries was such a great entertainer was his wit and sharp sense of humour.
Whether performing as Dame Edna or as himself, Humphries had an uncanny ability to make audiences laugh. His humour was often biting and satirical, poking fun at everything from politics to social norms. His ability to make fun of himself and his own characters only added to his appeal and made him even more relatable to his audiences. Humphries was also a talented writer and director; his work in these areas contributed to his success as an entertainer.
He wrote numerous books, plays, and scripts and directed many successful productions. His writing often displayed his wit and humour and his ability to create characters and situations that were both funny and thought-provoking. In 2011 our former contributor Tess Larosse interviewed him for GstaadLife - link to the article in GstaadLife no 6, 2011
As a devoted possum, his wit and alertness to the moment and nose for very wrong remarks at just the right time, will be sadly missed!
Jeanette Wichmann
---