Successful March for local skiers
14.03.2023
Sports & Leisure, Skiing, Local News, Sports & Leisure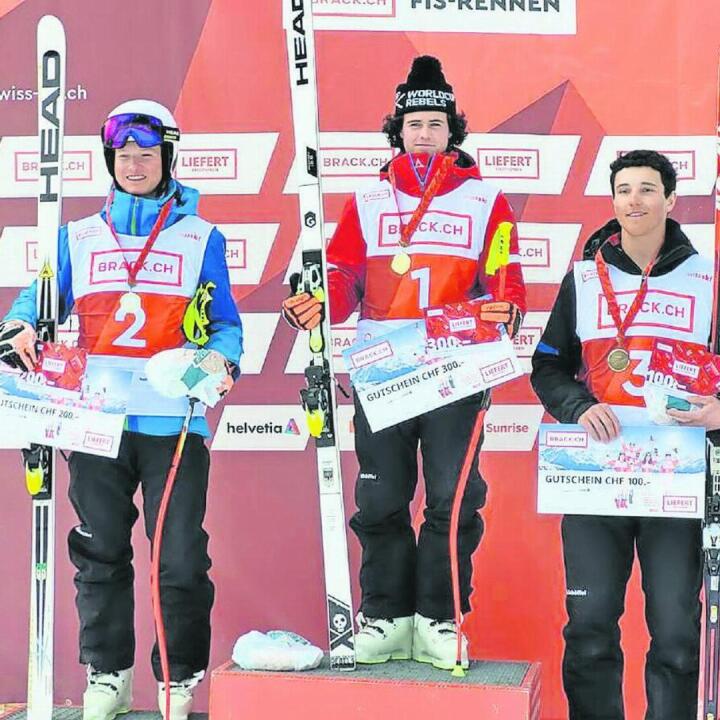 Jack Spencer (centre) twice on the podium top: here as the winner of the Super-G race in the Swiss Championships next to Sandro Manser (left) and Giuliano Fux.
Jack Spencer, a talented skier from the Ski Club (SC) Gstaad, claimed two Swiss championship titles in the speed disciplines of the U18 category. Sue Piller and Celine Reichenbach also secured podium finishes in the national comparison.

Jack Spencer takes two Swiss U18 titles
On the Franz Heinzer slope in Stoos, Spencer emerged as the new Swiss Junior Super-G Champion for the U18 category, finishing ahead of Sandro Manser and Giuliano Fux by a margin of 0.61 seconds. His time of 1:07.85 minutes also earned him fifth place in the U21 category. Spencer's victory in the Super-G race earned him valuable points in the BRACK.CH Swiss Cup ranking, allowing him to close the gap on overall leader Aurelio Wyrsch by 50 points.
He furthered his success by winning another Swiss championship title in the downhill U18 race in Verbier, where he secured first place, leaving Joel Bebi and Sandro Manser in second and third place, respectively.
The season still has one event left on the program - a Super-G race in Verbier scheduled for the end of the month.
Ladies in Swiss comparison
In the Swiss comparison, the women's junior team from Switzerland also participated and travelled to Verbier, where both men and women skied on the same course on the same day. As a result, 184 athletes raced on the same course.
The well-prepared piste for the downhill race yielded results that provided a national comparison for junior girls and contributed points towards the BRACK.CH Swiss Cup standings. Sue Piller, representing Gsteig, secured the runner-up title for the Swiss U21 championship in this discipline by finishing in second place. Celine Reichenbach from Lauenen finished in fifth place in the same category, while Chiara Lanz from Saanenmöser claimed eighth place. Additionally, the women earned podium finishes in the U18 category with their respective run times. Sue Piller earned her second vice Swiss championship title, while Celine Reichenbach took home the bronze medal. These same rankings were also reflected in the BRACK.CH Swiss Cup standings.
A week prior, Sue Piller and Celine Reichenbach had journeyed to Lenzerheide where they participated in an FIS giant slalom event on a well-prepared slope. Sue Piller achieved a top-ten finish, securing the 9th position. Her time also earned her third place in the BRACK.CH Swiss Cup race, while Celine Reichenbach finished in 15th place.
---