Preserving the Beauty of Saanenland!
26.05.2023
NewsUpdate, Gstaad Saanenland Tourism, Bergbahn Destination Gstaad, Charity & Support, Local News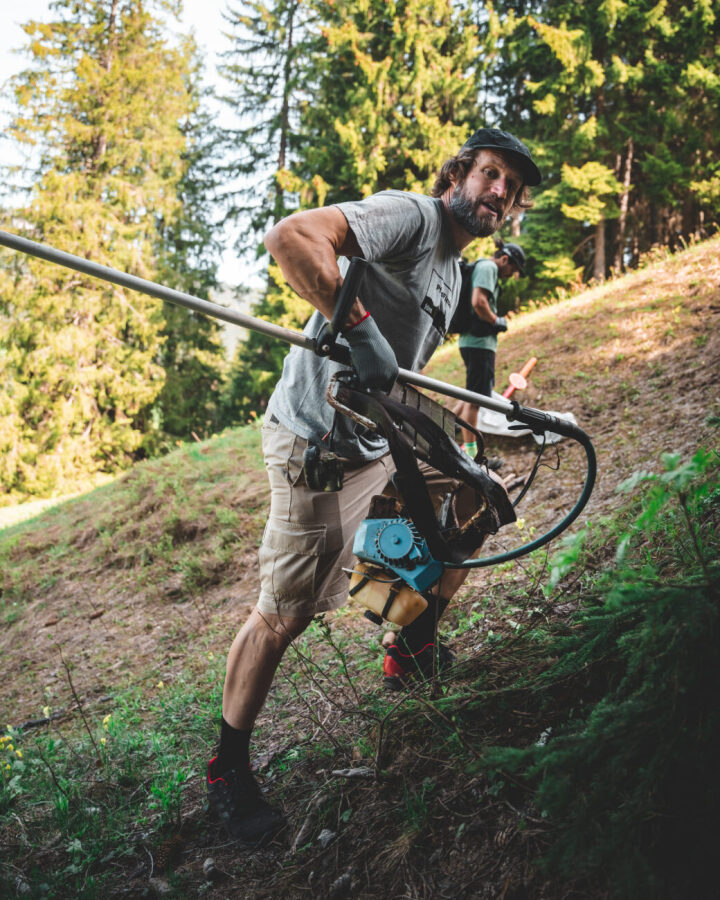 Patrick Bauer in action!
If you are ready to make an impact and give back to the stunning environment that surrounds us and that we call home, then I hope you have signed up for CleanUp Day this Sunday.
But first, take a moment to soak in the breathtaking beauty of Saanenland. Whether you're a visitor or a local, we can all appreciate the wonders this region has to offer. From the majestic mountains to the tranquil lakes, Saanenland has something for everyone. Whether we're zipping down the slopes on skis or exploring the winding trails on foot or bike, this land rejuvenates our spirits and nourishes our souls. It's only fair that we reciprocate by taking care of our natural surroundings.
Even during our exhilarating sports activities, we make a conscious effort to leave no trace. But let's face it, accidents happen. We've all experienced that moment on a chairlift when something slips from our pocket—a phone, perhaps. Although the snowy slopes may hide our mishaps for now, as spring arrives and transforms the landscape into vibrant green meadows, we have a chance to make it right.
That's where the Clean-Up Days come into play—a joint initiative by Gstaad Saanenland Tourismus (GST) and the cable car destination Gstaad. Since last year, they have been organising the Summit Foundation Clean Up Day, rallying volunteers armed with gloves and tongs to scour the ski area and ensure it remains litter-free. Additionally, the municipality of Saanen and GST team up to host the Trail Keeper Days, where dedicated individuals come together to clean and maintain the trails we love. This collaborative effort strengthens our community spirit and paves the way for a healthier future for our valley.
There has been an overwhelming signup response to the upcoming Clean Up Day! The enthusiasm and commitment from the community are truly inspiring. So, if you did not make the cut – you might sign up for the Trail Keeper Day. (link will follow)
Editors Note:
But let's not limit our efforts to just one day. As we gear up for yet another fantastic summer in the mountains, I encourage each and every one of you to embrace a mindset of responsibility and stewardship when you're out on the mountain. Yes, that means picking up your own trash and any litter you come across along the way. I ask you all to show appreciation for this remarkable valley we call home and ensure its beauty remains untouched.

Happy Pentecost Weekend.

Jeanette Wichmann
https://cleanuptour.ch/clean-up-gstaad-2023/
---
The Pledge:
Patrick Bauer, head of destination development & sustainability, explains: "At Gstaad Saanenland Tourismus, we are deeply committed to integrating sustainability into our destination strategy.
And we want our local community to be a part of this transformative journey. That's why we've launched a series that shines a spotlight on the United Nations' 17 Sustainable Development Goals (17 SDGs), showcasing inspiring examples from both within and outside our region. By aligning ourselves with these global goals, we are taking responsibility for the present and the future of Saanenland, says Bauer."
The aim is to foster a culture of responsible action where sustainable practices become the norm. Highlighting innovative initiatives can inspire others to join in this vital mission.
As a first step, the Swisstainable Programme of the Swiss Travel Association (STV), empowers operators to embrace sustainability practices and positively impact their operations. Participating in this initiative can collectively drive change and create a more sustainable future for the destination.
The UN Sustainable Development Goal No. 17, emphasises the importance of strengthening implementation strategies and revitalising the Global Partnership for Sustainable Development. Developed countries are pledging to allocate 0.7% of their gross national income to official development assistance while also focusing on mobilising domestic resources to reduce reliance on external support.
If you want to learn more and be a part of the sustainability initiatives, visit www.gstaad.ch/nachhaltig
---