H.M. King Constantine II of the Hellenes (1940 - 2023)
29.01.2023
Sports & Leisure, Sports & Leisure, Lifestyle, Obituary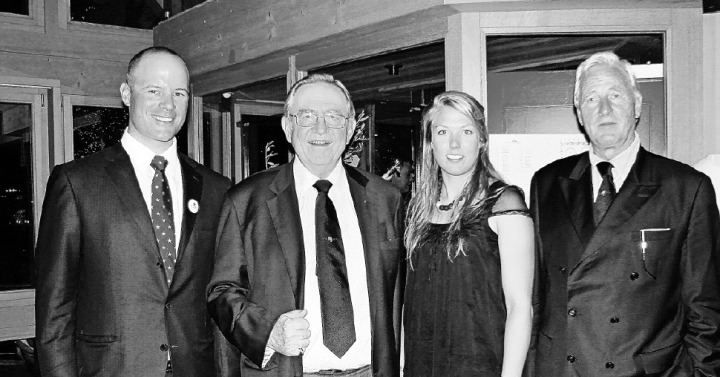 In the image you see him with GYC-Member Flavio Marazzi and Nathalie Brugger, 2010 when the GYC hosted a dinner in the honour of the 50th anniversary of His both three-time Olympic participants, and Honorary president Peter Erzberger Majesty's Olympic Gold medal in 1960.
On Tuesday the 10 of January we received the sad news that our Patron HM King Constantine has made his last voyage at the age of 82.
After his accession to the throne in 1964, he was one of the youngest monarchs in Europe. That same year he married the then 18-year-old Danish Princess Anne-Marie. The wedding in Athens was televised in many countries. They had five children: Prince Pavlos, Princess Alexia, Prince Nikolaos, Princess Theodora and Prince Philippos.
Constantine II was the last King of Greece. Ten years after he ascended the throne as King of the Hellenes in 1964, The Greek monarchy was abolished, when the military regime proclaimed the country a republic in 1974. That year, the former king moved from Rome to England, settling in London. Constantine II maintained close relations with the British royal family. In 1982, he even became Prince William's godfather.
As a GYC member from almost the very beginning, he was a tireless ambassador for the idea and values of our club. Wherever he travelled, he had the club burgee in his luggage, promoting international exchange and the ever-growing network of clubs, partners, and friends.
The Gstaad Yacht Club is grateful and, at the same time, honoured for everything our Patron did and represented to our Club and to the sport.
In 1960, together with two other Greek sailors, he won as helmsman with his crew the gold medal at the Olympic Games in Rome in the Dragon class, becoming Greece's first Olympic Champion since 1912. It was always his concern to inspire young people to sail. The GYC celebrated the 50th anniversary of this medal in 2010 with a dinner in his honour. Seeing him with tears in his eyes when viewing a screening of TV material from the BBC, which he had never seen before, will remain a memorable moment for many.
HM King Constantine was a champion of Olympic values and a Member of the International Olympic Committee from 1963 to 1974, becoming an Honorary Member afterwards. He remained an Honorary President of the Hellenic Olympic Committee, the International Olympic Academy and World Sailing.
HM King Constantine will be remembered as a thoughtful individual with a strong, warm, and determined character, as a valuable ambassador, a knowledgeable advisor, and a true friend that all Gstaad Yacht Club members will deeply miss.
We mourn with the whole family and wish strength from the bottom of our hearts that they will find comfort within family and friends to overcome this sad moment.
Fair winds and ongoing seas, Constantine.
On behalf of the entire Gstaad Yacht Club
PETER ERZBERGER
GEORGE NICHOLSON
GYC HONORARY PRESIDENTS, SAILING FRIENDS, THE GYC EXECUTIVE BOARD
---
Image Title