Editor's Pick – Ironman Artboy Attitude
28.07.2023
Events, Gallery & Exhibitions, Arts & Culture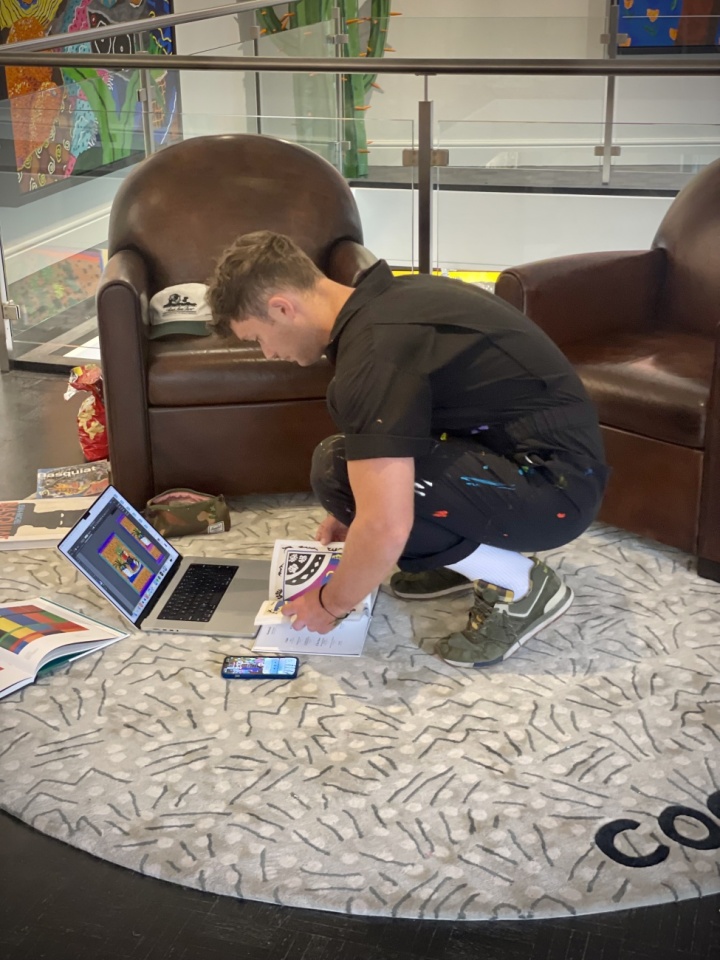 Cooper cataloging his work, details matter.
When reading through the initial interview with Cooper, exhibiting at Maddox Gallery this summer, I was strangely fascinated by this young artist; his artwork was fun and fresh (that's to be expected by Maddox, so no surprise there), but his work ethic was the real reason for my fascination. His approach to creating art is like one of an athlete; talent and training go hand in hand. It takes a lot of hard work to make it, and when you hit an upsurge, like Cooper has done again with his most recent expo in Gstaad, you better get onboard and ride it for all that it takes. His show in Gstaad was almost sold out before it even opened, and as he finishes his last day of painting tomorrow, it's clear that his time here has been incredibly productive.
Throughout his two weeks in Gstaad, fans were able to follow Cooper's journey on social media, and it was exciting to witness his creative process up close. The idea of visiting him while he painted in the gallery allowed for a unique connection between the artist and his new audience. He is sweet and cute as a button (can boys be that?), has impeccable manners and a winning personality with a slight shyness that tells me he still hasn't really wrapped his head around his success.
I tend to pick pet projects, and although I have no claim to Cooper, I applaud the hard work and tenacity that this young artist is showing and his commitment to making it in the art world. Tough as heck and cutthroat. And still, he attacks it with a charming sweetness and determination that is impressive in such a young person. I look forward to keeping an eye on his development, where will he go, and what will be spinning on that record player of his next.

Jeanette Wichmann
---
Follow Cooper on Instagram and read Anna Charles' interview with Cooper here
---