Christoph Müller Announces Departure from Gstaad Menuhin Festival
27.10.2023
Arts & Culture, Menuhin Festival & Academy, Behind the Scenes, NewsUpdate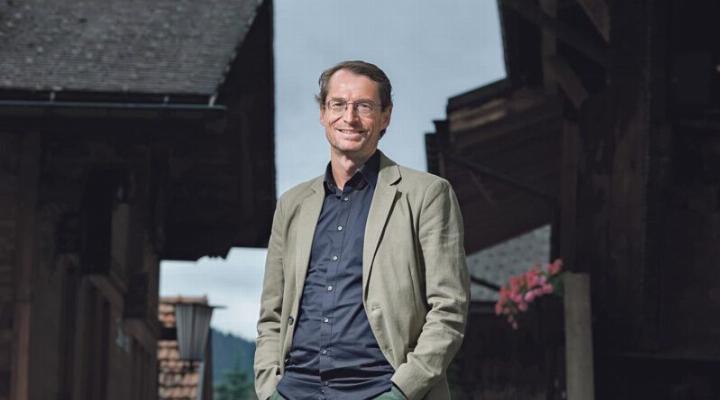 The Visionary Leader to Conclude His Stewardship After "Change 2023-2025"
In a statement released by the Gstaad Menuhin Festival & Academy, it was noted, "The Board of Directors has received this news with regret and will convene for a private meeting on October 30 to discuss the way forward." This marks the culmination of Christoph Müller's remarkable journey, leaving a lasting legacy with a total of 24 festival programs designed under his guidance.
Müller expressed his sentiments in the press release, stating, "I owe the Gstaad Menuhin Festival a great deal and continue to execute my responsibilities for this beloved festival with unwavering enthusiasm. After much contemplation, I have decided that the conclusion of the 'Change' cycle in autumn 2025 and my 24th festival mark the ideal time to pass on the artistic direction to new hands."
A Decade of Transformation
Over the past two decades, Christoph Müller, in his role as Artistic Director, was afforded significant time and support by the board of directors to reposition the festival, facilitating its organic growth. He introduced new formats and initiatives that contributed to the festival's development, leading to the Gstaad Menuhin Festival's current robust state. Müller assured, "There are still two festival editions ahead, and I will dedicate all my energy to make them equally successful." He eagerly anticipates shaping and enjoying the 2024 and 2025 programs.
Flagship Achievement: The Gstaad Conducting Academy
Under Christoph Müller's artistic leadership, the Gstaad Menuhin Festival evolved from a concert-focused event into a multifaceted festival operation, emphasizing talent promotion and community outreach. Beyond expanding the concert offerings to include chamber music, symphonies, concert operas, and "Today's Music," Müller initiated and nurtured the Gstaad Academy with its five academies, the Gstaad Festival Orchestra, digital offerings through the "Gstaad Digital Festival," and numerous other projects since 2008.
A standout achievement is the Gstaad Conducting Academy, launched in 2014, which has established a unique presence in Europe, partly thanks to the prestigious "Neeme Järvi Prize." Müller successfully forged enduring partnerships with renowned musicians and orchestras, such as Cecilia Bartoli, Hélène Grimaud, Jonas Kaufmann, Jaap van Zweden, Sir András Schiff, and the London Symphony Orchestra. He also played a pivotal role in elevating lesser-known talents like Khatia Buniatishvili, Patricia Kopatchinskaja, Sol Gabetta, and Andreas Ottensamer into established artistic partners of the festival.
Nearly Doubling the Audience
Aldo Kropf, Chairman of the Board of Directors of the Gstaad Menuhin Festival & Academy AG, commended Müller for his visionary leadership, saying he "continuously developed the festival in the spirit of its founder, establishing it in the national and international festival scene." Over Müller's 22-year tenure, the festival's attendance nearly doubled from 14,000 attendees at the beginning to around 27,000 today, reflecting his remarkable success.
The growth, made possible by generous financial support from various quarters, is a testament to Müller's effective stewardship. Kropf noted that Müller's long-standing tenure symbolises sustainable consistency, as evidenced by the loyalty of the audience, numerous partners, and the festival team's strong cohesion. "We owe him a great debt of gratitude," Kropf concluded.
Charting a New Course
The search for Müller's successor presents both a challenge and an opportunity, especially in light of infrastructure developments and the plans for a Gstaad Concert Hall. The Board of Directors will address this new situation during their closed meeting on October 30, as they prepare for the next chapter in the festival's history.
Based on AvS | KMA
---
Image Title