Back on track
07.10.2022
NewsUpdate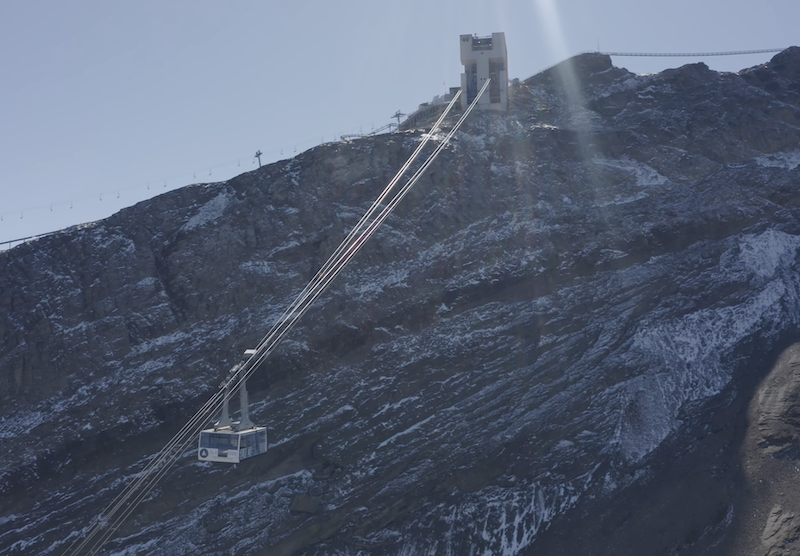 As we reported previously, a fire broke out in the Botta restaurant on the night of 18-19 September 2022. Its origin is still unknown. Fortunately, no one was injured, and the cable car was seemingly intact. The Botta restaurant on the 4th floor and the self-service restaurant on the 3rd floor were irreparably damaged. The building is structurally sound, and the foundations were spared. The special design of the building as well as the installed fire prevention measures prevented the flames from spreading and reaching the lower level, where the cableway is located.

Re-opening confirmed
On 27 September 2022, Glacier 3000 AG, confirmed that the cable car was intact. Specialists from the manufacturers came on-site and carried out a complete analysis. They confirm that the installation is 100% operational and safe. At the moment, the Glacier 3000 employees and external companies that are working at 3,000 meters are using the cableways, which are operating perfectly. Before the service can be reinstated with standard infrastructure, the site must be made safe. The major task of clearing the upper part of the building has already begun.

After this phase, two solutions are being studied for this winter, namely:
to completely dismantle the upper floors and construct a temporary roof over the flooring of the 3rd floor to protect the cable car, or
stabilising the top-floor ceiling with load-bearing pillars, then closing the openings created by the fire at the level of the window.

Construction work on a new restaurant at 3,000 meters will begin in the spring of 2023. The reopening of the ski area is scheduled for 12 November. To guarantee total visitor safety, it is paramount that we give ourselves time. The closure of Glacier 3000 – initially planned from 10 October to 4 November for maintenance – is being brought forward as of 27 September. The plan is to reopen the facilities on 12 November 2022.

Progress on the work over the next few weeks will depend on the weather conditions at 3,000 metres. The re-opening will also mark the beginning of the ski season in the Vaud Alps. The plan is to offer a snack bar and a temporary 100-seat restaurant at the top station Scex Rouge, a pop-up restaurant at Cabane middle station, and 100 additional places at the Col du Pillon restaurant thanks to a covered terrace.
Black slope unaffected
The work on the new slope linking the intermediate station of Cabane au Col du Pillon has not been impacted and continues as normal. This new run will be inaugurated this winter 2022-23.

The Pierres Pointes sector will reopen its doors to skiers next winter with the opening of a new black slope. A tunnel crossing the Rocher Jaune is under construction this summer to link the summit of the Scex Rouge to the Col du Pillon via Red Run, Martisberg and this new slope. This new slope will challenge experienced skiers as it is considered one of the steepest in the world, skiing from 3000 meters down to 1500 in one go.

The stats:
Tunnel length : 265m long
Slope length : 3km
Steepest part : 41°
Based on AvS | Glacier 3000 AG


---
---