Brocante is back
02.09.2022
Local News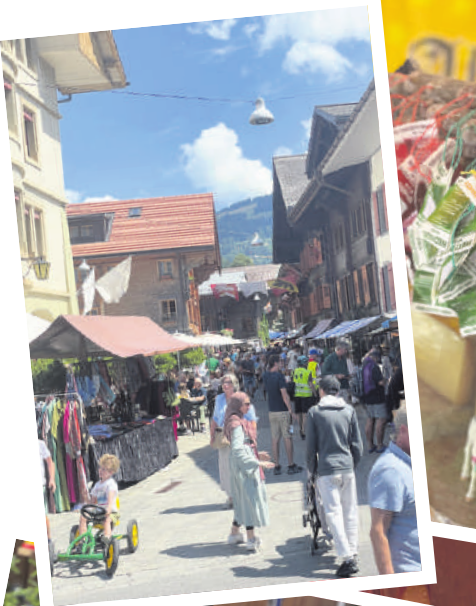 This year's Brocante & Markt in Saanen will go down in the annals as the biggest of its kind to date, with around 130 registrations; the 18th market was a success! The conditions could not have been better, with glorious sunshine and temperatures around 25 degrees Celsius.
From early morning, the streets of Saanen were buzzing with activity and excitement. This year's Brocante & Markt in Saanen stretched from the Floraplatz parkinglot, along Dorfstrasse down to the pottery and the entire Bahnhofstrasse.
A colourful mix
And it looked beautiful, the exhibitors had made a huge effort to present their objects attractively, and the streets were filled with visitors on the hunt for a scoop. "About two-thirds of the exhibitors are antique dealers. It is also very gratifying to see the commitment of the local retailers and restaurants; without them, the market would not be what it is", says Leonie Müller from the organiser's committee. Regional exhibitors offering alpine cheese, dried sausage, and typical everyday objects are also part of the picturesque market. Once more, the Rotary Club Gstaad-Saanenland and the Soroptimists sold their collected objects and will donate the proceeds to charity. Lions Club Gstaad-Saanenland also participated with a popular and festive food and drinks tent. Only a few private individuals exhibited, most of whom were "brocanties", moving from market to market with their products.
The loyal souls of the Brocante
Some of the exhibitors are part of the inventory and are among the few private exhibitors in Saanen. When asked why they participated in the Brocante & Markt
Saanen for so many years, they say it's like a hobby. "We collect our objects at markets and home clearances during the year, and we love coming to the market.
BASED ON AVS/BARBARA KURZEDER
There was something for everyone and every size of wallet. Beautiful antiques, preloved items and artisanal delicacies caught the eye of the camera.
---