The luxury of time: Gstaad habituee at the forefront of bejewelled cuff watch renaissance
17.08.2022
Jewellery & Watches, Jewellery & Watches, Luxury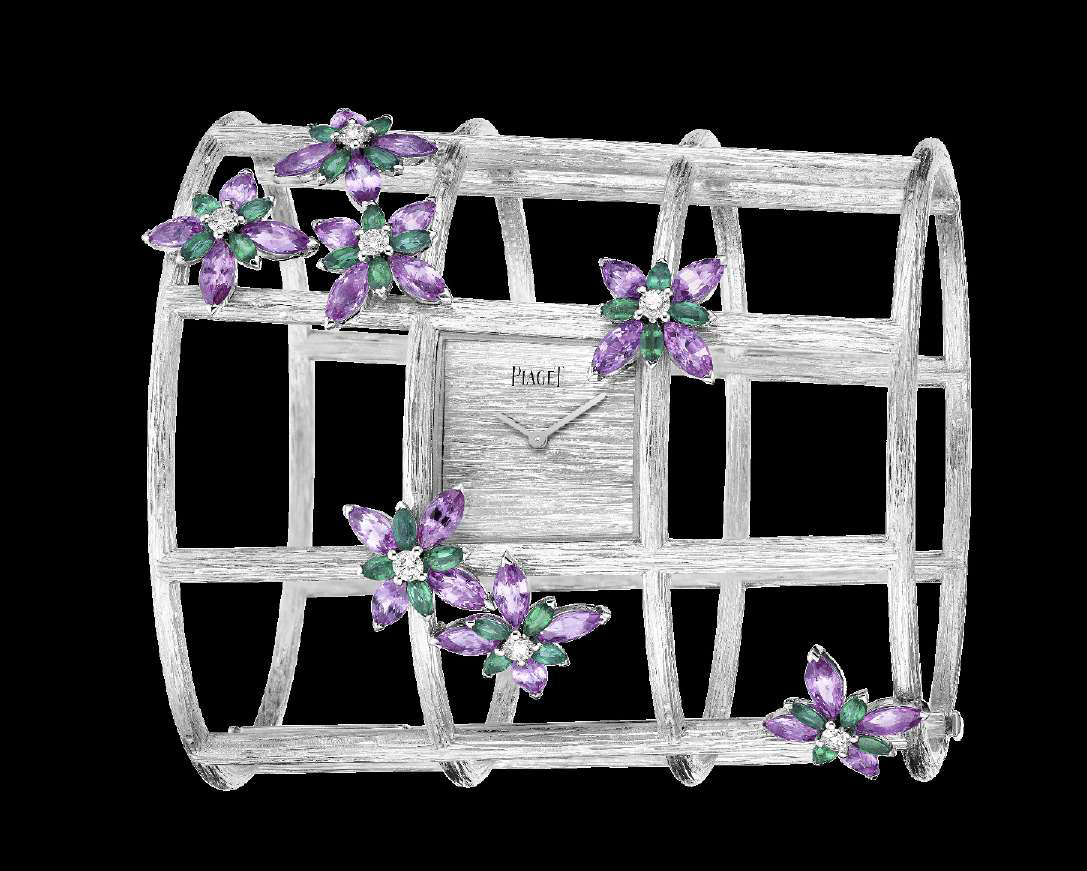 Chic and glamour are alive and well and in the Limelight!
Here Piaget's artistry beams resplendent, drawing inspiration from an ornamental garden of sapphire and emerald stylised-bougainvilleas climbing a monochrome white-gold lattice, and incorporating an ever-so-discreet matching guilloché dial.
Whatever their inspiration, Piaget innovates. Nevertheless, one cannot but wonder how this watch in particular with the voluminous stylised-flowers won't catch onto textiles when they come in contact, despite looking light as a feather, dare I say even wispy. Reality, I fear, might well prove tempestuous.
Ironically, evening watches first appeared a century ago and were hidden within a bracelet. In the early 1930s the future Duchess of Windsor appeared at The White House with such a watch – one of the many gifts from the then Prince of Wales, future Edward VIII, and later Duke of Windsor – worn on top of black gloves for maximum visibility. Equally, if not more visible, are cuff watches, now experiencing a renaissance – also from the interwar years as well as the 1970s.
In the latter period, Piaget launched their cuff watches to great acclaim, marrying jewel and watch. It is also then that Elsa Peretti (1940–2021) – Gstaad habituée, jewellery designer, and muse of American visionary haute couturier Halston (1932–1990) – propelled cuffs into the limelight for Tiffany & Co. New York. Now her work features in museum collections on both sides of the Atlantic. Just before her death, Tiffany & Co. prolonged her limited-term contract, first negotiated by Halston himself to her best advantage.
Happily for Peretti fans, her designs are available for purchase once again at Tiffany's: including cuff bracelets in precious metals, with and without gems. In her youth, having graduated from a nearby finishing school, she taught French here in Gstaad after her father cut her off financially.
Whilst the Limelight naturally evokes a rather elegant evening, other cuff watch examples might be better suited for the day. Clearly the jeweller's art is much in evidence here.
ALAN NAZAR IPEKIAN
---
Image Title