Happiness in the stables
19.05.2022
Arts & Culture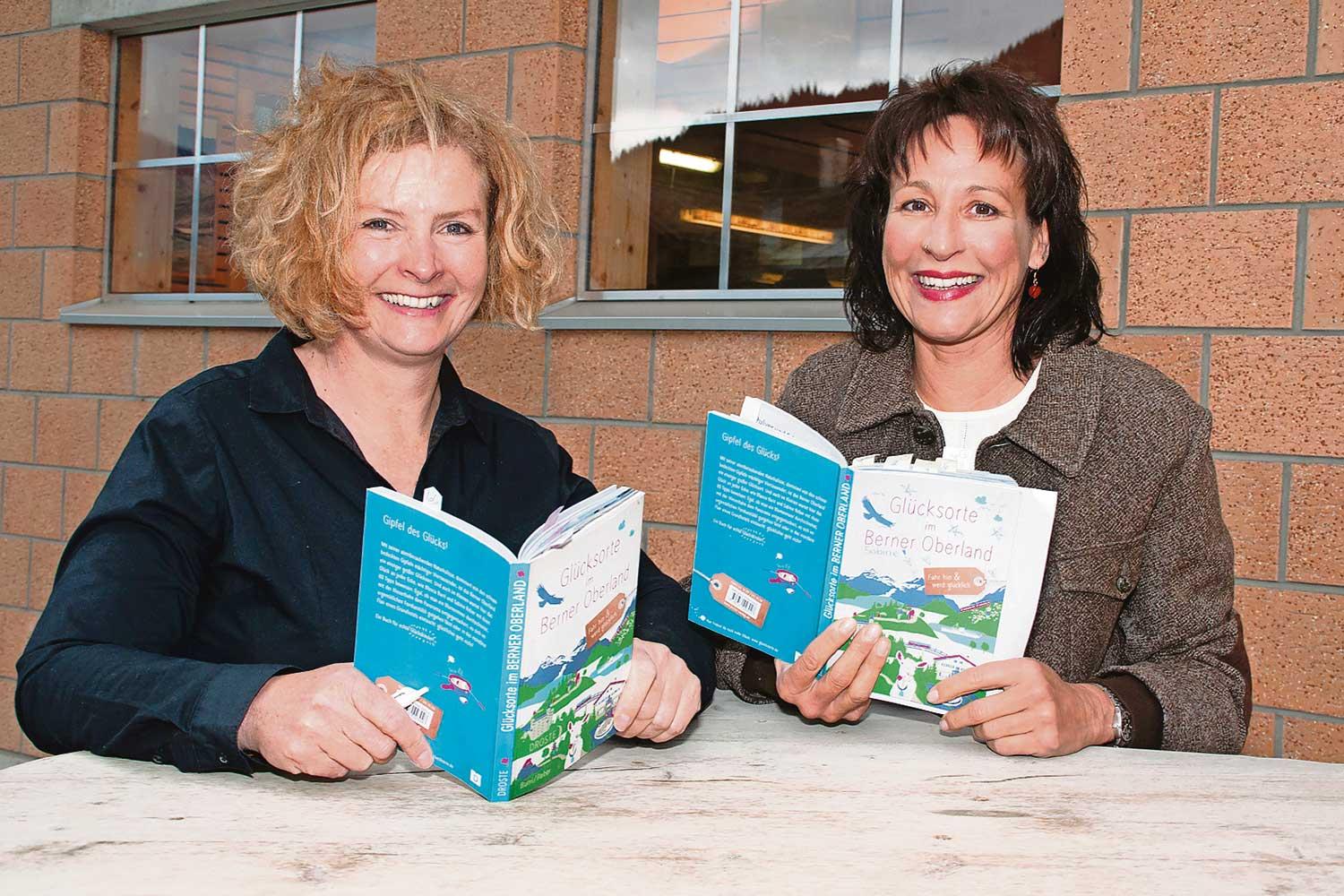 The journalists and authors Blanca Burri and Sabine Reber presented their first joint work with the promising title "Happy Places in the Bernese Oberland" in the Stallbeizli in Gstaad in early May. To describe the 80 places of happiness in the book, the authors travelled from Grindelwald to the Kiental and from the Hasliberg to the farthest Sudtal, crisscrossing the Bernese Oberland and getting to know special landscapes, mountain peaks, mountain huts, restaurants as well as unusual shops and many exciting people. The result is a multifaceted insight into the most diverse places in the Bernese Oberland, where – as the authors promise – you can experience real happiness in one way or another.
With heart and soul
Lively, interesting and with a good portion of humour, Blanca Burri and Sabine Reber presented their book to about 40 interested people in the Stallbeizli and vividly explained why they included, for example, the Giferspitz, the Thun Hammock Paradise, The Mad Cow in Unterseen or the Ecocapsule in Guttannen in their book.
In an honest and relaxed manner, they described their personal experiences and own moments of happiness while exploring the individual stations and skilfully played the ball back and forth, so that their descriptions and narratives remained varied and entertaining. "Of course, we had prepared a script, but ended up telling completely different stories," Sabine Reber said laughing, and Blanca Burri added: "A lot of it was spontaneously improvised." Anyone who was at the book presentation sensed that Blanca Burri and Sabine Reber had approached this project with heart and soul and had indeed revealed many - if not all - of their absolute favourite places in the Bernese Oberland. And like always, it's as soon as you know the story behind a place or an event, a relationship develops with it, and you want to learn more about it. Or best of all, buy the book and visit the places described yourself. The Au Foyer bookshop, Saanen, has made this possible in the form of an on-site book table. Anyone who felt like getting lucky could buy a book right away and even have it signed by the authors.
With four world premieres
The event was musically framed by a trio that is so new that it does not yet have a name. Anita and Simon Hefti from Scheidbach/Turbach, together with Deborah Reber, hut warden of the Grubenberghütte - which, by the way, is also a place of happiness - sang their own compositions that has never before been performed in public. In this sense, the new book by Burri and Reber was presented together with four musical world premieres. "It was a wonderful experience for us to be able to present ourselves to the public for the first time in this setting," said Deborah Reber.
After an entertaining hour, the book presentation was over and continued with an apéro where the attendants could have an intimate chat with the authors. The Stallbeizli provided the perfect setting for this event. And if the Stallbeizli was not already listed as a place of happiness, Blanca Burri and Sabine Reber, together with the nameless trio, would have made it one on Friday evening.
The book is part of the Glücksorte series. Paperback, 168 pages, published by Droste-Verlag, Germany. It is available at the Au Foyer bookshop in Saanen and at Cadenau Gstaad.
Based on AvS/KEREM S. MAURER
---
ABOUT THE AUTHORS
Blanca Burri and Sabine Reber are journalists and book authors. They both live in Saanenland with their children, are often together on mountain hikes and ski tours, and are just as happy about a cosy mountain tavern as they are about a rare orchid or an untouched slope of powder snow. They dedicated their first joint work to their daughters Olivia and Jeanne Rose.
---
Image Title