Style icon
04.03.2022
Profile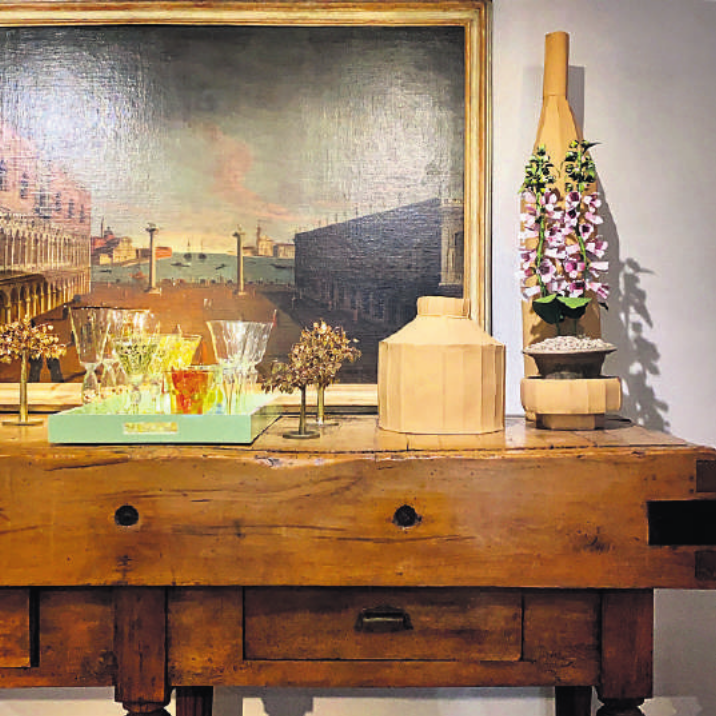 Twenty years ago Caroline Freymond moved to Gstaad and established Menus Plaisirs – part gallery, part shop – right at the start of the art scene in the region. Caroline took a break in her whirlwind schedule to meet with GstaadLife and reflect on the past 20 years as well as look ahead to the future.
Why did you establish Menus Plaisirs?
It all came about through a mixture of chance and circumstances. My husband and I have long loved Gstaad and spent many winter and summer seasons renting different chalets or apartments around the region. Then one day we decided to look for something to buy and found a chalet between Saanen and Gstaad: Chalet Farb. It was an old chalet of the eighteenth century, typical of the area, and we fell in love with it.
At the time a friend of mine had a shop in Saanen, which stocked mainly Swiss furniture from the eighteenth century. I adore old furniture and fine objects and as she has great taste, we bought a number of pieces from her to decorate our chalet.
When she decided to sell the business and her premises became vacant, I determined it was time for me to start something new. Menus Plaisirs was born. It's hard to believe this was 20 years ago. Time has passed very quickly.
How were things in the early days?
I began by sourcing pieces of Swedish or Norwegian origin. I like this style because it's elegant in a rustic way and goes very well with Swiss or Italian furniture. I also started to source special decorative objects like porcelain flowers. These are very exclusive, handmade by an artist in his atelier in Périgord, France and something that you can't really find anywhere else.
I continued in Saanen until I learned a retail space had come available in one of the oldest chalets in Gstaad and decided to move there. Menus Plaisirs is in the same location today, though initially I only had half the floor space. When the rest of the building became available in 2013, I decided to expand over two rooms. This demanded a renovation of the interior space and also prompted an opportunity to change the gallery's concept. While previously it was set up in such a way that customers could discover unexpected items, we now put fewer objects on display, each one selected with great care.
How do you decide which objects to stock and exhibit?
I don't select items simply because I think people will like them. I exhibit items that I love and avoid pieces that aren't to my taste. I like to show modern pieces and antiques together and also to mix precious items with those that have no value but lots of charm. This makes for a lively dialogue between different styles, periods and materials and corresponds very much to how I live.
We have quite a lot of stock so we're able to change the layout and décor on a frequent basis. For the past two years I have worked with someone who is responsible for the mise en scène for each project. He has a great sense of style and vision for how best to arrange the pieces, whether inspired by the season or the objects on display themselves.
I am also lucky to have established very good relationships with the people who produce things for me, some of whom I've known for a very long time. Each season they have new ideas and new objects to suggest.
Do you have a favourite piece that stands out above all others?
That's very difficult to say. We have taken pictures of all the items we've sold over the years and it's always interesting to reflect on the stories of the different pieces. Some have remained with us for years, then all of a sudden someone walks into the shop and buys them. I find I get quite attached to these pieces and then they're gone! They have found their new owner. There's a timing for everything.
Do you do organise interior design projects for clients?
I prefer not to. I was a lawyer in a previous life, never an interior designer or decorator. I do this for myself, offering and exhibiting pieces I love.
What is your favourite part about running Menus Plaisirs?
I really enjoy meeting people – whether they're here on holiday, chalet owners looking to decorate their homes or people who ultimately become friends. Other pleasures are finding new objects to show and organising exhibitions. Our events are an opportunity to introduce people to each other and it's very satisfying to see the new connections that develop.
You also host exhibitions at Chalet Farb?
Yes, in addition to running Menus Plaisirs, we organise events at our own chalet. We have a large barn there, which normally houses an indoor swimming pool, but for short periods of time we convert it into a space for receiving people. It's a spot where we can hold different events such as exhibitions and concerts.
We have done a similar thing at our house in Geneva old town. We decided to renovate its cellars into a gallery space across two floors, which now goes under the name of Espace Muraille. Its unique location makes it so much more than just a gallery where you hang frames; it's an inspiring space for artists.
At one stage we also opened a gallery in Paris on the Rive Gauche when another friend of ours vacated their premises. We were curious and excited to try something new in a big city.
Were you ever an artist yourself?
Growing up, I was always surrounded by art. My parents were fond of galleries and also took me to museums and exhibitions. Although I played the harpsichord when young I was never a painter or anything like that. When I worked as a lawyer, I was frustrated to not have enough time to visit exhibitions so I always had the desire to spend more time and energy in the art field.
What changes have you seen over the past 20 years?
When we first started it wasn't always easy. It takes time to get established. To promote art you have to go out and find people who will be attracted to it. You can't just wait in your gallery for people to come to you. It took some people years to enter Menus Plaisirs, but little by little you become more well known.
There were of course periods that were more difficult than others. Take Covid, for example. That wasn't easy for anyone, but we managed quite well in large part because of the person who works in the shop. She's incredibly dedicated and we're very lucky to have her on the team. I think it's so important to work with people in whom you have confidence.
Art now has an active presence in the Saanenland. What are your thoughts on this?
Well, it's quite new because 20 years ago, when Menus Plaisirs was starting out, there wasn't much of an art scene here and we didn't have any of the large contemporary galleries that have since moved to the region. It's been quite a major change that has evolved over time. I see it as a very good development for the village because it creates more diversity for Gstaad. It's no longer just a resort for skiing and sports. Now we have art and music and other cultural activities. It's a very positive step forward for the region.
What is your favourite spot in the Saanenland?
I'm very fond of my chalet and enjoy spending time here. We were very grateful for this space during the pandemic, in particular our lovely garden.
There's something incredibly special about Gstaad – it's at once very familiar and welcoming. If we've been away, these feelings of belonging begin as soon as we reach Château-d'Oex. I feel so privileged to be in this wonderful place and it gives me a strong sense of well-being.
What are your goals for 2022 and beyond?
In the immediate term I'm organising an event at the Gstaad Yacht Club for Frédéric Jousset's Art Explora project, through which he aims to make art accessible to more people.
In addition to all the activities at Menus Plaisirs and Chalet Farb, I'm also embarking on another big project. We have just bought a house in Florence so I aim to spend quite a lot of time there developing cultural activities. I'm interested in establishing a small music festival and we also have space in the new house for exhibiting art so perhaps we'll set up an artist in residence programme too. Whatever happens, it's the beginning of another new adventure.
ANNA CHARLES
---
EXHIBITION
This season's exhibitions at Chalet Farb by Walter Vopava, Siegfried Contemporary, Giampaolo Babetto and Zolaykha Sherzad are open from 13 – 27 February 2022 from 16-19h. Chalet Farb, Farbstrasse 20, 3792 Saanen. Contact Antoine Boillet +41 79 500 6224, ab@mirabilissa.ch
---