Johann Jakob Hauswirth (1809 -1871): A tribute
14.02.2022
Arts & Culture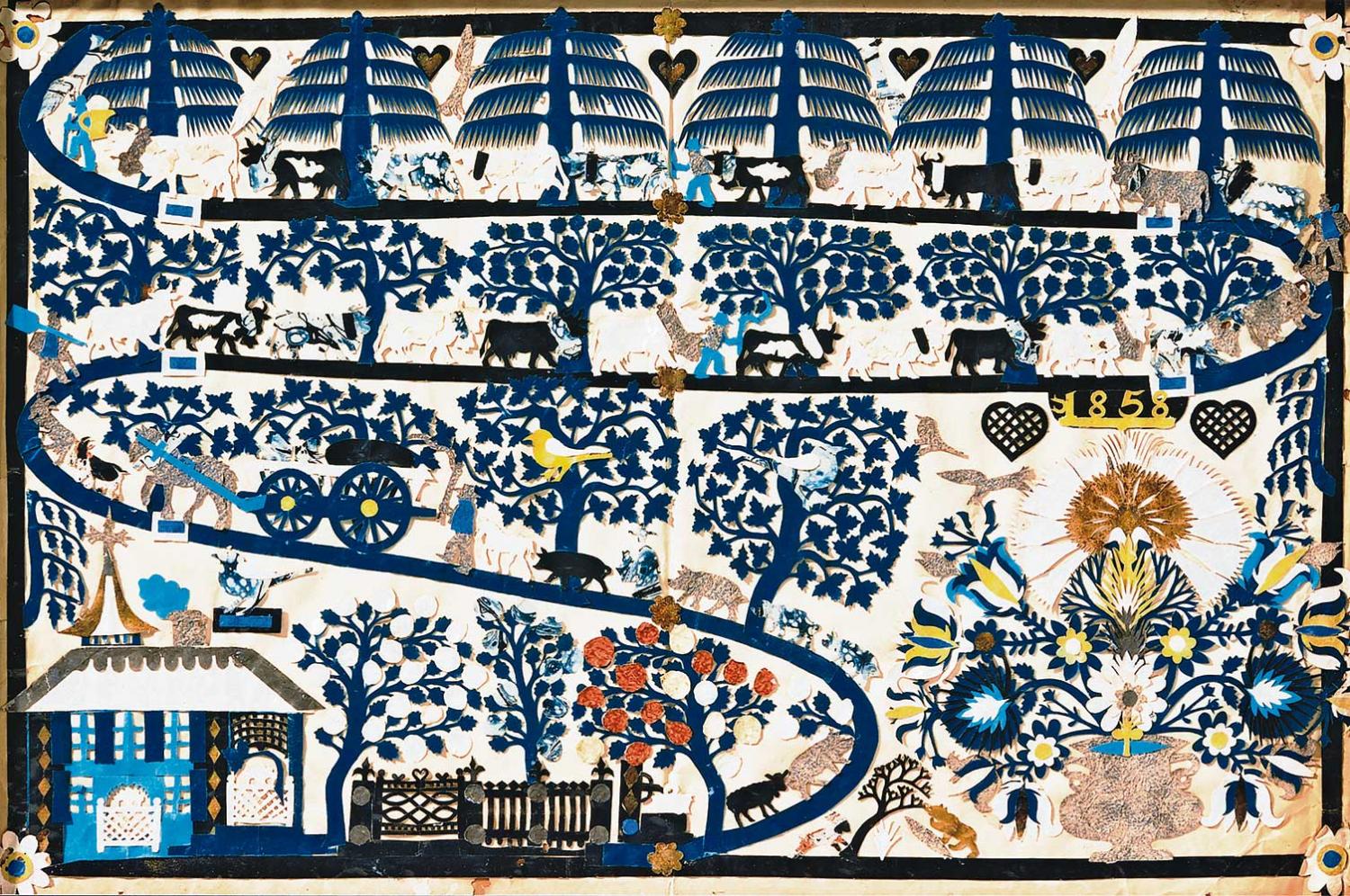 While the tribute to Johann Jakob Hauswirth in the Anzeiger von Saanen was still in time for the 150th anniversary of his death, we are running a little late at GstaadLife. Still, we don't want to drop it because it is important to remember this exceptional artist, who was one of the early defining figures of découpage, a form of peasant art with deep roots in Saanenland and Pays-d'Enhaut, where it thrives to this day.
It is difficult to pin down Johann Jakob Hauswirth. We only know the year of his baptism and that of his death. The 62 years of his life largely remain in the dark. He was a man of giant stature who could only hold the scissors in his hand by means of wire rings. That much we know – and a little more.
"On dit"
There are oral traditions from generation to generation, rumours of an unhappy love affair and many an "on dit" (rumour). One such "on dit" is the anecdote about "Schanti-Scholi", who is said to have sold Hauswirth découpages for five francs. What times! Today they are sought-after rarities and generate absolute top prices.
The most reliable source of information is probably the brothers Constant and Théodore Delachaux: the drawing teacher and artist Théodore accompanied his brother Constant, a doctor in Château-d'Oex, on house visits. At that time, a "Hauswirth" hung in many a living room, and the brothers began to collect them. After their deaths, the works of art went their own ways, and many of them are now in the Musée du Vieux Pays-d'Enhaut in Château-d'Oex.
Delachaux points out a defining phenomenon in Hauswirth's work: the horror vacui, the terror of empty space. It is one of the most fascinating components of his works. There are simply no empty spaces. Hauswirth filled even the smallest void with a flower, a little bird or a squirrel. Often he used the bear from the Bern coat of arms, to which he had always been attached as a native of Saanen.
Day labourer
As the story goes, Hauswirth went from house to house as a day labourer in the upper Simmental, Saanenland and the Pays-d'Enhaut, offering his services and receiving room and board. In return, he made small socalled marques out of scraps of paper, which he probably gave to the children: couples, little birds, horses, cows, squirrels, rabbits, chickens, deer, which were carefully placed in books or the family Bible so they would not be damaged.
Hauswirth also had some lasting friends: he had close relations with the Zeller family on the Flühli in Boltigen, where he is said to have grown up, and with Schwizgebels on the Unterbort in Saanen. He often returned there.
His papers
The papers that Hauswirth used have a peculiar fascination: black as the basic colour; orange; an intense though somewhat faded green, mainly for the trees; a faint green for details such as pieces of grass or windows; rarely yellow; a strong, frequently used steel blue; marble paper, probably from a bookbinder; rarely gold for the bear or the year. Where did the pieces of paper come from? The wallpaper. The marbled ones. The bright blue. The pale green. The bright orange. The gold. From a bookbinder? A sweet? The wrapping of a sugar stick? Why is there hardly any red? Or has it simply faded?
How might he have kept his papers? In a leather rucksack? In a box? Where did he store his treasures when he was sedentary? How did he smooth out the crumpled paper? One would like to know more. And yet it might detract from the magic. We best let his secrets become ours.
BASED ON AVS/FRANZISKA HALDI
---