Mountain inclusivity
23.12.2021
Profile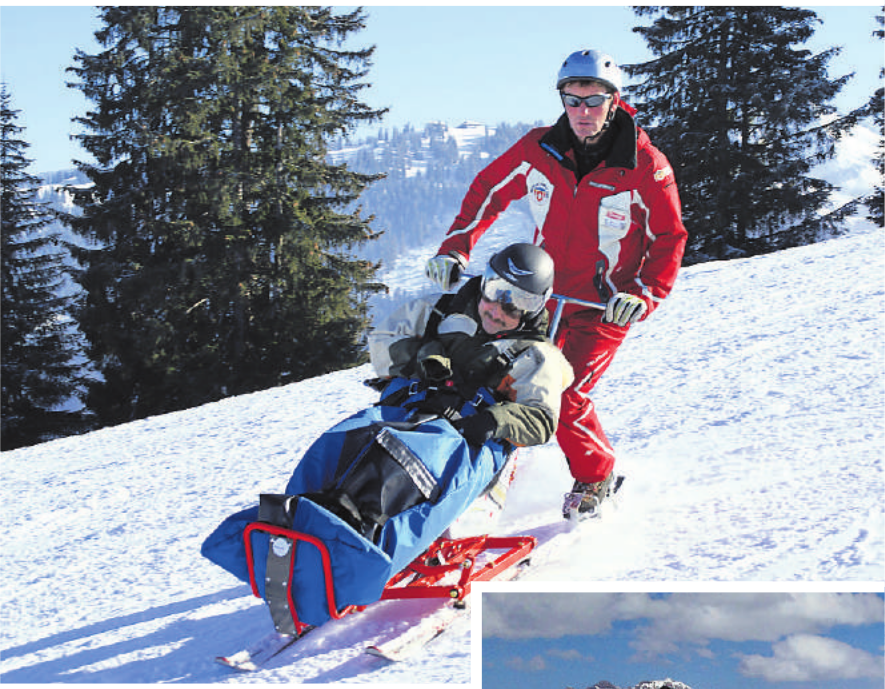 Catherine Cosby is a force of nature. Founder of Mountains 4 All, a non-profit organisation dedicated to empowering and enriching the lives of people affected by life-changing or life-limiting conditions, her mission is to create a more accessible and inclusive mountain environment for visitors and locals alike. GstaadLife met with Catherine to learn how she helps people achieve a greater balance in life.
Why did you establish Mountains 4 All?
It all started after my daughter was born with a catastrophic neurological condition, Rett Syndrome. I found respite in the Swiss Alps and so began the work of Ski 2 Freedom in 2007, which has become a highly respected and globally recognised UK registered charity. It has now assisted over 1,200 families and individuals to enjoy an inclusive and accessible winter holiday. I wanted to take this work a step further and created Mountains 4 All as an organisation to help people discover the empowering and therapeutic benefits of unforgettable year-round mountain experiences.
Our goal is to be the definitive authority and advocate for all mountain experiences to be accessible and inclusive to all members of society, regardless of age, background, life-changing need, medical/health condition. I work with destinations and communities to bring together all the different elements to create more inclusive and accessible experiences in the mountains.
What services do you provide?
I'm known as the 'Tinder' of the mountains because I'm like a matchmaker, connecting people from around the world with the different guides, instructors, hoteliers and facilities to create accessible mountain experiences.
What began as a 'winter only' concept has grown into a much bigger project to help people discover how empowering and healing the therapeutic benefits of year-round mountain experiences can be in aiding recovery to achieve a greater balance in life. While many of our clients want to engage in activities like skiing and walking, sport can put others off. We say there's no shame in taking a cable car up or down a mountain or wanting to just come and relax in a hotel, to sit in the fresh air and marvel at the sense of magnitude of the mountains. It's different for everyone. The Saanenland has a long history of welcoming people who are blind or visually impaired, but there is still an awful lot more that can be done.
I have personally travelled over 350,000 kilometres, trying out activities, evaluating equipment, assessing destinations and places to stay. This has enabled us to build up a sizeable portfolio of information and extensive network, making Mountains 4 All a leading authority on accessible and inclusive mountain wellbeing, for visitors and locals alike.
We now consult with new destinations and hospitality operators to help them identify year-round adapted and assisted mountain experiences that can be enjoyed by people with a far-reaching range of health or medical needs.
What is the difference between adapted and assisted mountain activities?
Although terminology can differ from country to country, adapted or adaptive sport uses equipment that has been modified so a wider range of people can participate in activities. For example, a sit ski is effectively a pair of skis adapted with a chair attached. An adapted hotel room has been modified to make it more accessible to a wider spectrum of people.
Assisted experiences provide people with the help they need to enjoy an activity – such as a guide who can lead a walk through the woods, or a ski instructor who is trained in the use of adaptive equipment.
I imagine you help many different people?
When my daughter was young, 'disabled' was the all-encompassing generic term used for those who needed assistance, but I've always disliked this word because it defines people unnecessarily. It's an extension of how society identifies people – in terms of what can be seen and what's tangible – because this makes it easier to identify the required support. For instance, when we helped a young boy with Amelia Syndrome to enjoy an inclusive winter family holiday, people's perceptions of what support he required was obvious as he had been born with no limbs.
But it's far more difficult with what I call the 'unseen'. If someone has a problem that isn't obvious, people can often display a lack of patience and understanding. I've been fighting to get recognition that everybody at some time in their life will be affected by a health issue, bereavement or other life-changing event, when they will need that special time to regroup and find a new perspective on life. This was really pivotal for me – this acceptance that everybody at some stage will need help. Consider the 90-year-old who came to us when he was losing his sight and needed assistance to continue with the winter sports he loved, or the man recovering from a stroke who needed a ski guide to boost his confidence.
The diversity of people contacting us from around the world is very humbling, from Panama to Iraq to Afghanistan to France, and it's terribly important to me that everyone counts. We're all individuals, each with our own unique DNA. If we can accept what nature provides and work with that, we can create a society that's inclusive to all.
Have you seen an increase in demand for your services following the pandemic?
The one silver lining of Covid is that people are now more focused on their health and wellbeing. We have definitely seen more interest in what we offer since the pandemic began. For years the mountains have offered a broad array of cultural, historical and sporting experiences, but people were too busy to enjoy them. Since Covid, the desire to escape city life has seen mountain communities rediscover elements of their rich cultural heritage they haven't focused on for years – an opportunity to reawaken interest in what's on our doorstep. Your problems don't go away in the mountains, but you feel you can deal with things in a slightly better way.
By helping to make the mountain environs accessible to a broader range of people, including those whose lives have been changed forever, we ensure their sustainability for future generations to come.
Does your work involve networking with other organisations?
I'm a member of a number of international tourism organisations and working committees and contribute a focus on Alpine health, accessible and social tourism, but on a practical level to date I've been a bit of a 'one man band'. Nevertheless it's exciting to see more people wanting to get involved. I think we have in front of us a fabulous opportunity to build a really strong community of people whose help and own experiences will allow for a far more inclusive society.
We are definitely open to more support and collaboration, whether in terms of fund raising, in creating more opportunities, increasing the availability of more guides or making more equipment available. The wonderful empathy and friendship of our president has been instrumental in bringing some amazing funding – one particularly generous benefactor was a Swedish family having a life-long involvement in the disability sector, who were only too happy to support the work we do in making dreams come true. By working together we can make inclusivity so commonplace you don't ever have to think twice about it.
What are your thoughts on the outlook for accessible and health tourism?
Switzerland was at the forefront of modern-day health tourism with its spa resorts, climate and clinics and has shown the will to be a leader in accessible tourism. This is exciting, but there is still a lot to be done. Although destinations and hospitality providers are now seeing that visitors encompass a far greater range of needs than before, there is still too much fragmentation in what is being offered.
But the good news is that all the elements are in place to achieve this; we need to focus on bringing it all together so people feel included. I sit down with organisations and show them how they can achieve this, one step at a time.
For instance a ski school could simply list that they have specialist instruction for children with Down's syndrome or that they offer adaptive equipment. Then, a family looking to book would see they are catered for without having to scour the website for a separate section for people with 'special needs'. When life throws you a curve ball, you want to be part of something, not endlessly pushed to one side.
My desire is to help as many people as possible take whatever opportunity they have to live a dream, whatever their circumstances. Life is so fragile and finite. One can't survive alone on a mountain and a community depends on collectively working together. I feel blessed to lead Mountains 4 All as we help everyone to enjoy precious moments of sensory pleasure, me-time and build lasting memories of joy with loved ones in the mountains.
ANNA CHARLES
mountains4all.org
---
Mountains 4 All, a Swiss registered non-profit association, is an advocate for and trusted leading authority on accessibility and inclusivity in the mountains. Their daily objective is to help people discover how empowering and enriching the therapeutic benefits of year-round experiences can be in finding a greater balance and purpose in life. Their guiding principles are empathy, trust, integrity and innovation.
---