Expat adventures
23.09.2021
Magazine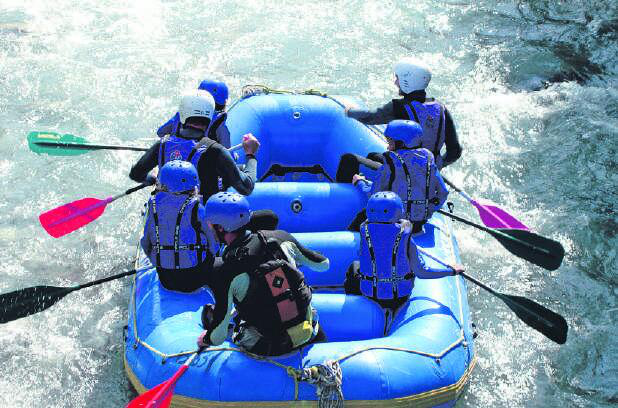 The Saanenland is famous for its breathtaking scenery and slow pace of life, offering countless opportunities to relax and unwind. Whether you prefer to linger over a gourmet meal, luxuriate in a hotel spa or explore hiking trails, the region offers dozens of ways to escape the hurly-burly of modern life.
But what if you have a more adventurous spirit?
White water rafting
Every summer you will see trucks ferrying large rafts to different points along the Saane river. My husband used to wonder aloud what rafting would be like and was very enthusiastic when our older sons and two of their friends proposed a joint family rafting trip.
The only wrinkle was that someone had to stay on dry land to look after our third son, who was a toddler at the time. I had no problem volunteering for this convenient reason not to get in the raft, and thus the white-water adventure was booked.
I was relieved to see the rafting company was very professionally run. The children and two dads were all kitted out in wet suits and given a full safety briefing before they went anywhere near the water. My husband later confirmed the instructor had struck the right balance between safety and fun and I know they would all jump at the chance to repeat the experience.
Paragliding
Near the very top of my not-in-amillion-years list of activities comes paragliding. I cannot think of one single reason why this might fit in the category of 'fun', but a good friend of mine is of a braver persuasion and once "treated herself" (her words) to a tandem jump in the Saanenland.
Incredibly this involved running off the Wispile mountain into nothingness, strapped in a harness to a complete stranger. "Keep running until there's no more mountain under your feet," were the instructor's final words of comfort before she found herself flying through the air. "It was magical," she told me. "I was a little worried about the landing, but it's not scary if you follow instructions." Would she recommend the experience? "Yes!" was her ringing endorsement, with absolutely no mention of having got down on hands and knees to kiss the ground when it had ended.
High ropes park
When I was young, a group of us children used to swing from a rope tied to a tree in the local woods. This was extremely popular with all of us until the day the rope snapped midswing and one of our group was taken to hospital with a broken arm.
These days there are thankfully safer offerings available if mucking about in trees is your thing. The high ropes park in Zweisimmen offers the opportunity to play at being Tarzan with full safety equipment in place. They offer five courses of varying difficulty, so if the thought of Indiana Jones-style wobbly wooden bridges high in the treetops gets your heart fluttering, look no further.
Incidentally, this one also gets the seal of approval of my paragliding friend.
Something for everyone
If you're an adrenaline junkie looking for adventure, I hope I've given you a taste of how well served you are in the Saanenland. But to ensure you have the best possible visit, I'll hold off booking any of these activities for myself. I wouldn't want you to turn up and be disappointed, after all.
ANNA CHARLES
---
Image Title