Family values: Antonia Crespi and Elizabeth Aisher Crespi
05.07.2021
Profile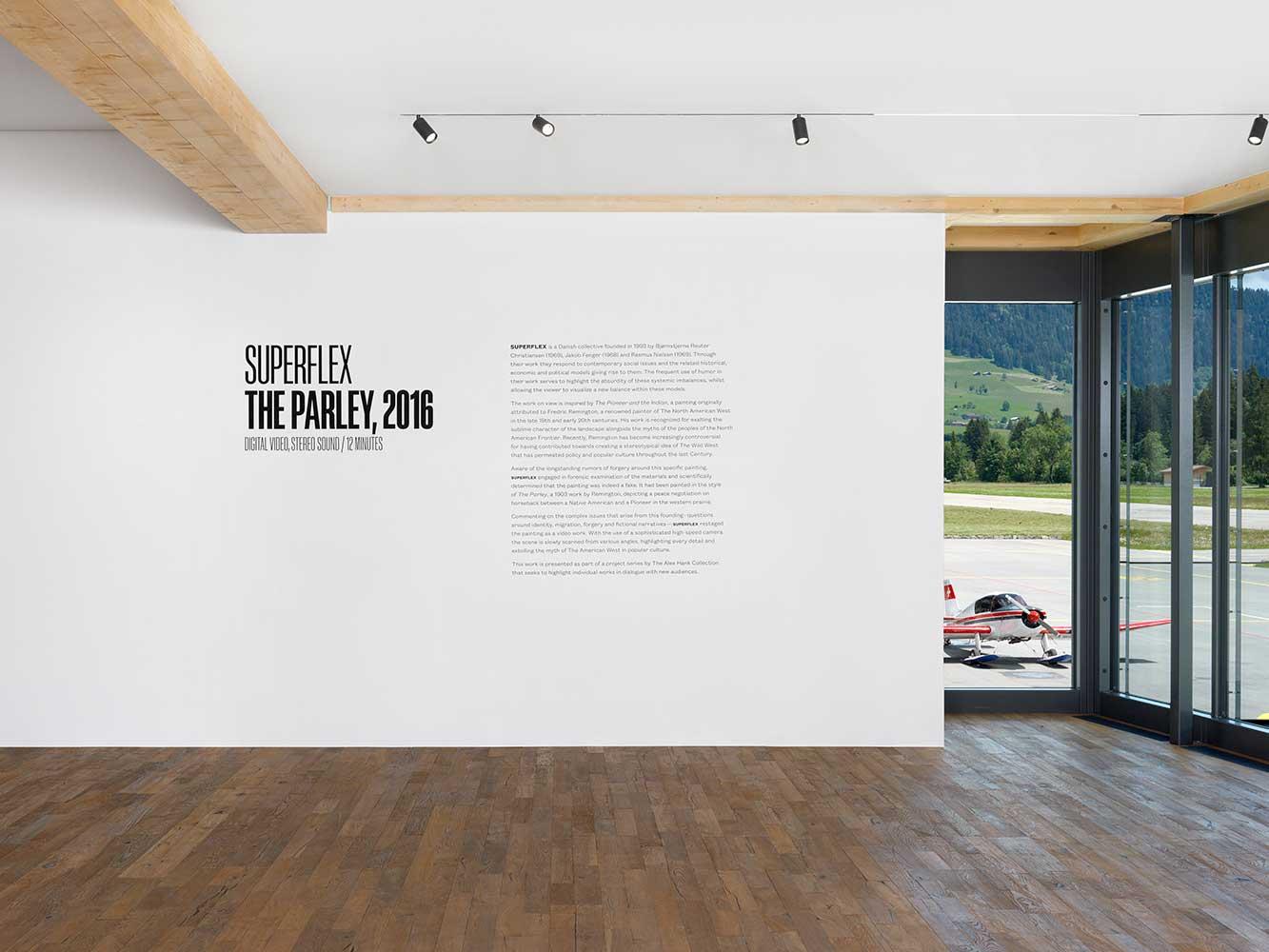 Antonia Crespi and Elizabeth Aisher Crespi are the mother-daughter team behind Tarmak22, the dazzling art exhibition space at Gstaad Airport. GstaadLife spoke to Antonia and Elizabeth about their vision for Tarmak22, art and culture in the Saanenland and their exciting new summer exhibition on the art of découpage.
What was the vision behind Tarmak22?
Antonia: For me this project has always been about honouring and giving back to a region that has brought me so much throughout the years. As a foreigner doing business in the Saanenland for over ten years, I feel a responsibility to contribute to the community. I was therefore so honoured when the airport board offered me the possibility to use this space. Together with my co-founder Tatiana de Pahlen we envisioned it as a space to bring a high quality programme to the community, locals and visitors alike, even though these worlds can be very different at times.
Elizabeth: Gstaad has such an incredibly rich cultural heritage and we are lucky to have many passionate collectors and patrons in the region, who have helped to get Tarmak22 off the ground.
Elevation 1049 was certainly an inspiration to us, with the curators Olympia Scarry and Neville Wakefield bringing an international community of artists to the region. It became clear how much the Saanenland has to offer to creative minds. Tarmak22 aims to be a permanent addition to this community, an accessible platform for both artists and spectators alike.
It has to be said you enjoy a fantastic location.
Antonia: Yes, it's very special, the landing strip, the dramatic scenery in front and the humble farm fields behind. I am so happy we can open this wonderful space to the public.
Elizabeth: It's so inspirational – for us and for the artists we host. I especially love that when you first enter the building and walk up the stairs, the only thing you see are pine trees.
You run Tarmak22 as a motherdaughter team. How did that come about?
Antonia: This happened very organically. Although I've been working in real estate for over ten years, Tarmak22 gives me the opportunity to go back to my roots. I studied history of art in my younger days and over the years my career has allowed me to build close connections with collectors and gallerists. Art is definitely a passion for me.
Around the time that we established Tarmak22, Elizabeth had just finished her degree in Culture, Criticism and Curation at Central Saint Martins in London and had embarked on her master's at Goldsmiths College. It's very special to have her on the team and not just because she's my daughter. Elizabeth went to the local school in Gstaad, grew up in the Saanenland and she is a member of the community we serve. This gives her a valuable perspective on how best to develop the space.
Elizabeth: At the beginning of the pandemic I returned home to Gstaad and began working more intensely with my mother. It was during this time that I was able to work on a major exhibition that opened in August 2020 in collaboration with Institut Kunst Basel, one of the oldest and most respected institutions in the country. Six alumni were invited to spend a week with us in Gstaad to install their latest work. The exhibition was about nature, and of course echoed many topics that had come to the surface after months of lockdown and isolation. It was a beautiful way to connect a more diverse audience from around Switzerland with our region.
How do you find the personal dynamic in working together?
Antonia: It works very well. We really enjoy our working relationship, communicate well and still visit art shows together, something we've done since Elizabeth was small. At the root of it all is our shared love of art.
Elizabeth: We don't clash much at work because we each have our own responsibilities and my mother gives me the space to do my own thing. While she is the overall visionary for Tarmak22, I'm in charge of managing the day-to-day exhibition programme. It's a huge privilege and responsibility.
How do you decide which exhibitions to host?
Antonia: We believe Gstaad can offer an interesting programme of exhibitions all year round. We're not just here for the tourists at high season.
Tarmak22 is set up as a nonprofit; by offering the space to established galleries during the winter season, we are able to sponsor a less commercial summer programme, which is focused on younger artists. Even in the winter season, we choose our collaborations with care and stay very involved to ensure the exhibitions are in line with our values and give back to the community in the long run. It is very important to me to keep this responsibility.
Elizabeth: A big part of the 'off-season' programme is our ongoing collaboration with local collectors such as Alex Hank. Together, we have been able to bring selections of his incredible museum-quality contemporary art collection to the public. The latest was a film entitled REPORT, (1963- 67) by the pioneering American artist Bruce Conner, who is currently also having a retrospective at the Museum Tinguely in Basel.
What do you say to people who want to visit but who perhaps don't know much about art?
Antonia: Art isn't just something to hang on your wall for your guests and we don't want to create a space that's just for collectors. Art is like literature and music and other cultural pursuits – an expression of what's happening in the world. It's not judgemental. The artist isn't interested in how much you know, but in how you react. Art can be beautiful and art can be disturbing, but it's always about what it says to you.
I find it so fantastic that we are able to host exhibitions that are usually only shown at the top museums in the world. This gives people locally an easily accessible way to experience the work of renowned artists right inside our community.
Elizabeth: Certainly art serves as a form of social commentary and can be intellectually very engaging, but at the same time it doesn't have to be. It's meant to be felt.
What is the present and future outlook for art in Saanenland?
Antonia: The Saanenland has a long association with art and culture. In the 60s, the region attracted an incredible array of people – famous writers, actors, painters – but also some extremely important art collectors. This mixture turned the Saanenland into a special place for the arts. With the growth of the resort, however, it's no longer so easy for young artists to get access to Gstaad. By working with forward thinking dealers, collectors, and younger artists, we see a big opportunity for the next generation to experience what there is to offer.
What are your goals and vision for 2021 and beyond?
Antonia: We will continue to be highly selective about the shows we produce and our collaborations with gallery partners. We will continue to focus on young artists and do as much as we can in that direction with the resources that we have.
Elizabeth: We are also developing a residency programme, which will enable us to invite artists to spend longer periods of time in the region – but that's a long-term project and still in the works.
I believe you have a new exhibition starting on 1 July?
Elizabeth: Yes! Découpage, A Labour of Love opens to the public on 1 July. Ranging from local masters of the 19th century to today, the show will bring together over 150 historical découpage pieces together under one roof – thanks to the generous support of several private lenders as well as the Musée du Vieux Pays-d'Enhaut.
Antonia: We are so grateful to the many individuals who are supporting us in this project, such as Marcel Bach and Hans-Jürgen Glatz from the Hüsy Gallery in Blankeburg, who are lending us pieces from their private collections for the public to enjoy. Jean-Frédéric Henchoz from the Musée du Vieux Pays-d'Enhaut has also been very generous in loaning us some of the most important pieces from the museum's collection by masters such as Jean-Jacques Hauswirth, Louis Saugy and Anne Rosat, among others.
Elizabeth: Paper-cutting is extremely time-consuming and manual, it really is a 'labour of love' and I find that quite romantic.
Like all our exhibitions it's free and you can turn up at any time during our opening hours, from Wednesday to Sunday, 1 – 6pm. We're even open on Sundays – it's the dream. What else can you do on a Sunday in Gstaad?
ANNA CHARLES
---
DÉCOUPAGE
Découpage, A Labour of Love is open from 1 July to 1 October. The exhibition is free for the public to visit at any time during the opening hours.
---
OPENING HOURS
1 July – 1 October
Wednesday – Sunday,
11am – 5pm
Or by appointment by contacting info@tarmak22.com
+41 (0)33 748 31 31
---