Le Rosey works on a new dimension of learning
12.04.2021
Local News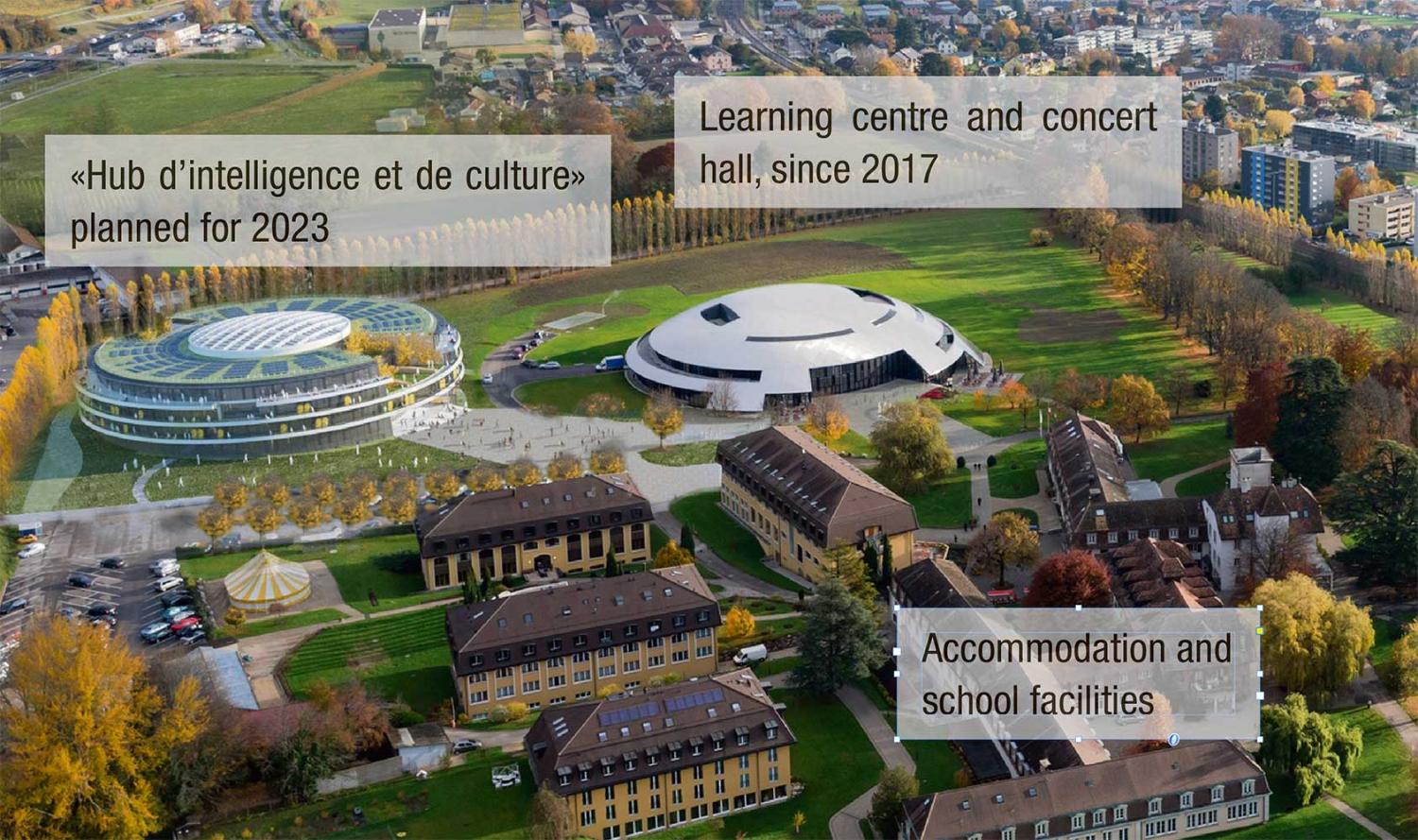 Front-line teaching is out. Today, learning in groups and working out solutions independently is propagated, which in the long run proves to be more practical than one-way listening and mere memorising. And what form of learning will we need tomorrow? Christophe Gudin, owner and director of Le Rosey, and his team are looking for answers to this question.
Dynamic learning
Gudin assumes that the new forms of teaching keep evolving. Students should acquire future-oriented skills by becoming active themselves, working out contents in group work, as well as experimenting and testing various possibilities. Therefore, Gudin is certain that group rooms, laboratories and rooms that can be used in various ways will dominate in schools of the future.
"Hub d'intelligence et de culture"
To offer future generations of pupils and teachers an ideal learning environment, the private institute is planning a new building at its headquarters in Rolle. It is round construction with impressive dimensions: a diameter of 74 metres and a height of around 20 metres. It will be built on the lawn in front of the existing classrooms and dormitories and will visually blend in with the arts and learning centre/concert hall built four years ago.
Learning from each other
"In the past, every science teacher had their own lab, where they worked with the students," says Gudin. He wants to change that. Two mega-labs will provide space for several teachers and classes. "We want the younger students to see what the older ones are doing. That is motivating. It makes them want to emulate the bigger ones," he explains their strategy. In small classrooms adjoining the laboratories, the theoretical content will be taught and learned. Language classes will also take place in the new building.
Entrepreneurship is central
According to Gudin, however, the main reason for the new building is a subject that has not been on the syllabus so far. "Most of our students' families are entrepreneurs. That's why we want to create a new atmosphere in this area." Entrepreneurship combines diverse disciplines such as mathematics, economics, marketing, organisation, networked thinking, networking and the development of ideas. These are to be brought together in a cross-disciplinary way in the new learning centre.
Gudin further envisions practical applications. He wants to offer space to selected start-ups for a limited time and integrate them into the school. "We want the students to look over the shoulders of the start-ups and be inspired by them. We want them to feel the energy and fever that such start-ups exude." Le Rosey handles it similarly in the field of music. For a few years now, the International Menuhin Music Academy (IMMA) has been affiliated with Le Rosey. The children watch the students practise, exchange ideas with them and attend their concerts.
Ambitious schedule
Construction work is scheduled to begin this summer. After three years of construction, the building will be inaugurated if everything goes according to plan. The new classrooms and laboratories will replace the existing facilities on the current campus. These will be turned into additional dormitories, which will allow the school to grow. Currently, 440 students attend Le Rosey. "Demand is high, and we are aiming to teach an additional 100 students in Rolle in 15 years," says the director.
Based on AvS/Blanca Burri
---
Image Title