Corona restrictions will be eased as of Monday
16.04.2021
Local News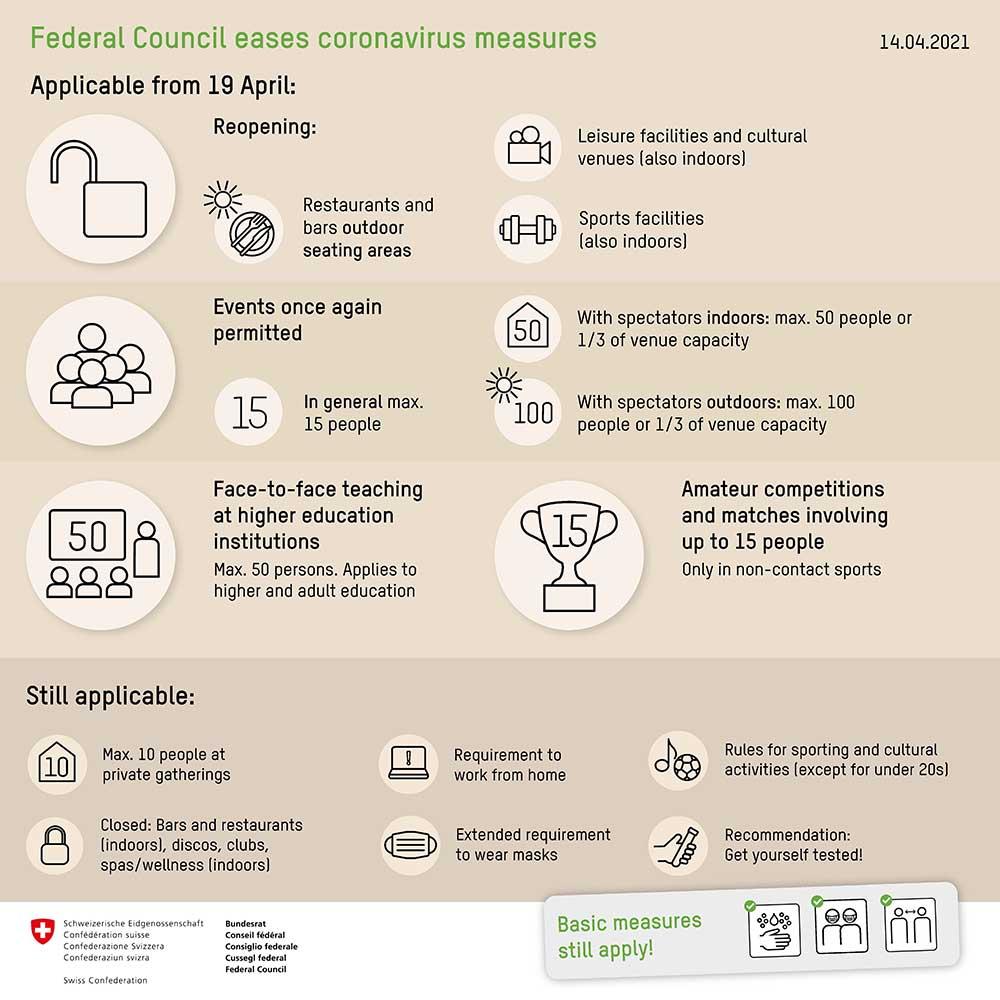 While our neighbouring countries tend to tighten the corona measures, Switzerland eases restrictions. The epidemiological situation remains fragile and has deteriorated further in recent weeks. Four of the five benchmarks for opening steps are currently not met.
Nevertheless, the Federal Council sees the prerequisites for a moderate opening step as given. The rise in hospitalisations is relatively slow compared to the number of cases, and vaccination coverage is progressing well among those at risk: "Almost 50 per cent of people over 80 and around 30 per cent of people aged 70 to 79 are fully vaccinated. Also, conditions in intensive care units are relatively stable," writes the Federal Council.
Opening step with calculated risk
The Federal Council is aware of the risk it is taking. "The rise in hospitalisations increasingly affects younger groups of people. Today, more than half of the hospitalised persons are under 65 years of age." Depending on the development in the hospitals, there is a risk that the easing of measures will have to be reversed. The Federal Council appeals to the population to continue to exercise caution.
Keeping your distance, wearing masks and hygiene are still key, Federal Councillor Alain Berset stressed. If the opening steps are taken as a signal that people can take everything a little more lightly, it will turn out very badly, warned the health minister, stressing once again the importance of personal responsibility. "We are dependent on the support and participation of the entire population," Berset said. "It is a great responsibility not only for all the people in our country but also for all those who own or run fitness centres, restaurants or cultural institutions. They really have to do everything to ensure that the protection concepts are strictly implemented. Otherwise, we will have a problem."
Restaurant terraces can open
Restaurants and bars can reopen their terraces from 19 April. Seating is compulsory and masks may only be removed during consumption. A maximum of four people are allowed per table. All customers must provide their contact details. There must be a distance of 1.5 metres between tables, or a barrier must separate tables. Discotheques and dance halls remain closed.
Publicly accessible facilities and businesses
Publicly accessible leisure and entertainment establishments may reopen their indoor areas in the same way as shops and museums. This means that zoos and botanical gardens are also fully accessible again. "In indoor areas, people must wear a mask, and they need to maintain the required distance," the official statement says. However, the indoor area of wellness facilities and indoor pools remains closed.
Events with an audience: 100 people outside, 50 inside
Events with an audience are possible again if the following restrictions are followed. The maximum number of visitors is limited to 100 outside and 50 inside, for example, cinemas, theatres, or concerts. Also, there is a restriction to a maximum of one-third of the venue's capacity. Seating is compulsory, and masks must be worn at all times.
Based on AvS
---
Image Title