On target
11.01.2021
Profile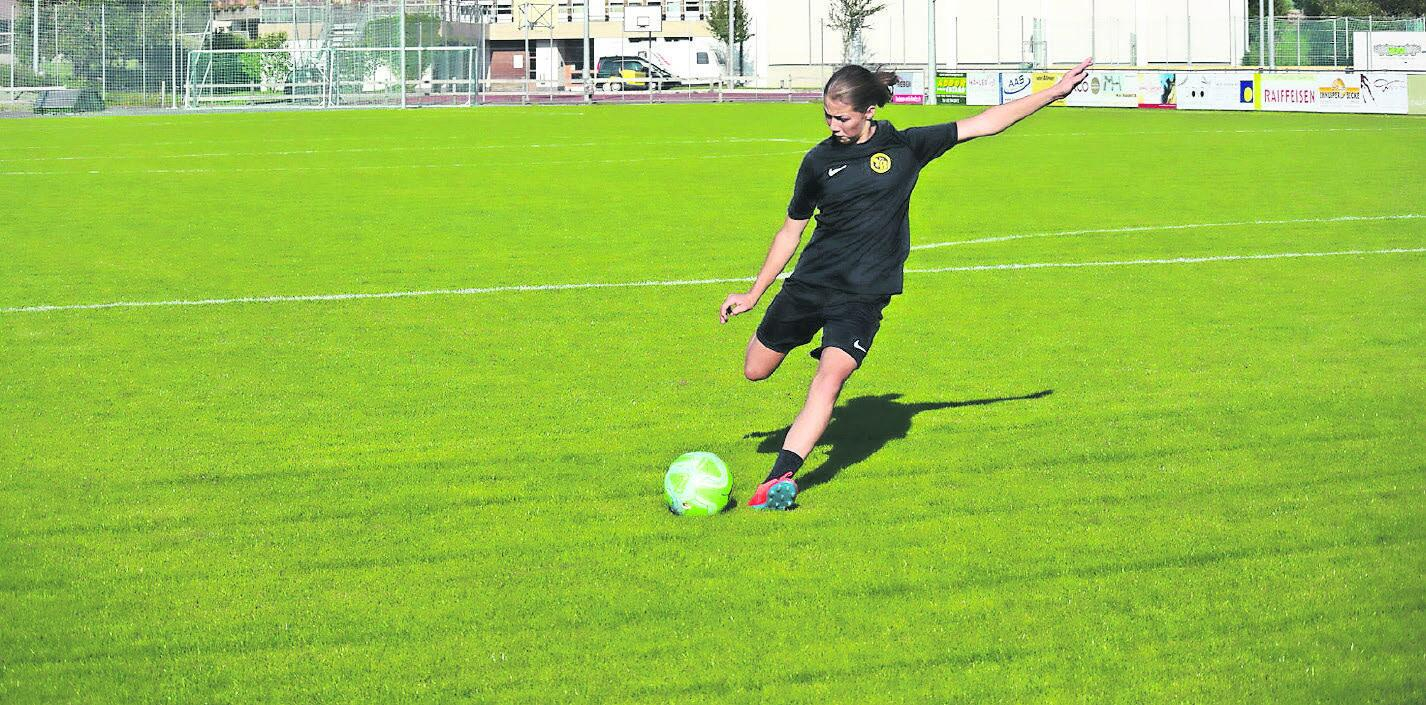 Sina Hauswirth from Saanen is making her mark on football. Aged just sixteen, she plays outside midfielder for the Swiss national U17 team and the BSC Young Boys. With her sights set on further footballing success in 2021 and beyond, GstaadLife caught up with Sina between training sessions to learn more.
What brought you to football?
I've been involved with football since I was young. Although we didn't play the game at school, football was always around me at home. My brother was in FC Sarina [the football club in the Saanenland] and all my neighbours played the game too. It just seemed natural for me to get involved. I still play football with my brother when I'm at home. It's great fun.
What is it about football that you love so much?
This is a very difficult question to answer. Football is just everything to me. I love the game itself – being out in the fresh air and kicking the ball – but also everything around it: the team, the training, the people, everything. I just love football!
When did football become more important to you?
I was eight when I joined FC Sarina. My neighbour, Patric Bill, happened to be the club trainer and he was a great support to me. He'd motivate me to attend training sessions and say things like: "come along and see what happens." I found that I really enjoyed myself and ended up joining the club. It didn't matter that I was the only girl. I got on really well with the boys and they accepted me as simply another player on the team. This felt good.
By the time I was eleven, I started to get really interested in football and decided to go to Thun for the regional trials. I was up against all the best female players in my age group for the canton of Bern as well as a few from the canton of Fribourg. I was successful and selected for the regionals. This made me very happy and was the point at which football started to become more important to me.
This was also the moment when my life got busy. I was still training and playing with the boys in FC Sarina, as well as travelling to Bern for training sessions with the girls, while also going to school.
It must have been exciting to be selected for the national team. How did that happen?
In March 2019 all the girls who had been picked for the regional selections received an invitation to participate in a football trial for the national team. Initially there were 80 of us. We were watched by various trainers and officials throughout the day as we played and trained.
The top 60 players were asked to attend a second trial and after that the successful candidates received an invitation to attend a training camp. This was the point at which I became a member of the U17 national team.
There are four teams at the national level: the under 15s (U15), comprising players aged 13 and 14, U17 for players aged 15 and 16, U19 for 17- and 18-year-olds, then from the age of 19 it's the first team. I'm in the U17 squad. Although I won't need to attend any more football trials like before, it's up to the trainers which players progress and which are dropped. It's competitive, but I train hard and I want to go far.
I have attended three training camps with the national team so far. Unfortunately I was injured in the last of these, tearing my cruciate ligament. I'm in recovery at the moment, but aim to be fully fit in the new year and return to a full training and match regime. I'm looking forward to it.
What's your current living situation and training programme like?
Since leaving school in August, I have been living with a host family in Bern during the week and I'm back home at weekends. Alongside football I am also undertaking an apprenticeship, which involves many hours' work experience as well as regular lessons at vocational school. A detailed schedule has been developed for me to ensure there is enough time for my football sessions as well as my apprenticeship commitments. I train six times a week, followed by a match at the end of the week – usually a Saturday. After the match I travel home to Saanen for the weekend before returning to Bern on Sunday evening.
I imagine you have to make many sacrifices in order to dedicate so much time and focus to football?
I don't really have much free time, but I don't see this as a sacrifice as it's the life I've chosen. During the week I'm very busy with training, my apprenticeship and vocational school. When I come home at weekends, I occasionally meet friends from school in Saanen before I travel back to Bern to start the next week.
Football is still largely a male-dominated sport. Is it more difficult for girls to get noticed, get access to the best training and so on?
In the city it's not such a problem because there are more girls who play football. This means there are more clubs and a broader support network. In the countryside, however, it's not so easy, as there are fewer girls who play and not so many clubs. You have to travel to places like Thun to attend football trials in order to have the chance to get picked for the regional and national teams.
Although it's more extreme for girls, it's also more difficult for boys in the countryside. They also have to travel further to be in a position to get noticed by national trainers.
Is there much difference playing football with girls compared to boys?
While the game itself is the same, I've noticed two main differences.
First, I've found that play with the boys is physically more intensive and faster. I didn't notice this so much at first, when we were young, but the older you get the more you realise that the boy's game is more powerful. I'm so grateful to the boys in Saanen. I know it really helped my game to play with them for as long as I did.
The second main difference concerns the group dynamics around the game. In an all-girls' team, we're in the changing room together after a match so we can celebrate or commiserate with each other. I really value this because when I played with the boys I was always alone in the changing room after a match. This meant I wasn't able to celebrate or talk with the rest of the team until after we'd showered and got changed. This was unavoidable of course, but I definitely prefer being with the whole team immediately after a match.
What is the outlook for professional female football players?
At the moment it's not possible for women in Switzerland to make a living from football, though men are able to do so when they reach the Super League. For now female players also need to have a job and of course sponsors are really important.
The situation in other parts of the world isn't much different. Not many women can live off football and then only the very best players in the good clubs, though this is more possible in places like England and France. At the moment it's hard for me to imagine leaving Switzerland as I love my country and I don't know what the future holds. But I do know you must try everything to make your dreams possible.
What are your goals for 2021 and beyond?
My first aim for the new year is to return fit and strong to a full training programme and, of course, to stay injury free. I want to continue my apprenticeship, train hard and play matches.
Every day I aim to be better than the day before. Ultimately, I would like to go as far as possible in football. This involves lots of hard training because only the best progress through the ranks.
What would you say to other girls who want to follow in your footsteps?
I hope I can show other girls that if you really want something you can do it. If you're really interested in football and want to play, believe in yourself. Join the local team and especially play with the boys. It's recommended for girls to play football with boys for as long as possible as this makes you strong. This really helped me and it was the same for my colleagues in the national team.
Above all else, don't just copy what other girls do. Follow your dreams – do what is important to you. If you really want something you can do it. See that it's possible, because it is.
ANNA CHARLES
---