Summer sailing
19.08.2020
Sports & Leisure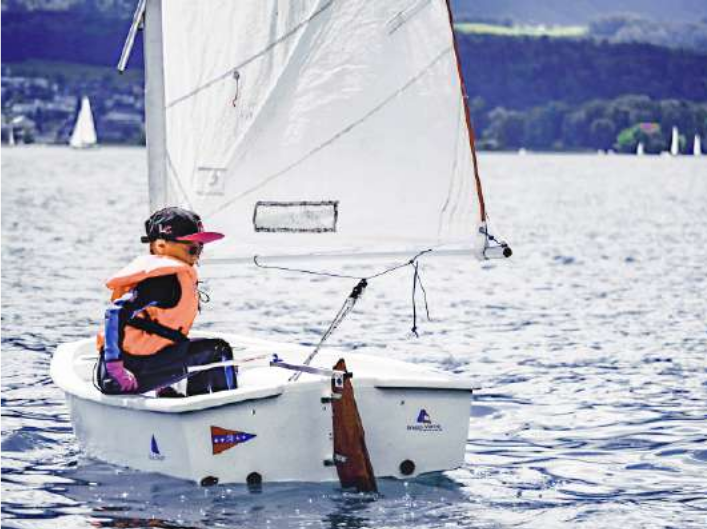 While the young beginners enjoy the summer sailing programme on Lake Thun, the GYC Sport members are getting ready for a season of training, races and preparation for the Olympic Games 2021.
Youngsters from 8 to 16 years old are being introduced to the basics of sailing or – for the more experienced ones – hone their skills on Lake Thun. Knot-tying, splicing, rowing, jury rigging, navigation, aerodynamics, and sailing are all part of the programme for the young sailors.
All of these activities are monitored by skilled, experienced and fun coaches, who went through the same kind of training and are now ready to pass on their knowledge and experience. Despite the current situation, the coaches and the GYC managed to organise a programme under the guidance of Swiss Sailing, which enables the young sailors, their parents and the coaches to attend the whole programme in a healthy and safe environment.
Unfortunately, the pandemic led to the cancellation of many of the most relevant sailing events of the season, ultimately culminating with the postponement of the Olympic Games in Tokyo. Despite the challenging situation our athletes found alternatives to competitions and training venues to keep their body and mind fit and have some sense of normality.
GYC Sport member and professional sailor Nils Theuninck agrees with the Olympic Committee's decision and already lined-up the plan for the new season, starting right off in September with the Finn's European Championship in Gdynia (Poland) followed by the World Championship in Palma de Mallorca (Spain) in October.
Taking advantage of the long brake in between competitions, in November Nils is planning to travel to Lanzarote in the Canary Islands for a training session. Nils will be back in the water in April for the Trofeo Princesa Sofia in Palma de Mallorca (Spain) followed by the Olympic Selection in Porto (Portugal). Finally, he will be heading to the Olympic Games in Japan in July 2021.
The 2017 Sailor of the Year and GYC Sport member Mateo Sanz Lanz was the first Swiss sailor to qualify for the Games in Tokyo. Like Nils, Mateo is also getting ready for the extraordinary season. In August he is planning to attend the Foil World Championship, the iQ Foil European Championship, and the Swiss Championship, which all take place in Silvaplana (Switzerland). In November the season continues with the RSX European Championship in Athens (Greece). In December Mateo will be training in Lanzarote, Canary Islands and Palma de Mallorca (Spain).
Mateo will join Nils in April 2021 for the Trofeo Princesa Sofia in Palma de Mallorca (Spain) and will travel right after to attend the World Cup in Hyères (France) and by May he will be attending the RSX World Championship in Qinhuangdao, China. In July 2021 Mateo will be at his best at the Olympic Games!
GSTAAD YACHT CLUB
---