Three basic rules for safe encounters
23.07.2020
Gstaad Living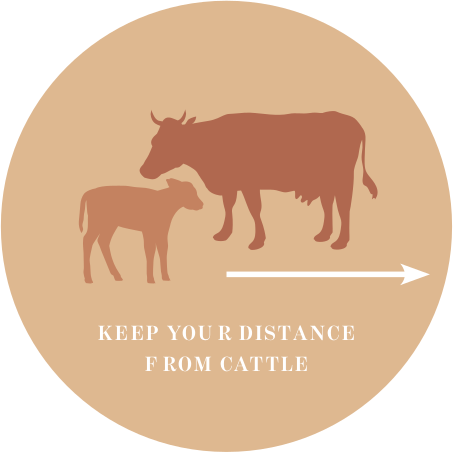 Holidays in the Swiss Alps are popular with guests from Switzerland and from abroad. More and more Alps are being grazed by suckler cows, which can lead to conflicts and dangerous situations. However, if one observes three basic rules of conduct, the encounters are harmless.
Suckler cow husbandry is on the rise, which is a positive development in terms of ecology, sustainability and animal welfare. However, the close bond between mother cows and calves changes their behavior and in particular their attitude towards strangers, which can bear risks.
"Little to no knowledge"
Encounters between people and cows can have an unpleasant ending. To prevent this from happening, both farmers and hikers can make a contribution. While bans are used in some places to avoid risks, ideally the aim is to allow farm animals and hikers to coexist peacefully. This begins with the preventive measures taken by farmers: Aggressive and maladjusted animals should not be brought to the summer pastures in the first place. Signs or diversions should help passers-by minimise the risks from the outset. And: "When assessing risks, it must always be assumed", says an information guide for farmers, "that trail users have little or no knowledge of how to handle cattle". This will not be the case with you, dear reader, after this article!
A mother protects her children
The principle is easy to understand: A mother always wants to protect her children. This is no different for cows when they share pastures with their calves. If a hiker gets too close to a calf, the suckler cow can perceive this as a danger and awaken her protective instinct.
In general, it can be said that in view of an encounter between humans and animals, a safe distance should be kept. This cannot be measured in metres, but varies according to the animal and the situation. Should cows be resting on the hiking trail, it is up to the hikers to move around them instead of rousing the cattle.
Young animals are cute and always attract attention. This is no different with young calves and who would not like to give them a little pat and a stroke. But cows do not like it any more than human mothers do when strangers grope their offspring. Leaflets clearly warn: "Do not approach the calves or touch them under any circumstances."
Every dog is a predator for a cow
The third rule is: Keep dogs on a lead! For cattle, a dog is always a predator – regardless of its appearance and size. Especially suckler cows are prone to attack when they perceive a threat for their calves. Dog owners should therefore avoid a herd by passing them as calmly and with as much distance as possible, with the dog safely kept on a lead. If, despite all precaution, a cow should attack, it is recommended to let go of the leash immediately, so that the dog can quickly get out of harms way.
BASED ON AVS
---