Expat adventures
30.07.2020
Magazine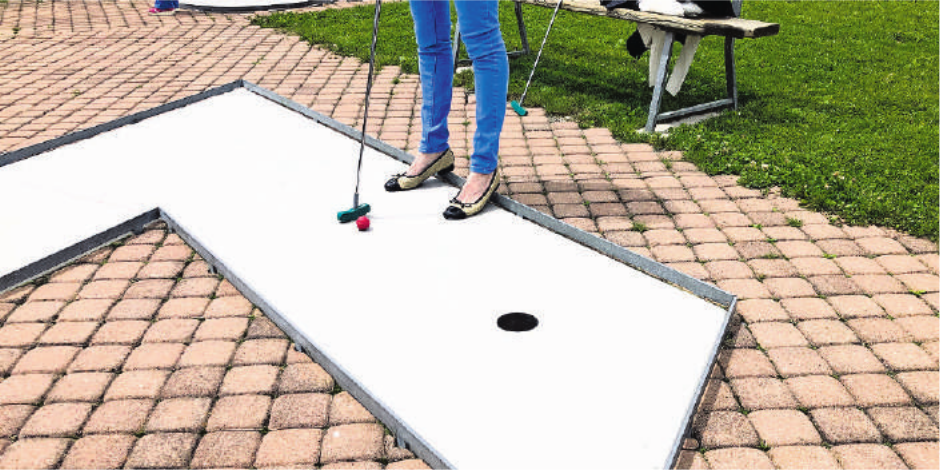 Have you heard of Francis Ouimet? Go back 100 years and there's a large likelihood you would have. In 1913, aged just 20, he won the U.S. Open golf championship. More amazingly, he was only an amateur at the time and won the championship by defeating two of the top golfers in the world: Harry Vardon and Ted Ray. Ouimet went down in history as the 'father of amateur golf'.
Competitive amateurs
I know many people who are obsessed with golf. Totally obsessed. But despite spending some time on the driving range, it's not something I've ever got into. And the reason why? Because I come from a mini-golfing family. I bet you didn't even know there was such a thing.
As you might imagine, this means we spend a fair amount of time at the Gstaad sports centre. They have a delightful mini-golf course with glorious views onto the Eggli and across the fields to the Glacier. We've played enough rounds there to have our own family par for the course. We've played in the blistering heat and in the pouring rain. Have you ever seen a golf ball aquaplan its way around an obstacle? It makes for interesting results.
We've been playing for years and have experienced the full drama of the game: the tears, the tantrums (that was our middle son when he was about 12), the thrills and jubilation. We each have our own feared hole (for the record mine is number 9), play "strict rules of golf Mr Bond" and have an unspoken rule that whoever notes the scores does no kind of adding up until we're seated in the café for post-round drinks and the big 'winner reveal'.
Have no doubt, we take this game extremely seriously. Or so we thought.
Club level
Being enthusiastic mini-golfers, we have naturally also played at Château-d'Oex. It's a charming course at the end of the high street with lots of shady spots, the expected whimsical obstacles and a killer hole (number 8). At first sight no different to the numerous other courses on which we've played.
But last year we learned how wrong we were.
The first clue was a lady golfer who carried a small grey attaché case around with her. We were perplexed. What, we wondered, could she possibly have inside? Had she come straight from work? We received our answer when she reached the next hole and opened the case to reveal a large collection of different coloured golf balls. And to think we just make do with the ones offered as part of the entrance fee.
But this was just the beginning. Next we learned that the club at Château-d'Oex is a member of the Swiss Mini-Golf Association. In fact, it's one of 46 regional clubs across Switzerland which organises a series of competitions throughout the year. The tournament calendar is usually very active, although a lot of the meets have understandably been cancelled or delayed this year.
Apparently mini-golf takes on a whole new level of significance at club level. The notice outlining the Grand-Prix de Château-d'Oex even contained a warning about the possibility of anti-doping tests being carried out during the tournament.
So now there was no doubt. Here was the proof, if proof were needed, that despite our love of competition we are mere amateurs. And happily so.
On which note, I continue to hope I'll someday experience the magic that so inspired Francis Ouimet all those years ago and finally come top of our family's mini-golf leader board.
ANNA CHARLES
---
Image Title