Tourism in focus
29.06.2020
Profile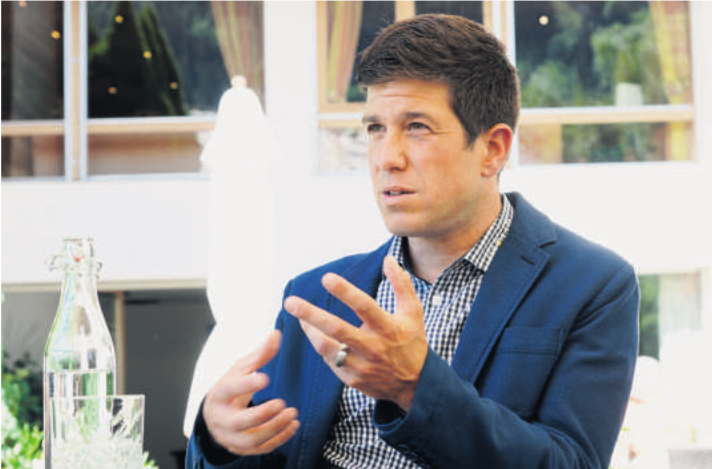 Tourism and hospitality are both critically important to the Saanenland. Flurin Riedi, managing director of Gstaad Saanenland Tourismus, and Christof Huber, director of the Gstaaderhof Hotel and president of the Hotelierverein (Hoteliers' Association) Gstaad-Saanenland, took time out of their busy schedules to talk to GstaadLife about their roles, vision and how the region is adapting in the wake of the coronavirus pandemic.
First, could you introduce yourselves please?
FR I have been the managing director of Gstaad Saanenland Tourismus since July 2019. My role is to develop the region as a tourism destination, which involves marketing, product development, infrastructure and tourism policy work.
CH I have been running the Gstaaderhof hotel with my wife for six years and have been president of the Hotelierverein since December 2018. The association has 32 members – mainly hotels, but some restaurants too. Our role is to ensure our interests are represented across the region.
Let us start with the obvious: How has the coronavirus pandemic affected your work and how are you moving forward?
CH When we started to plan the summer season, the situation was completely different to now. We had to anticipate different scenarios until things became clearer, but now we have the summer and autumn set-up in place.
The opening of the borders has a huge influence on us. Being able to welcome guests from abroad is very important, but we also hope to use this as an opportunity to welcome more Swiss visitors. There is a positive feeling in the region and everybody is looking forward to a great summer.
FR As we do not have any of the 'top' events this summer, we had to take a different approach. We came up with new ideas and have organised a series of special projects to run throughout the season. All events and projects have been planned with hygiene and safety in mind.
Gstaad Alive is one such project. Located on the ice rink, it is a meeting space/playground decorated with tables, benches, cable car cabins and an enormous sandpit. Our aim is to host a series of different events here throughout the summer, including concerts and culinary experiences.
In another project we will combine hiking and theatre, with a focus on families and children. On the Wispile, for example, we are developing a cheese hiking trail. On certain dates, actors will entertain hikers on the trail with alpine stories about cheese production. Something similar is being planned for the Rinderberg-Horneggli trail.
We are also working closely with the Hotelierverein and the Landwirtschaftsvereinigung Saanen (the local farming association) on a number of projects to show guests the importance of farming and tradition to our region.
CH We want to surprise returning guests with something new and impress first-time visitors by distributing four different gifts when they stay in the Saanenland this year: a locally-produced cheese; Swiss flower seeds; apples from local farms in the autumn and pre-stamped postcards so guests can share their experience of the Saanenland with friends and family.
We are also planning a poster campaign to especially welcome our Swiss visitors and the locals have not been forgotten either: each household will receive a pre-stamped postcard and bumper sticker to help spread the word about our region.
FR We want to give all visitors and guests a warm welcome by showing our region, its authenticity and culture at its best.
CH Most of all we want to thank all guests for coming. We know it is not something we can expect or rely on, especially this year. We are aware it is something special that people are coming here. We want to show our gratitude.
What have been the first impressions of your respective positions? Have there been any surprises?
CH It has been a really positive experience working with Flurin and also with Andreas Wandfluh from Gstaad Marketing. There is excellent chemistry between us and cooperation with Bergbahnen Destination Gstaad (BDG) and the local authorities is positive. You can see this in the number of projects launched in a very short period. Open dialogue, constructive feedback and close cooperation have made the biggest positive impressions in my role so far.
FR I agree. It has been very positive for me to see that we understand we are all sitting in the same boat. We all realise the importance of working closely together to achieve our goals. Tourism is an interaction of all stakeholders
The region is largely perceived as a luxury destination. What role do 2, 3 and 4 star hotels play?
CH The biggest luxury we offer all guests, whether they stay in a 5 star hotel or on a campsite, is our intact nature and landscape.
The region's image of a high quality and luxury destination attracts guests; this is something of which we are very proud. The luxury hotels and their guests are incredibly important to us. They bring relatives, friends, colleagues and staff which – together – have a massive impact on the region. If you add up all the beds available, there is more capacity in the 2, 3 and 4 star hotels than in the 5 star establishments.
I would add that guests are often surprised at how down to earth everything is here, even in the 5 star hotels. Because we do cater to everyone.
FR Yes, there is this 'wow' effect, especially from guests who come here for the first time. "We had a totally different picture of Gstaad – we thought it was only luxury," they say. The 2, 3 and 4 star hotels are also an important element for the region. What distinguishes us is the high quality of all our products. Our aim is to offer all our guests a high quality experience.
What is your vision for the future?
FR For me it is very important that we can develop this destination sustainably. We need to understand that our nature is our most important asset. Plus we have all these traditions and ways of life that together make up the culture of the Saanenland, which is hugely important to us.
Of course we also have to invest in new, high-quality ways to retain and attract visitors over the next ten, twenty or thirty years, but we must always recognise that nature, local traditions, culture and the authenticity of Gstaad are key differentiators to other destinations.
Investing in the summer season also offers huge opportunities for the region. The altitude here makes this a perfect destination for summer tourism. When I look at the number of hikers and mountain bikers who have been outside on trails over the past weeks, it shows many future possibilities.
CH One of the biggest challenges we face is climate change. Skiing is still the most important selling factor for our region in winter, but we also need to consider our non-skiing guests by investing in new hiking trails, for example, and gastronomy. Eating fondue in tiny mountain huts is the kind of authentic experience people are looking for.
And we must not forget the need to create more awareness of everything we already offer. We have a really high quality infrastructure in place, but often guests or even locals do not know what is available.
I am sure you are both very busy; do you manage to achieve any work-life balance?
FR Work-life balance is very important. The job as tourism director is demanding and intensive but you need to be able to step back. Family is very important to me and I enjoy every minute I can spend outside in nature.
CH The coronavirus has been challenging for us time-wise as we have been faced with a lot more planning. Making time for yourself is one of the most difficult parts of running your own business. I enjoy taking part in sport and going out into nature – as well as making sure my wife gets free time to herself too!
What is your favourite spot in the region?
CH (laughing) I am not sure I should tell you… but my favourite hiking trail is to the Geltenhütte, where you can eat one of the best Käseschnitte (a grilled cheese and bread dish). It is very quiet in the valley before hiking up and the views are amazing.
FR I am still quite new here and I am enjoying exploring the region. I moved from a region that was very rocky, whereas in the Saanenland there is a very soft Alpine landscape. I find the combination of green fields and mountains, with views and access to the glacier at 3000m, fantastic.
Anna Charles
---