Two Swiss solar prizes go to Gstaad
21.10.2019
Local News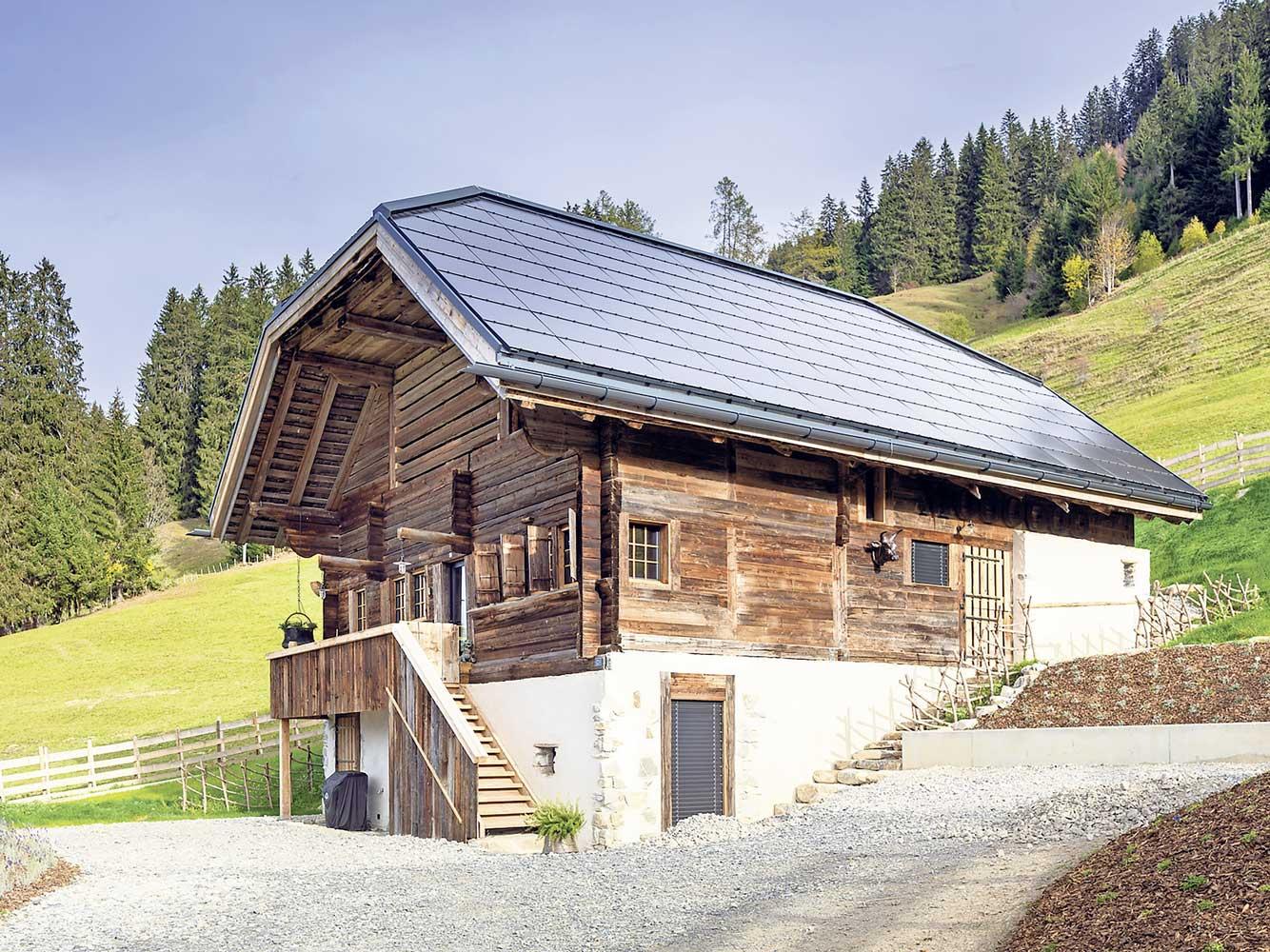 Residential buildings no longer used for agricultural purposes can be kept with the same footprint. This former shack with a wood heating has been transformed into a contemporary family house with a total energy requirement of 17600 kWh per year. "The exemplary 32 kW integral photovoltaic system (PV) produces 27,000 kWh of CO2-free solar power every year," according to the description by the competition commission. This is around 154 per cent compensation for the building's energy needs.
The cohesive appearance of the roof is in keeping with the simple exterior of the building. This shows how tradition can combine with a PlusEnergieBau renovation and an integrated photovoltaic system for an aesthetically-pleasing result.
A battery to store energy
Christoph Ogi and Max Brand from the company solarUp and architect Michi Gehret believe it's important for the award to be seen as a joint venture. In addition to the architectural planning and technical work, the building owner must have an interest in solar roofing and PlusEnergieBau refurbishment. Solar roofing is very important for Michi Gehret, who shows his aesthetical devotion to the profession. "It has to be a single surface, a unit!", he says, pointing out that good aesthetics and the right visual impression are key factors
Christoph Ogi emphasises that this project highlights an Alpine solar system with the best aesthetics and maximum energy output. He also emphasises that: "Solar roofing isn't just a thing of the future. It's part of the present." So that the solar energy generated during the day can be used at night, a battery is provided for storage. The building is roughly 70% independent of energy suppliers.
More sustainable than a shingle roof
These prizes for the Saanen locals fall into the category "B buildings and renovations" and the "Swiss Solar Prize Diploma 2019" and "PlusEnergieBau diploma 2019" are also awarded to the winners. After solar-Up Energie GmbH was presented with a Swiss Solar Prize last year for the solar system at the Simmental Arena in Zweisimmen, this year's awards are significant for the entrepreneurs.
According to Ogi and Brand, the awards show they're on the right path with their photovoltaic systems. The Swiss Solar Prize 2019 is confirmation of their work. Michi Gehret states that not only is design important, but also sustainability. The architect emphasises that as soon as a solar roof is in place, not only do its owners have a sense of well-being, but the system also gives something back: Any excess solar power is fed into the grid and sold.
Based on AvS/Kerem S. Maurer
Translated by Justine Hewson
---