The fire fighter commanders of the largest Swiss airports at Gstaad Airport
28.10.2019
Local News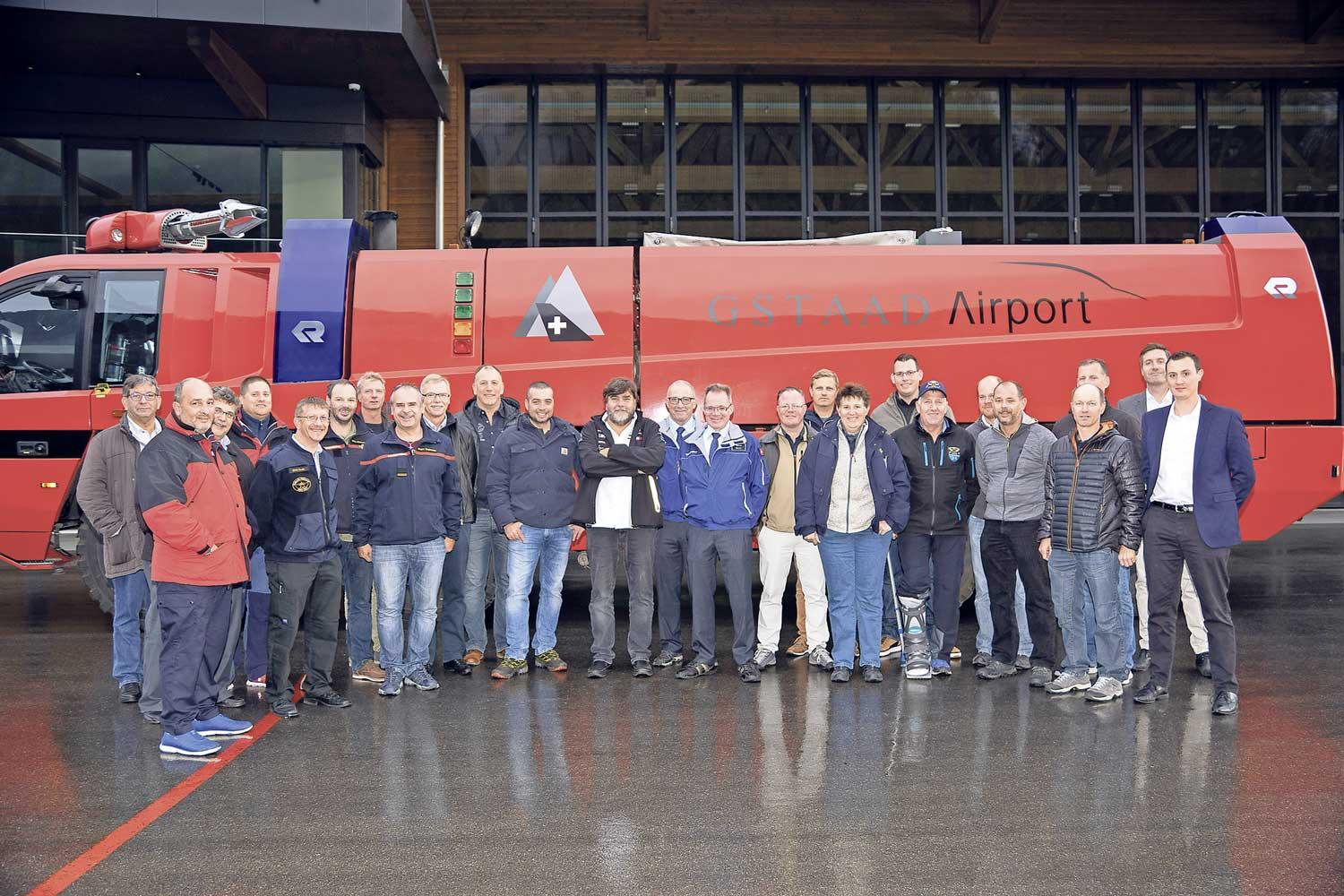 Sharing, learning from each other and talking about innovations – this is what the 26 airfield fire brigade commanders did at the meeting at Gstaad Airport in late October. They meet annually as directed by the Federal Office of Civil Aviation (FOCA) on one of the airfields where they work. "It's really nice for us to have the meeting in Saanen this year," said Commander Toni Marti. He's managed the Gstaad Airport airfield fire brigade for eleven years and will continue to do so until the end of the year. His successor will be Daniel Zwahlen.
"Eleven years ago, we virtually started the airport fire brigade from scratch. Thanks to great teamwork, we've progressed even more and now offer professional fire prevention and intervention." Since private planes such as PC-12, C-24 and occasionally jets up to the size of a Dassault Falcon 8X land in Saanen, the airport is subject to the same regulations as larger airports. That's why the Zurich and Geneva airports are participating in the meeting. "This is a great collaboration and learning opportunity," said Toni Marti.
Security
The dedicated security forces respond to today's biggest challenges and they discussed solutions and models for success. "We share new ideas with this committee. We also introduce new processes, equipment and infrastructures," said Martin Schilt from FOCA.
According to Florian Monthoux from FOCA, the latest topic of discussion is airplane electrification. "Electric aircrafts need a new approach in terms of safety because their motors don't react well to conventional fire extinguishing methods."
Monthoux said that in response to these developments the fire fighters are training and adapting the infrastructure. The Geneva and Zurich airports play an important role in this process. Their professional fire brigades focus on this topic and pass on their knowledge. "They give us and the other airfield fire brigades strong support in this," says Schilt.
Good marks for Gstaad Airport
The airport fire department, as well as the Gstaad Airport airfield fire brigade have received good marks from FOCA specialists: "The infrastructure is very good for an airport the size of that at Gstaad."
Based on AvS/Airport Gstaad
Translated by Justine Hewson
---