An imperial art
26.02.2019
Sports & Leisure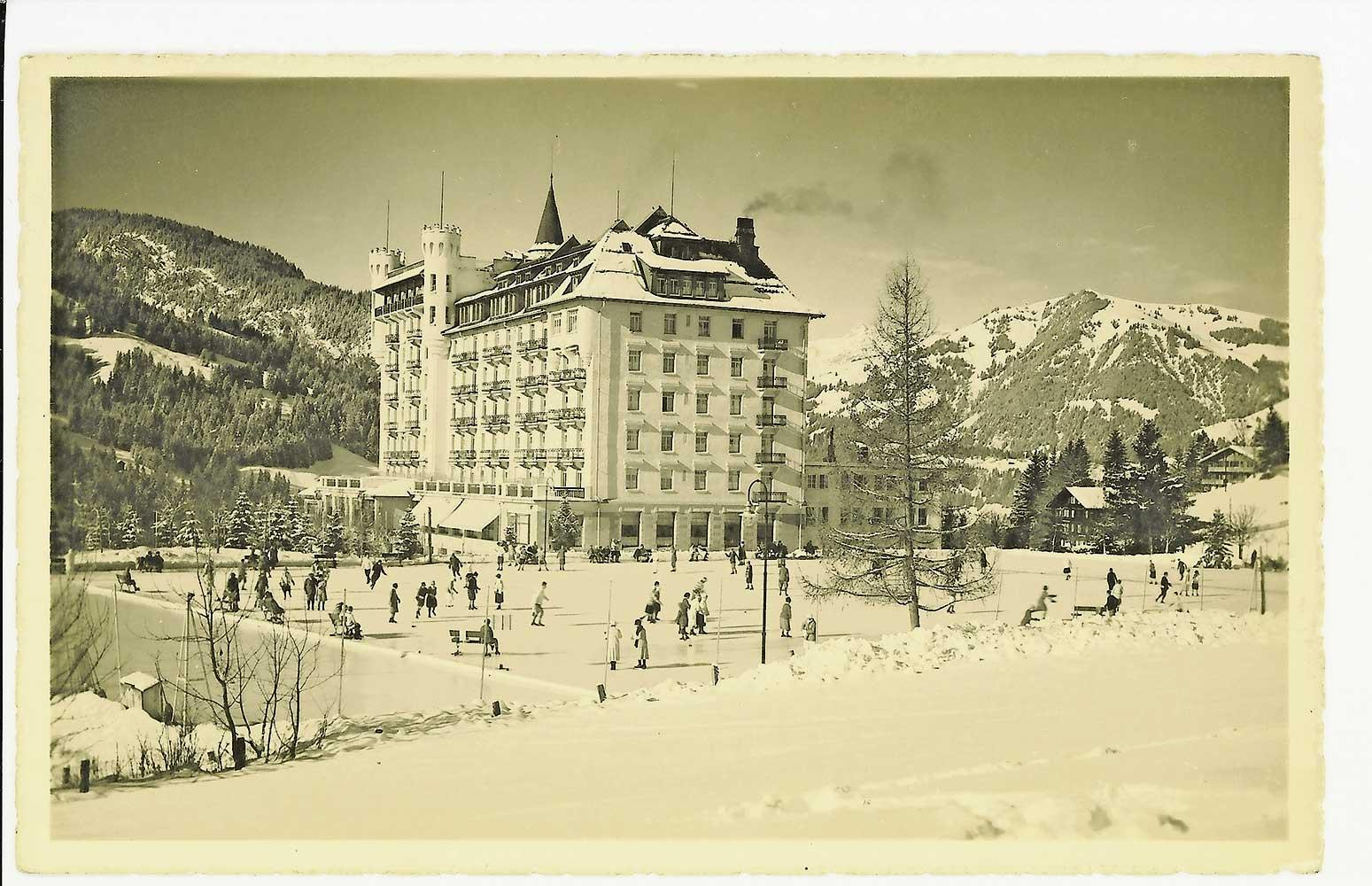 As difficult as it may be for today's guests to believe, in the early part of the 20th century ice skating was the primary winter draw for guests in Gstaad. Prior to the 1934 construction of the funicular 'Funi' sled on the Wispile, visitors wanting to ski would have to hike up practice hills on foot or in skis in order to take a run; mountain-skiing required long climbs and skins. Skating, curling, and ice hockey have been an integral part of Gstaad since tourism grew with the arrival of the MOB railroad in 1904 and Gstaad's first winter season in 1907/08.
According to Gottfried von Siebenthal's indispensable Saanenland histories, the Grand Hotel Alpina had the first natural ice rink at a first-class hotel during the 1907/08 winter season, which apparently lasted only two weeks. Skating options increased the following season with the construction of the 3,500 square metre village ice rink in 1908/09, and the Park Hotel, built in 1910, offered a natural ice rink in winter over its tennis courts. In 1912, Oskar Reichenbach's Eisbahn AG purchased an additional 5,000 square metres to add to the village ice rink, expanding it to an amazing 11,000 square metres! Stretching from the current Charly's Tea Room to what would become the Grand Hotel Bellevue in 1913, it offered more than a hectare of skating area, occupying a space greater than 38 tennis courts, bigger than London's Trafalgar Square!

In 1914, the newly-built Gstaad Palace raised the bar for grand hotel skating, constructing a massive natural field of ice measuring over 5,000 square meters, stretching from the current Palace pool house to the Oldenhornstrasse. It was divided into three parts – one each for skating, curling, and ice hockey – with little walls between sections. Gentility was the order of the day. According to hotel pater familias EA Scherz, on sunny afternoons the Palace offered apéro tables on ice with skating waiters in white tie and tails; ice galas, with skating clowns and ice dancing, provided amusement for the guests. Skating and curling instructors originally wore lounge suits with plus fours, and tuition was of the highest calibre: Lausanne's Alfred Mégroz, winner of Gstaad's 1915 international Winter Sports figure-skating competition, was a long-time instructor, as was more recently Miss Mary, a former Holiday on Ice star.
Over time, Gstaad's natural ice rinks contracted in number and size, the result of climate warming and evolving priorities. In 1998, Eisbahn AG installed an artificial rink on their Unter-Gstaad property, providing a smaller, but less climate-dependent, venue for skating and hockey. In 2010, the Park Gstaad installed their own artificial rink, marking their century-long commitment to this most graceful of winter arts.
Today, options abound for Gstaad's ice-minded guests. Miss Mary still teaches at the village ice rink, inspiring the children of former students who remember her fondly from her days at the Park and the Palace. The Park Gstaad's Laurent-Perrier Ice Dome provides a cosy-chic atmosphere with DJ accompaniment, from where one can observe skating and curling on a complimentary rink open to all visitors. Hockey at the village rink and curling at the Sportszentrum are vibrant parts of Gstaad's winter scene. And natural ice rinks are available whenever the weather's right from Saanenmöser to the Lauenensee.
So, if you feel like partaking of the Qing dynasty court's favoured winter diversion, break out the blades and take a stately glide in the Saanenland's regal air. And remind yourself you're in good company.
Alex Bertea
---