Elevation 1049: An inspiring weekend of art
25.02.2019
Arts & Culture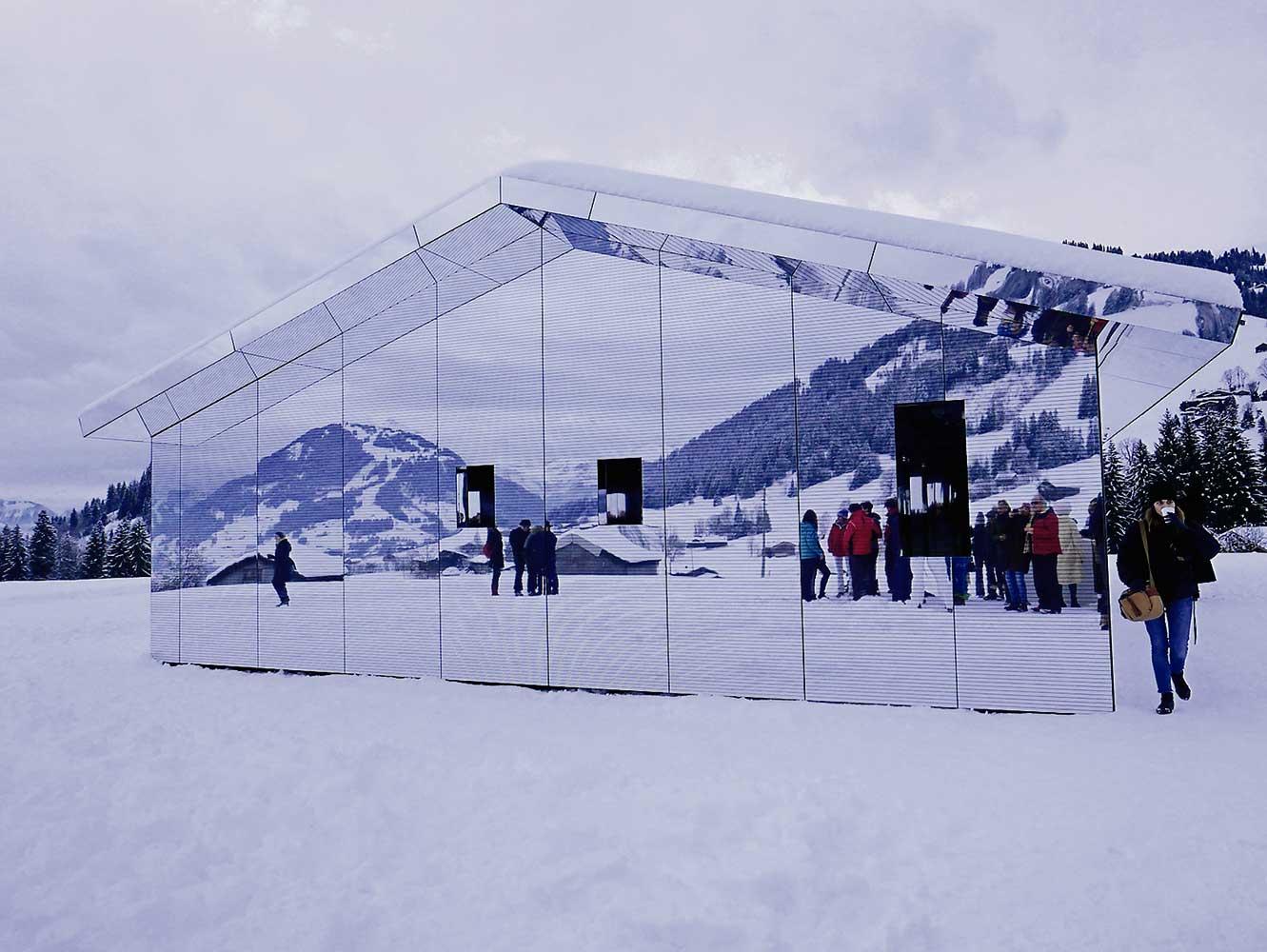 There were some real novelties during the Elevation weekend in and around Gstaad, with all kinds of art performances taking place. Some events even involved direct audience participation.
The highlight of the three days of art was Mirage Gstaad, a house of mirrors created by American artist Doug Aitken. In the summer, he and curator Neville Wakefield went hiking in the area around Gstaad, looking for a suitable location. By way of the background to this, according to Aitken: "We tend to think that a work of art is finished when it leaves the artist's studio. However, my works only start to take shape when exposed to the outside environment." Aitken confirmed that they searched for a long time, finally finding a good location above Gruben. "I fell in love with this place right away. It's a lonely corner, yet you can see the chalets from there, which is really magical."
So, how did the house of mirrors get from Los Angeles to Gstaad? Aitken laughs, not really wishing to divulge any details. In the end, he reveals that the individual components for Mirage Gstaad were all made to measure in Switzerland, then individually transported by lorry to the site.
There's another Mirage house near Palm Springs out in the California desert. Aitken has also experimented with mirrored geometric shapes underwater. On Sunday morning, he showed a short film with an overview of his work in the cinema at The Alpina Gstaad. There wasn't an empty seat in the house.
Bringing art to the people
For some time now, Doug Aitken has been working with land art, liberating art from museums, taking pieces out into nature and also into the cities and to the general public. The house of mirrors will stand in its position above Gstaad for two years. Does the artist worry about the weather affecting his exhibit? He says that the passage of time will definitely have an effect on his work, but this is what interests him. "My work is fleeting, it's constantly changing and evolving."
Depending on the weather, the house of mirrors can be seen from a distance, but sometimes it's hard to find. Aitken explains how, exhausted from the long flight, he arrived in Gstaad, then, in the evening, he tramped up the mountain through deep snow to find his work of art. It was freezing cold but he was brimming with excitement to see the house of mirrors, "But when we got to the spot, suddenly, it had gone! Incredible! I couldn't see my own creation! Just like a mirage, it had completely disappeared into the nocturnal landscape." That, he says, was one of his favourite moments and he would never forget this memory of Gstaad, "It was absolutely amazing!"
Justine Hewson / AvS
---