Positive outlook for the BDG
04.09.2018
Local News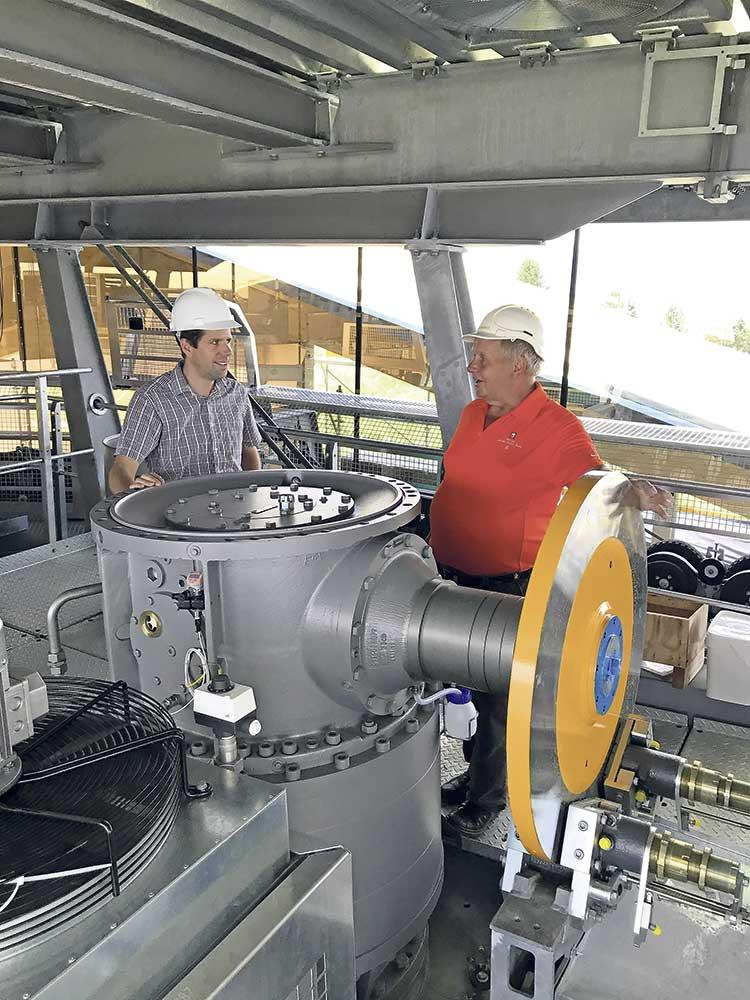 Despite the positive balance, Heinz Brand, Chairman of the BDG Board of Directors, remains realistic: "We are still a long way from achieving our goal. Although we were able to increase cash flow by CHF 2 million year-on-year to CHF 7.2 million, we still have a lot of catching up to do in the EBITDA margin." BDG's Managing Director Matthias In-Albon explains: "Well-functioning mountain railways generate an EBITDA margin of between 30 and 35 percent. According to the business plan, EBITDA is expected to increase continuously to 35 percent over the next five years. "Such encouraging figures are only possible because we are also generously supported by the public sector," emphasizes Brand.
An end to the negative spiral
The negative spiral of decreasing numbers in first-time admissions was stopped in fiscal year 2017/18 with an increase of 18 percent. "If more people are on the slopes, the restaurants also benefit," says In-Albon. Admissions revenues including catering revenues rose by CHF 3 million. "Earnings before interest, taxes, depreciation and amortization increased disproportionately, so that we were again able to make higher write-downs than necessary for business operations." Depreciation and amortization amounted to CHF 6.8 million. "Everything we invested in the restaurants has been written off, as has most of the new snow-making infrastructure and almost all the mountain lifts," explains In-Albon. "We want to equip ourselves for the future and position the company as leanly as possible." The bottom line is a symbolic annual profit of CHF 281,000, compared with CHF 100,000 a year ago.
Top4 ski pass a success
"The massive increase in the number of first-time entrants is largely due to the Top4 ski pass," emphasizes Brand. The promotional ski pass which grants access to the Adelboden-Lenk, Gstaad, Jungfrau und Meiringen-Hasliberg ski regions was introduced for the 2017/2018 ski season. "We bet on the right horse, it has been a win-win situation for all four regions involved." There has been a lot of positive feedback, with many people discovering or rediscovering the destination as a ski region. "In recent years, our destination has been less and less perceived as a ski destination in the Mittelland, Basel or Zurich," explains In-Albon. The BDG recorded a decline in sales from the Pays-d'Enhaut to Bulle catchment area. "However, this was made up for by the significant increase in sales with the Top4 ski pass." The Top4 ski pass will continue to be sold next winter, when it will also be possible to purchase access to the Glacier 3000 as add-on to the basic package. Access to the Glacier 3000 was previously only available as a separate ticket.
While other destinations rely on alternative price models such as early-bird discounts, the BDG is sticking to its strategy. "Discounts are unsuccessful in the long run", In-Albon and Brand agree and emphasize: "Our season ski passes are only available at reduced rates during the advanced sales period".
New mountain lifts expected to boost sales
The BDG is expecting an additional boost thanks to the new Saanerslochbahn, which will begin operating this winter. "We hope – in addition to the Top4 offer – to attract an increasing number of guests", says In-Albon. Similarly, high expectations are held for the new Eggli gondola, which is planned for next year. The approval procedure is currently underway and if everything goes according to plan, construction will begin next spring.
Artificial snow helps secure continued success
Over the last two years, the BDG has invested CHF 10 million in snowmaking. "There will be no new facilities for the next two years," says In-Albon, but the long-term goal of establishing snow cannons in Chaltenbrunnen-Parwengen, and enlarging of the Hornberg lake are still in place. "70 percent of the slopes are snow-covered, which is a good prerequisite for a successful winter. And if it doesn't storm or rain during the two sports holiday weeks and just one weekend is better than last year, I am confident we will see this positive trend continue". Brand and In-Albon emphasize that it is now necessary to stay the course and continue to implement the restructuring plan step by step.
Operating sustainably
It is a well-known fact that the operation of mountain lifts and snowmaking systems consumes many resources – diesel, water, electricity. Nevertheless, sustainability is an important topic for the BDG, according to In-Albon. "The BDG markets nature and mountain experiences, so an intact environment is our most important resource," emphasizes In-Albon. "Wherever possible, we want to make our contribution." For example, the two new Saanerslochbahn stations will be equipped with solar cells or, thanks to environmental and energy management strategies already in place, direct and indirect CO2 emissions and the use of raw materials, like water, will be reduced.
The BDG has also gone to great lengths to keeping the added value of their projects in the region. For example, 95 percent of the work was outsourced to local companies and wherever possible, regional and sustainably produced goods were purchased from suppliers in the region.
Collaborative efforts bear fruit
"Last year's discussions and exchanges between the BDG, Gstaad Saanenland Tourismus (GST), hotelier association, and trade association have borne fruit: the BDG is on course", says Brand. "This is only possible because we are so generously supported by the public sector," he emphasizes. "We must now continue along the path we have embarked upon with determination and, if necessary, make unpopular decisions."
Anne Christine Kempton / AvS
---