Cutting edge
14.08.2018
Profile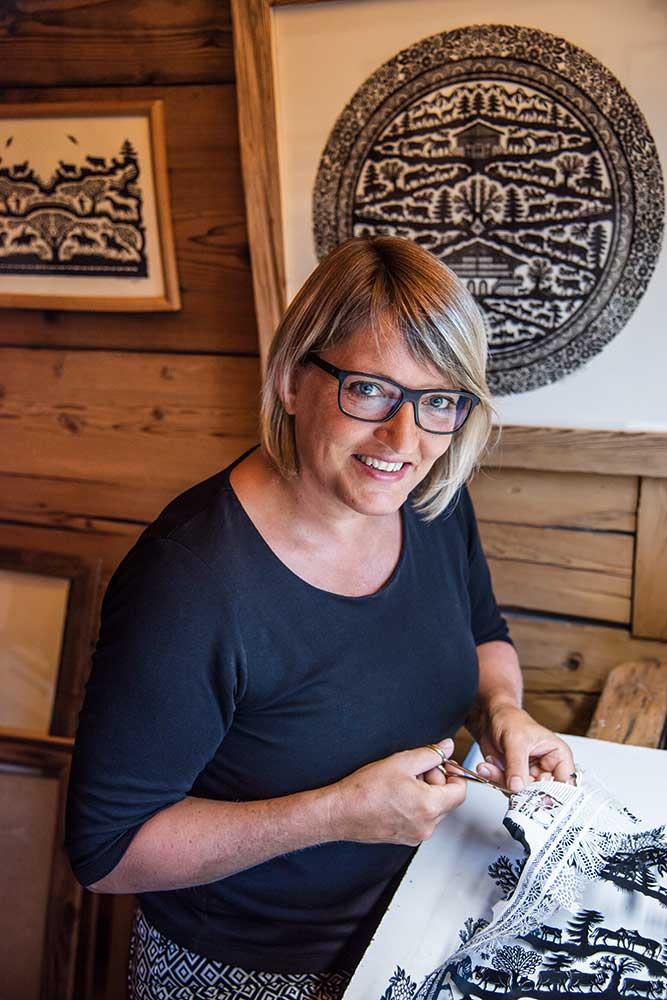 What is your connection to the region and how did you become interested in papercutting?
I am a native of the region – I was born in Lauenen and now live in Schönried. When I was growing up my family had an original papercutting by Christian Schwizgebel in the living room. It always fascinated me and I would stand and look at it in wonder: I found the simple black-on-white depiction of horses in an alpine scene to be so beautiful. When I was 12 years old, it was my love of that work that inspired me to start papercutting.
I am now planning an exhibition entitled 40 Years of Papercutting to celebrate this personal milestone, a memorable anniversary. Joining me in the exhibition will be my fellow-artist and friend Hans-Jürgen Glatz, who has been doing papercutting for 30 years. We will hold it from September to November 2020 at the Restaurant Hüsy in Blankenburg.

Is papercutting uniquely Swiss?
No, not at all. Papercutting has a long tradition. Its history is not fully known but it was probably brought to Europe from China in the 16th century. As an art form, it has evolved uniquely all over the world to adapt to different cultural styles.
The fathers of papercutting in the Pays-d'Enhaut are Johann Jakob Hauswirth (1809-1871) and Louis Saugy (1871-1953). They developed this art form inspired by scenes from local life and it was Christian Schwizgebel, who later brought it to the Saanenland. Their work is the origin of the popular traditional style that depicts symbols of the Swiss idyll: cattle descending from the alpine pastures, cheese-making, chalets and flowers.
Can you tell us a little about your work?
Papercutting is really a passion for me, practically a fever! I work in both the traditional and contemporary styles. I am fascinated by every type of papercutting – in colour or in black and white, and in works by artists from my region and other areas. I am interested in their patterns and techniques and enjoy sharing experiences.
Some of my works are displayed in the local hotels. When the Hotel Hornberg was being renovated I was commissioned to do a papercutting for each of their guest rooms. Clients who really liked the cuttings in their rooms requested the hotel management to arrange papercutting workshops. This has now become a regular event: I give a two-day workshop for the hotel each November in both French and German; about 30 guests usually participate. I love giving courses, both for adults and children. It's wonderful to see how fascinated they are by the beauty of what they can create using "only" paper and a pair of scissors!
Do people commission papercuttings from you?
Yes, and they often ask me to introduce a specific theme. For a commission that I have just completed, the client wanted a mix of traditional and contemporary subjects, including a procession of motorbikes. Quite a challenge – I based it on the traditional poya motif, replacing the cows climbing up to the mountain pastures with motorbikes! The client was very happy with the result. As artists we have to be open to new perspectives while still remaining loyal to our traditions.
How long does it take you to finish a commission?
It depends on the size. The one I am currently working on will take me about three weeks. However, larger ones take a lot longer – the largest work I created was 140 x 60 centimetres and took me about three months.
You are now President of the "Scherenschnitt Schweiz" (Swiss Association of Papercutting Art). What does the Association do and who are its members?
Our Association has an international membership of approximately 530 people – mainly Swiss but also other nationalities.
Anyone who is interested in papercutting is welcome to become a member. In addition to artists, we also have representatives of various associations, schools and museums. There is no papercutting school in Switzerland so many of us are self-taught independent artists.
We promote the art of papercutting: every few years we organise a major Swiss Exhibition on a specific theme – in fact, the ninth in this series is currently on show in Bulle. We also participate in events throughout the year, we publish a magazine, Schnittpunkt, every four months, we give courses for adults and, in an effort to interest and attract younger members, we give classes in schools.

The association has a large collection of significant papercuttings – to date we have about 600 works. These are stored in the Restaurant Hüsy in Blankenburg, where a selection is displayed on the walls of the public areas so visitors to the restaurant can see them.
Can you tell us more about your current exhibition in Bulle?
Yes, this is our 9th Swiss Exhibition of Papercutting. The theme this year is Life in the City; it opened a few weeks ago in the Musée Gruérien in Bulle and will run through until 9 September 2018. It will then be moved to a museum in Liestal, where it will run from 2 November 2018 to 17 February 2019. It is a special exhibition and well worth a visit to Bulle.
It features many contemporary works that depict city life. Contemporary decoupage – which is dominated by symmetry and is more free than the traditional style – is especially effective for depicting this theme: the life and fast pace of busy city-dwellers, children playing in the streets among the buildings, the moving vehicles and flashing lights. I created a very special piece called Shopping Fever for it. [See image on the left.]
The works exhibited were all created by members of our association – 121 works were submitted and the jury chose 79 for the exhibition. These include works from five members who have exhibited at each of our previous exhibitions and 15 who are exhibiting for the first time, several of whom are young artists. This is very encouraging for the association.
Is the association involved with the Museum of Château-d'Oex ?
Yes, we are actively involved in the museum's activities. The museum has a rich collection of popular art linked to the local life and social history of the region, including papercuttings by Johann Jakob Hauswirth and Louis Saugy.
The plan is to build an extension that will provide additional rooms to house the existing works owned by the museum, as well as the association's collection of 600 papercuttings. The new building will become the papercutting centre of Switzerland and our unique collection will be accessible to a wider public. The project has been approved by the regional tourism fund as well as the Canton of Vaud. Funding is currently in full swing and we hope that work will begin in 2019.
Was your association involved in the recent papercutting weekend that took place in Château-d'Oex on 14-15 July?
Yes. This is the third time we have held this event – it is such fun. This year we had about 20 artists who participated, giving demonstrations and courses each day. The demonstrations and stands were located in the spacious new underground passage at the station with its beautiful murals. Courses were held at the Espace Ballon museum and we had an interesting exhibition of paper sculpture at the restaurant Le Chalet. Twelve of the most famous works by Johann Jakob Hauswirth were copied and enlarged for temporary display in different parts of the village.
Guy Girardet
---