Ready, Set, Sail!
25.01.2018
Sports & Leisure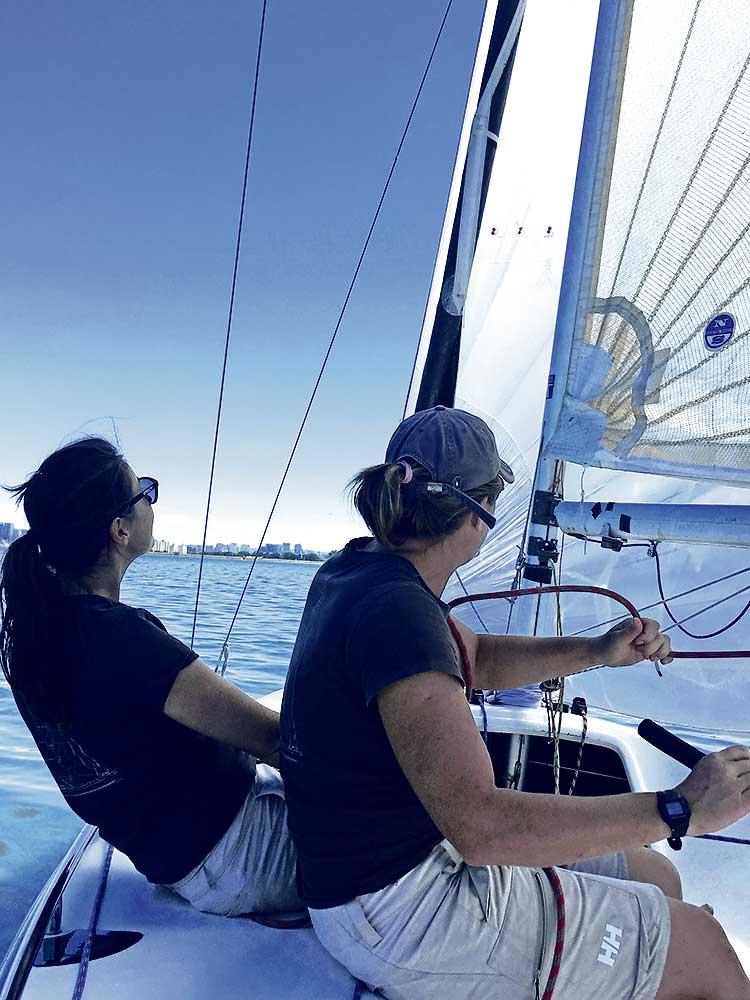 With a freshly brewed plan to compete in the famous Transatlantic Jacques Vabre – "Coffee Route" – Regatta, the dynamic sailing duo Anja von Mühlenen and Adriana Kostiw are honing their skills and actively seeking donors to help make their dream come true.

Alpine sailor
Born in the village of Gstaad, Anja von Mühlenen developed a passion for water sports at a young age. Her father taught her to windsurf in the cold mountain lakes of Arnensee, Lac de l'Hongrin, and Lac de la Gruyère. After an apprenticeship at the Steigenberger Hotel, Anja relocated to the big city of London, where she ran a catering business and later worked for industry giants like Betty Bossi AG in Switzerland.
But between preparing delicious meals, Anja yearned to trade her spatula for a sail. She trained to become a sailing, windsurfing, and kite surfing instructor, both in Greece and the Philippines. While making a living teaching water sports, she also pursued her sailing career, as a trimmer at Rolex Sailing Week in Brazil and at major regattas worldwide.
She has covered 55,000 nautical miles, in crossings and deliveries of boats in the Mediterranean Sea and Atlantic Ocean. When working private yachts and sailboats, Anja is responsible for navigation, weather forecasts and deck work, such as watch-keeping and changing sails. Combining her two talents, Anja is now working as a private chef on sailboats, while she vies to compete in her next, and most ambitious, project – the Transatlantic Regatta Jacques Vabre 2019.
Transatlantic Regatta Jacques Vabre
Held biennially for the past 25 years, the Jacques Vabre is known as the "Coffee Route" Regatta. Beginning at Le Havre on the French coast, teams sail to the destination point of Salvador de Bahìa, Brazil, following the historic route of the clipper ships that once plied the seas for the French coffee trade. Composed of approximately 4,000 nautical miles, two-person teams must sail day and night, competing in one of the four classes available – Class40 (12.19m), IMOCA60 (18.28m), Multi50 (15.24m), or Ultim (21,33m -23m). With Class40 average speeds of 15 knots (ca. 28km/h), the crossing is subjected to winds up to a strong
25 knots.
Sailors have the freedom of selecting their individual routes themselves. Although the teams are supervised at the beginning of the regatta, they are on their own on the high seas for the remainder of the crossing. One of the two sailors must remain on guard at all times, and they are trained to manage on only 20 minutes of deep sleep per night. With no connection to the outside world except wind and weather data provided by a satellite telephone, the nearly four-week crossing can be quite a challenge for even the most experienced sailor.
Speaking of experienced sailors,
Anja's search for a perfect pairing ended in success with her long-time friend, Adriana Kostiw. They met during Rolex Ilhabela Sailing Week, where Anja served as a member of Adriana's crew. Later, the fast friends did some transatlantic crossings together, where they realised they made a fine team. The two share a natural affection for the sea, and after such intensive bouts of sailing together, they are perfectly in tune with each other's skills, abilities, and quirks.
A-Lister Paulista
Adriana Kostiw has lived and breathed the sea since she was born at Lake Guarapiranga, São Paulo. The most successful Brazilian Olympic sailor of our times, she began sailing at a young age. Her inspiration to participate in the Olympic Games came from watching her neighbour, Marc Erzberger, a windsurfer who trained for the Olympics as well. Fatefully, Marc is the son of current Gstaad Yacht Club Commodore Peter Erzberger, which led to Adriana's connection with the Saanenland.
Adriana competed at several championships, including the 2004 Olympic Games in Athens in the 470 Class, and in 2012 in London in Laser Radial Class. But Adriana's accolades continued – she also won the bronze at the 2007 Pan American Games in Rio de Janeiro in Laser Radial Class, skippered the United States Sailing Team during various match races, as well as skippering a HPE25 Class during Rolex Sailing Week in
Ilhabela, Brazil.
With an astonishing over 110,000 nautical miles navigated during both competitions and sailboat deliveries in the Mediterranean and Adriatic Seas in addition to the Atlantic Ocean, Adriana is well-equipped for her current job – coaching and training talented young sailors in Brazil. But like her partner Anja, she dreams of yet another success on the seas – the elusive Jacques Vabre.
Wait and Sea
Together, Anja and Adriana have developed a plan to achieve their goal of participating in the Jacques Vabre. A two-year training schedule was implemented in 2016, which included a Transatlantic crossing in that year and a week training in Lorient, France, this past October. Another week of intensive preparations was completed in November in Guaruja, Brazil, and January 2018 will feature another week in Ilhabela. Previsions for future training, however, will require not only time on the part of the two partners, but availability of a sailboat. Actively seeking sponsorship, they hope to hire a Class40 sailboat as soon as a willing sponsor is found. This way, Anja and Adriana can participate in smaller regattas as a stepping-stone to the extremely difficult Vabre.
Their ties to the Saanenland are strong, and in July both were invited for an evening to the Gstaad Yacht Club. The team was featured in a soirée, aimed at sharing their enthusiasm for the project as well as providing important details for inspiring future sponsors. The GYC, which is celebrating its 20th anniversary in 2018, supports sailing projects on all levels from juniors to professional sailors. With its mission to remain a solid force on the Swiss sailing scene, the club will support Anja and Adriana whenever possible with its network in Switzerland and South America. Sponsorship opportunities are still available, with a wide range of options for every level of
generous donor.
But for now, the journey continues – the daily grind of intensive training and careful planning will further prepare Anja and Adriana for conquering the Coffee Route. With just another year to go, the perky duo is already well on their way to sailing the trip of a lifetime.
Alexis Munier
---